This is the second post in my 2019 guest blogging series. Tully Moorhead, the author of this incredible Lisbon, Portugal travel guide, is one of my best friends and one of the most well-traveled people I know. Her Lisbon guide is absolutely EPIC and saturated with the best recommendations on what to do in Lisbon, where to eat, and more. Portugal was one of my personal favorite trips and after reading her guide, I'm looking at flights to go back already. As she often quotes, "Always buy the ticket." Enjoy! 
Olá kind souls! I am incredibly thankful (and frankly shocked!) that Shruthi is letting me have a go at guesting on her blog. For a quick introduction, my name is Tully, definitely First of her Name, the Always Sunburnt, Co-Maid of Honor to Shru, and Mother of Lars. My fiancé and I recently returned from the most joyous week and a half in Portugal, and Shru asked me to share a few words on my time in Lisbon.
Earlier this summer, I texted Shru, "If you had ten days anywhere in Europe, where would you go?" and maybe three seconds later, received a response: "PORTO!!!!!!" 
Y'all know our girl knows travel, so I followed her guidance and one of the best pieces of advice my momma gave me: always buy the ticket. Start banking that PTO and set up a price alert, immediately, because the only downside of Lisbon (and Portugal as a whole) is that calories still count, and Sephora isn't free. If you haven't already, make sure you check out Shruthi's post on Porto. Together with my Lisbon musings, you'll have a leg up when planning your trip to Portugal!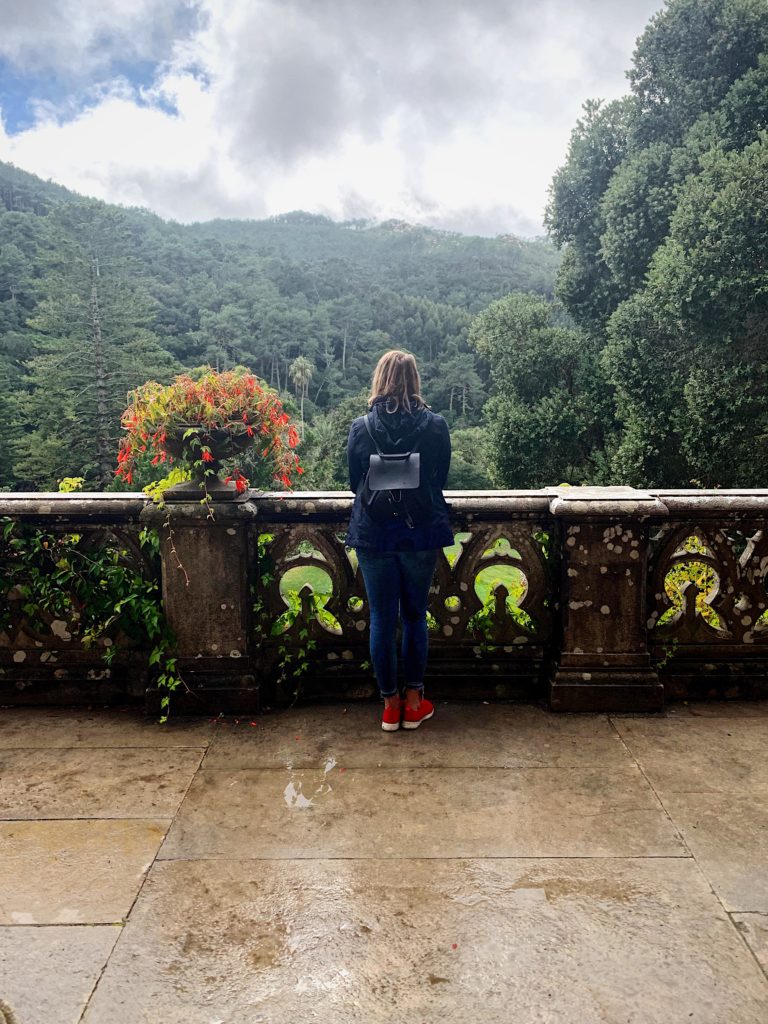 About Lisbon, Portugal
To me, Lisbon feels like a glorious combination of Paris's hilly, romantic artist neighborhood Montmartre and Rio de Janeiro. Lisbon's steep, narrow, cobbled streets practically beg you to walk arm-in-arm with someone you love. But its bright patterns and colors, especially those in the cobblestones, will have you feeling like that chick from Ipanema. (By the way, if you're headed to Paris, Shru and I went on the best walking tour of Montmartre with Fat Tire Tours.)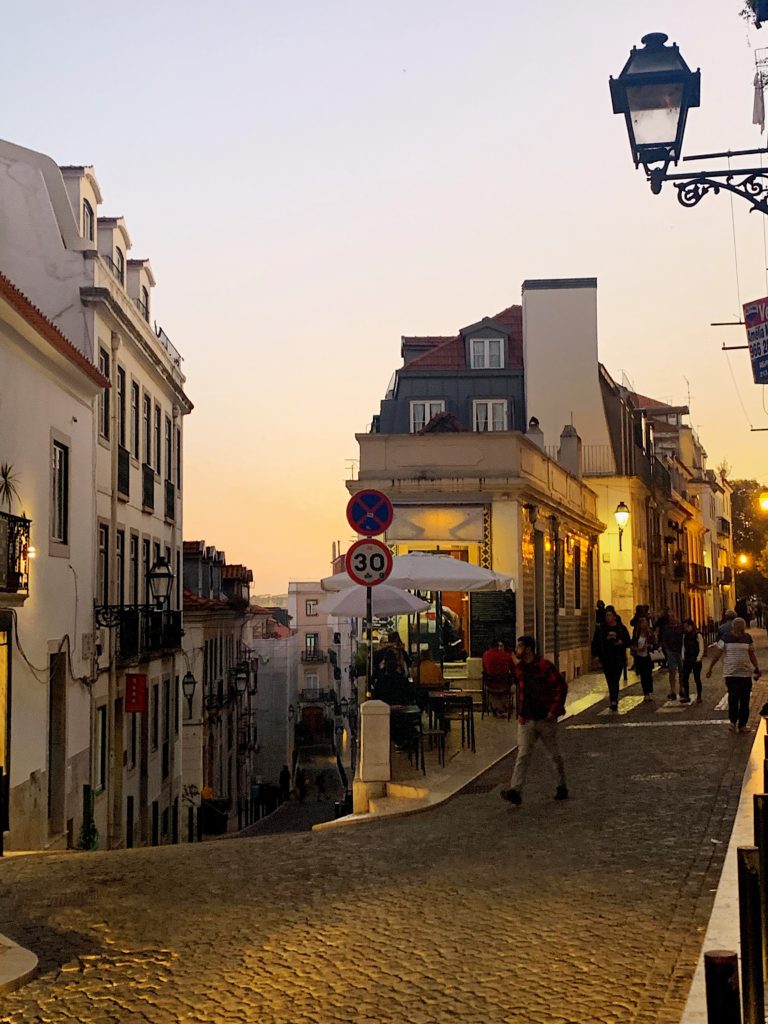 Lisbon is a city for designers—many of which focus on graphics and typeface—and their love for hue and ornamentation is evident throughout the city today. Portugal's rich tilework heritage stems from centuries of Moorish influence and is most embodied by Azulejos, the ever-present blue and white tiles that adorn UNESCO World Heritage Sites and metro stations alike. P.S. Parafusos means bolts, so this is a hardware store sign. I love it!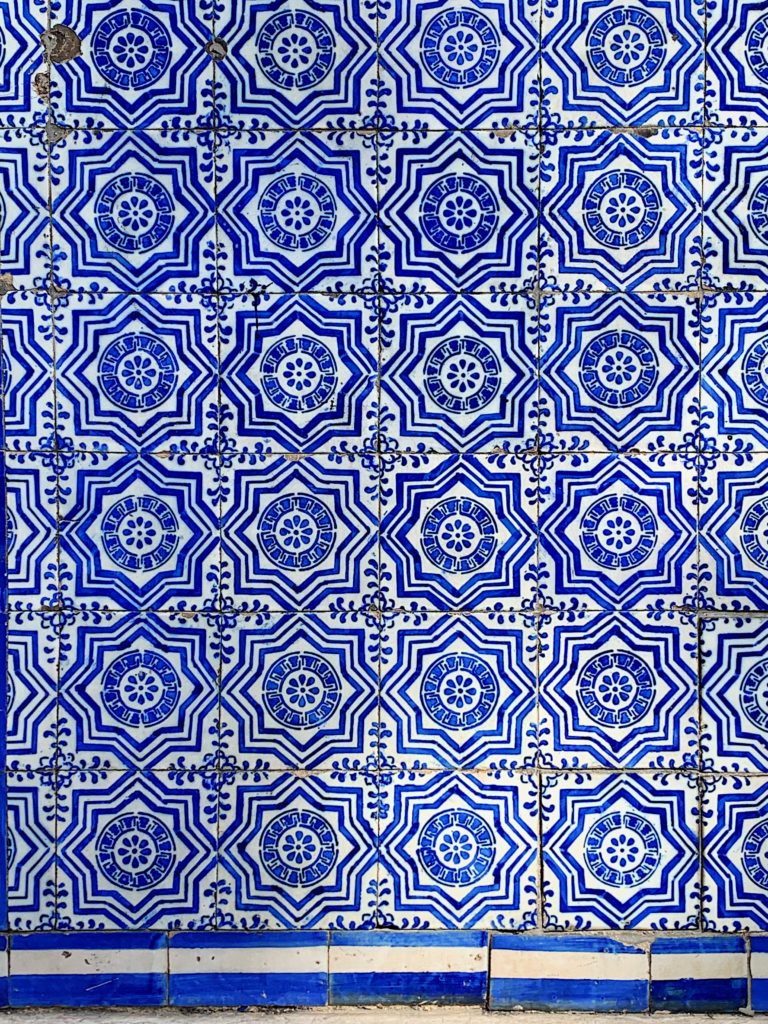 Getting Around Lisbon
I recommend you walk the streets of Lisbon as much as possible. Uber works great for longer journeys and is much less expensive in Portugal than in the US. For example, our 20-25min ride from the airport to our Airbnb was €7. You can also opt for electric scooters; there are plenty of Limes and Birds around.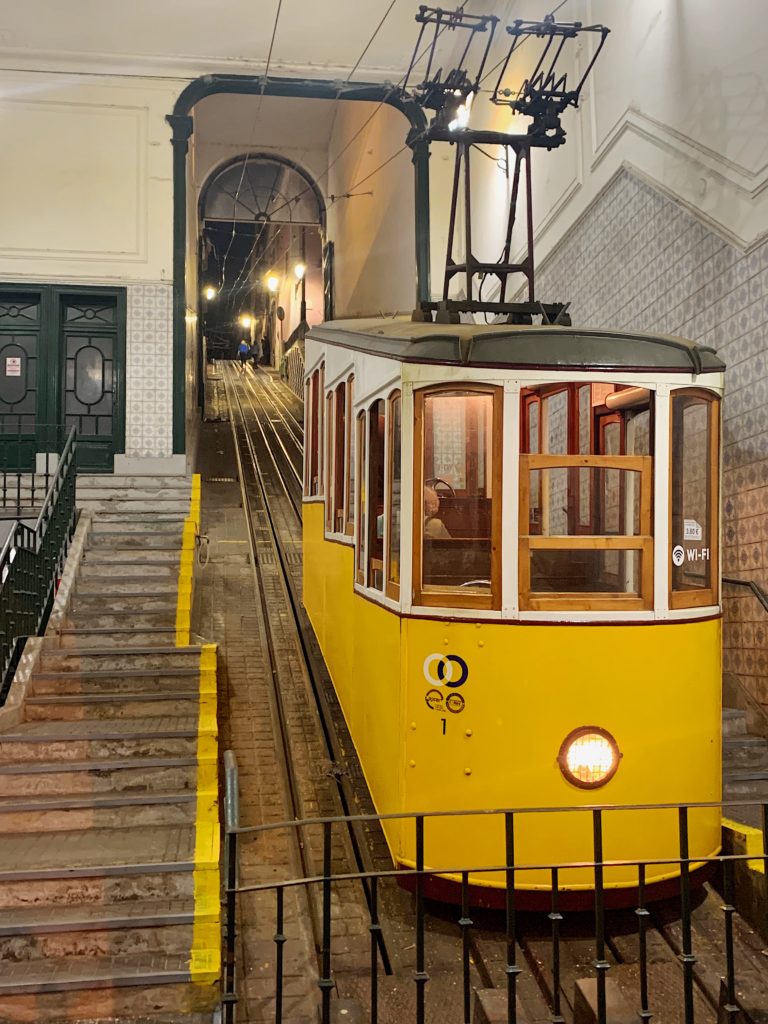 Modern public transportation can be tricky since it's restricted to the flat parts of the city; that said, you can't leave Lisbon without riding the Remodelados. Operating since the 1930s, Remodelados are the muito Wes Anderson yellow trams that rattle through Lisbon's historic districts. N° 28 is the most popular route for travelers. Note that trains for short trips outside the city are easy to use; see the section below on Sintra.
Where to Stay in Lisbon
You can find some genuinely great Airbnbs at affordable rates. We booked a gorgeous, recently renovated flat in Barrio Alto for ~$150/night. Double-check to make sure there are air conditioning units if you're traveling in warmer months, and spring for a place with a balcony if you have the means. There's nothing like savoring a glass of vinho verde while looking out over the city after a long day of exploring. Mercearia Poço dos Negros (Barrio Alto) is a great place to grab a bottle.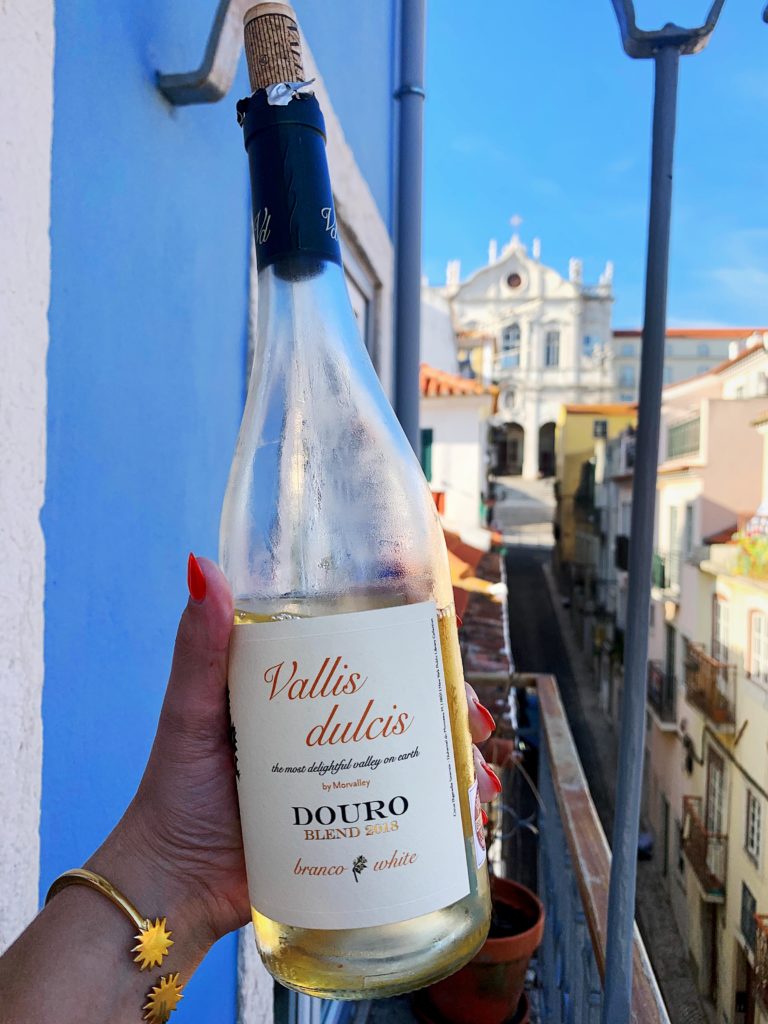 What to Eat in Lisbon
The one thing you must eat is pastéis de nata. Thanks to the Great British Baking Show—my go-to cure for light anxiety days—I was familiar with the dish: gooey egg custard in flaky pastry with a sprinkling of powdered sugar and cinnamon. But oh goodness, wow, Noel and Sandi could not have prepared me for how good they were. The two best places are Pastéis de Belém (very touristy, but very good) and Manteigaria (Chiado). Our first night we braved A Cevicheria (Príncipe Real), the much-lauded Peruvian-Portuguese restaurant by celeb Chef Kiko Martins.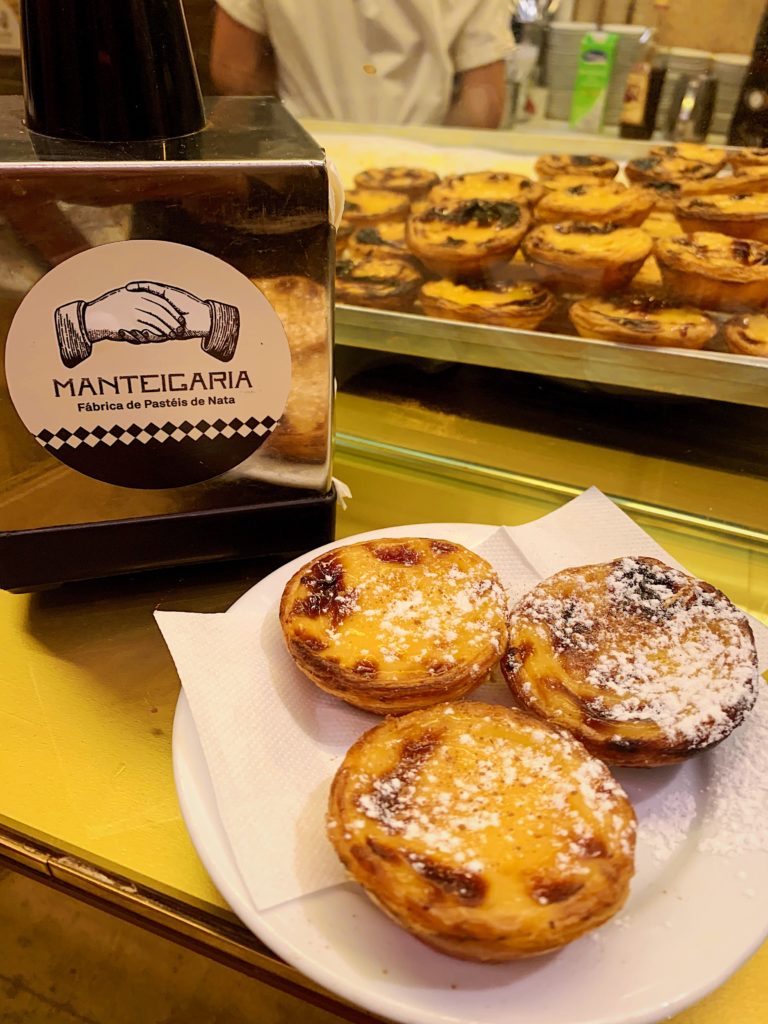 It's a posh place where you go to see, be seen, and drink plenty of Pisco Sours on the street while you wait 60-90min for a table. If you decide to go for it, try the Tartare Beef Tacos and BBQ Octopus, and skip the Beetroot Tuna Ceviche. On our walk home, we stumbled into Bistro Edelweiss (Barrio Alto), a charming spot with skis and other mountain town memorabilia adorning the walls. We had a lovely chat with the owner and had fondue with a touch of kirsch.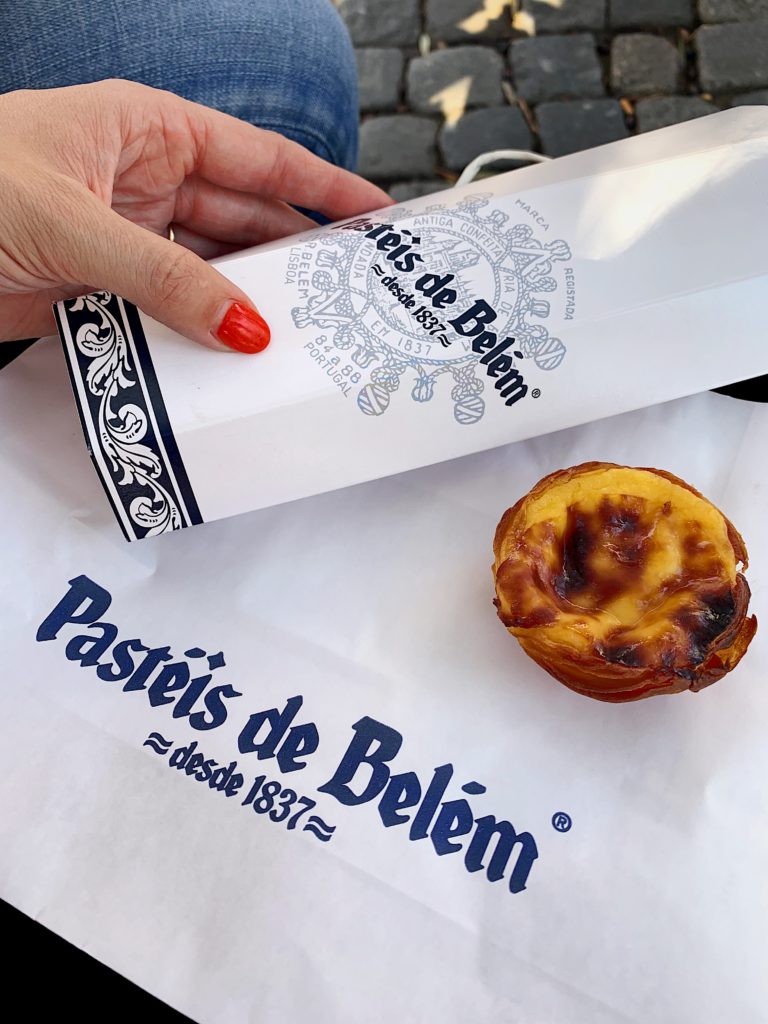 If I had known better, we would have gone early and put our name down for Taberna Da Rua Flores (Encarnação), a cash-only neighborhood joint doing classic yet creative Portuguese fare. The menu is handwritten daily, and I've been told you must get the Picadinho de Carapau, a mackerel tartare. We also didn't make it to Time Out Market (Alfama), because I've got food hall fatigue. But if that's your vibe, the market's 8 bars and 24 restaurants, including those of some pretty serious chefs, will let you create a substantial spread.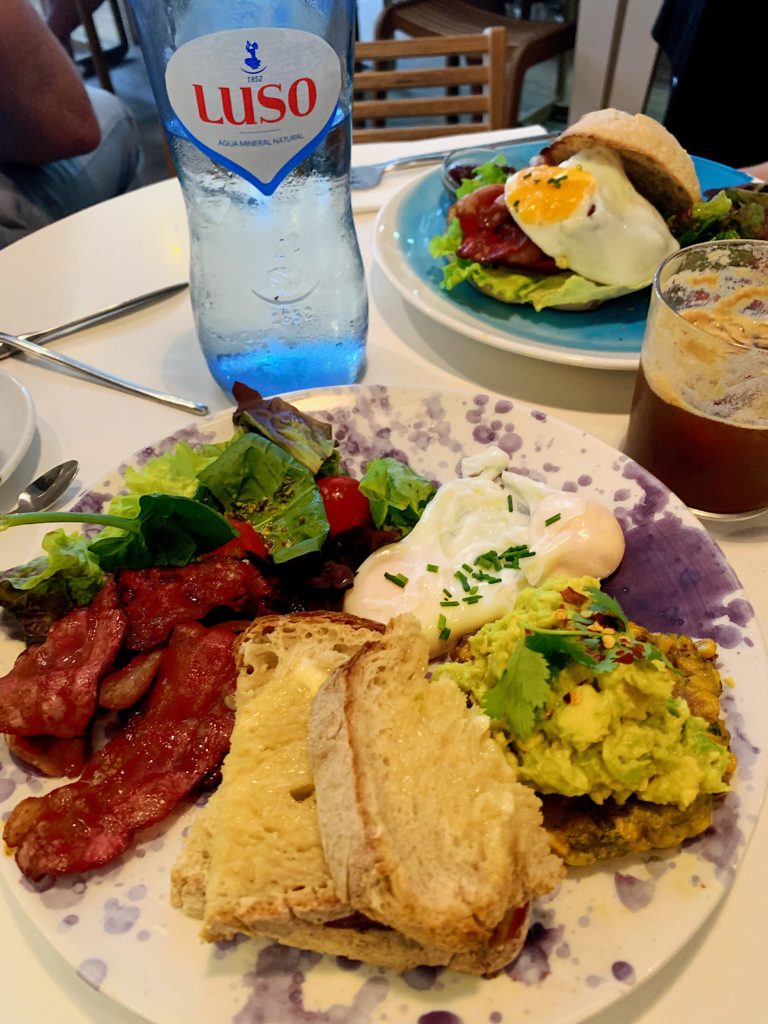 And if you're really into multiple concepts under one roof, I'd steer you to Palácio Chiado (Chiado). Located in an elegantly refurbished palace, Palácio Chiado offers choice, but not too much (I also like their flying lion). The Mill (Bairro Alto) was great for breakfast before a long day. The menu reflects Aussie ownership, but the produce is all local. I also recommend checking out Dear Breakfast (especially for you Instagram-savvy folk) (Bairro Alto) and Copenhagen Coffee Lab (6 locations).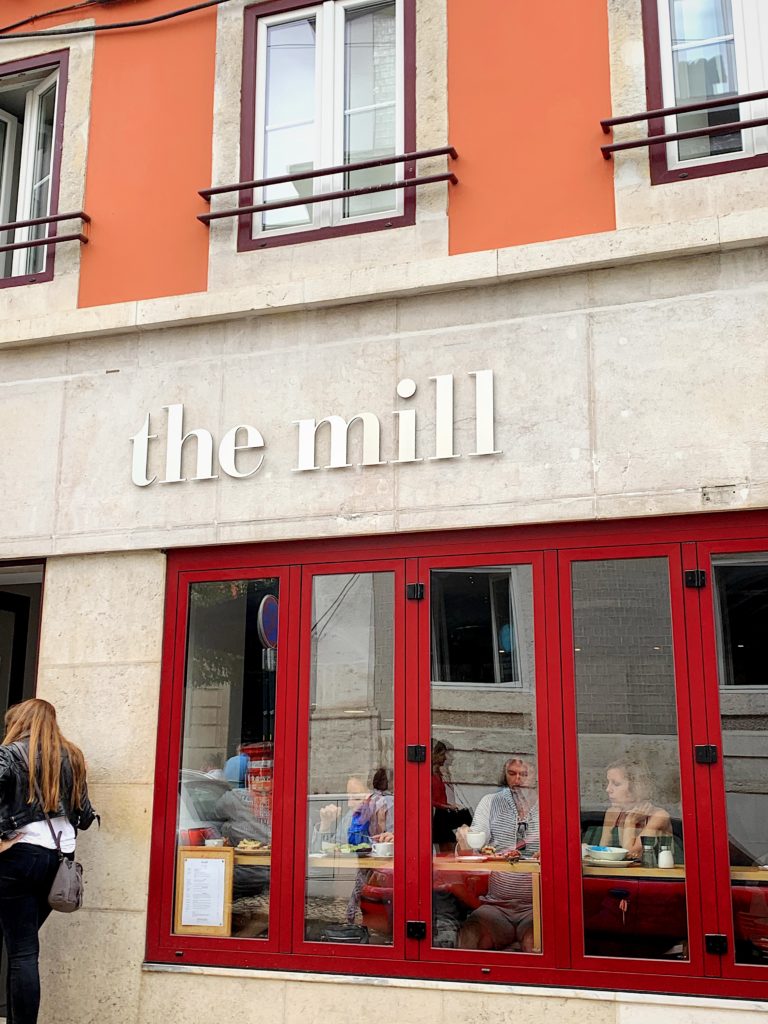 What to Do in Lisbon
You need four days in Lisbon; two in the city, one in Sintra and one in Cascais. If you only have one day in the city, make sure you're caffeinated like a Gilmore girl and that that day is not a Monday. Major sites that deserve a visit, like Mosteiro dos Jerónimos, Torre de Belém, and Museu Nacional do Azulejo, are closed on Mondays. If Monday is your only option, we still enjoyed these sites from the outside.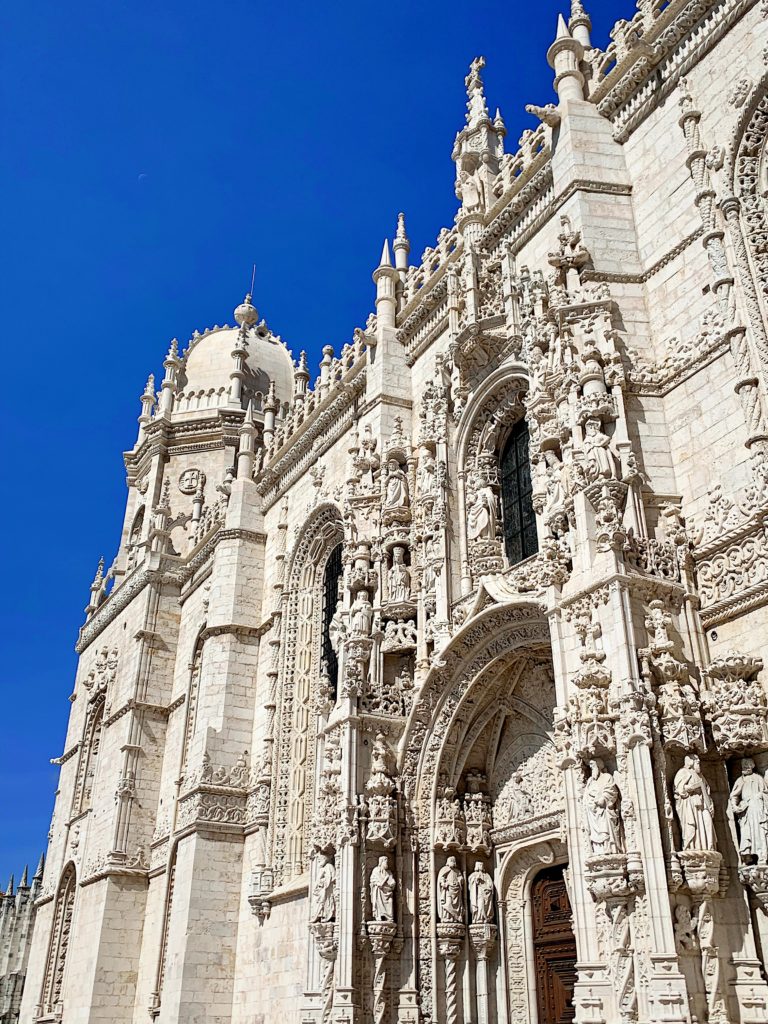 After checking out Torre de Belém, we hopped on electric scooters to see Padrão dos Descobrimentos, a huge monument honoring Portuguese explorers on the Tagus River. Take a moment to grab a snack—pastéis de nata, obviously—and chill by the river, taking in the troubours' music.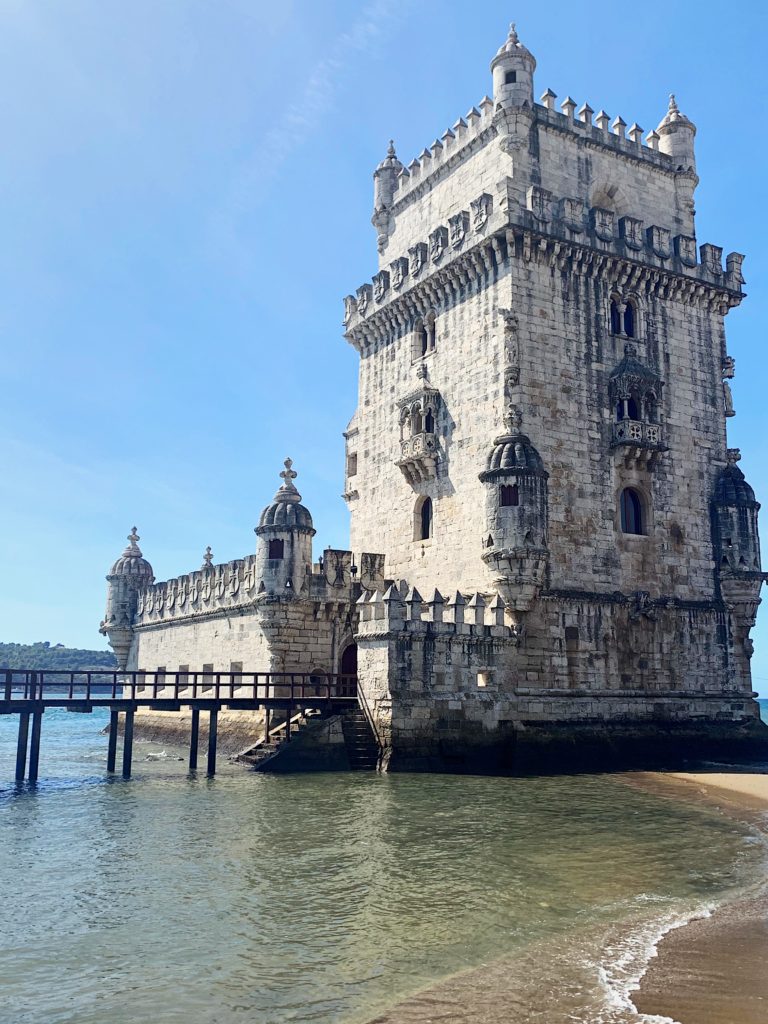 Another must is a visit to a miradouro (viewpoint) or panoramic bar to take in this breathtaking city. Lisbon is known as The City of Seven Hills, so there are plenty of options; head to whichever spot is closest as sunset approaches! For the miradouros: Castelo Sao Jorge, Senhora do Monte, Graça, Santa Luzia, and Santa Catarina are great options. For rooftop bars, check out: Lost in Esplanada (Indian food… heyyy Mrs. CPartker), Chapitô à Mesa, Topo, Rooftop Bar at Hotel Mundial and my fav Park. 
Day Trip to Sintra, Portugal
The absolute best part of the trip was Sintra. Sintra is a designated UNESCO World Heritage site 40min from downtown Lisbon, but the difference is incredible: it's a fairy tale town slash enchanted forest complete with rainbow castles, dramatic beaches, and unbelievably romantic gardens. Please, please please go here. Or better yet, spend the night there so you can explore Cascais, the nearby seaside resort town, the next day.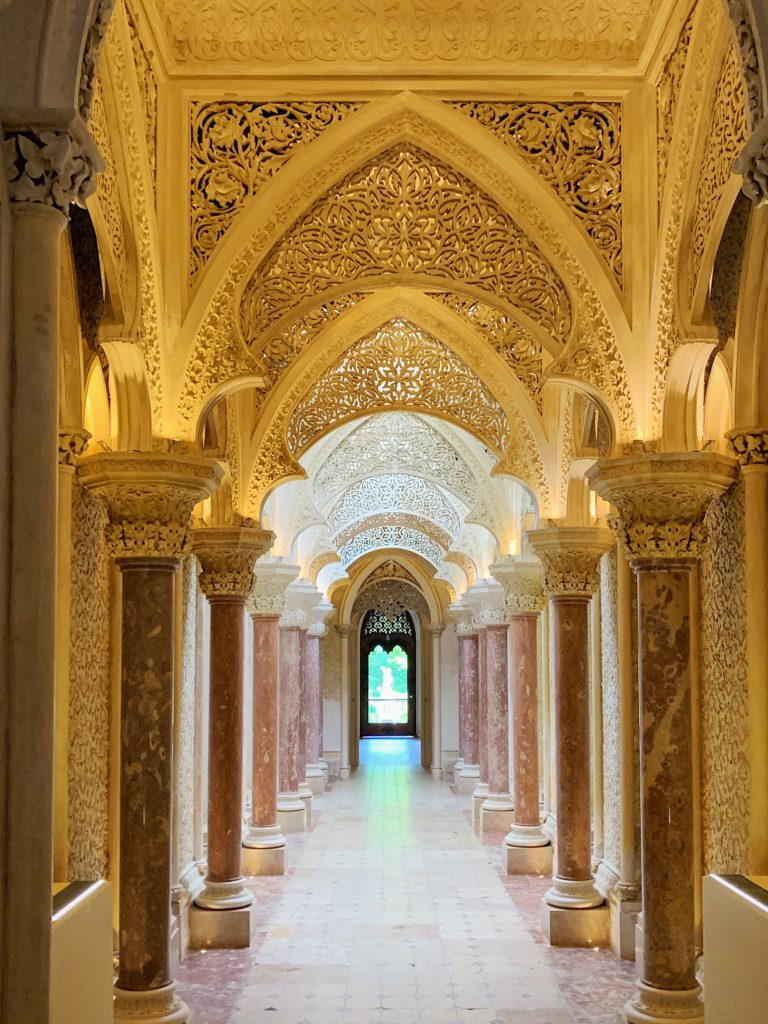 Getting to Sintra is super easy and economical. Trains leave every 20min from the Rossio Train Station. Tickets are less than €5 roundtrip. Once you get to Sintra, transportation can be tough, especially during peak travel times. My fiancé and I opted to take it all in by motor scooter, as we found that the buses frustratingly do not stick to a schedule.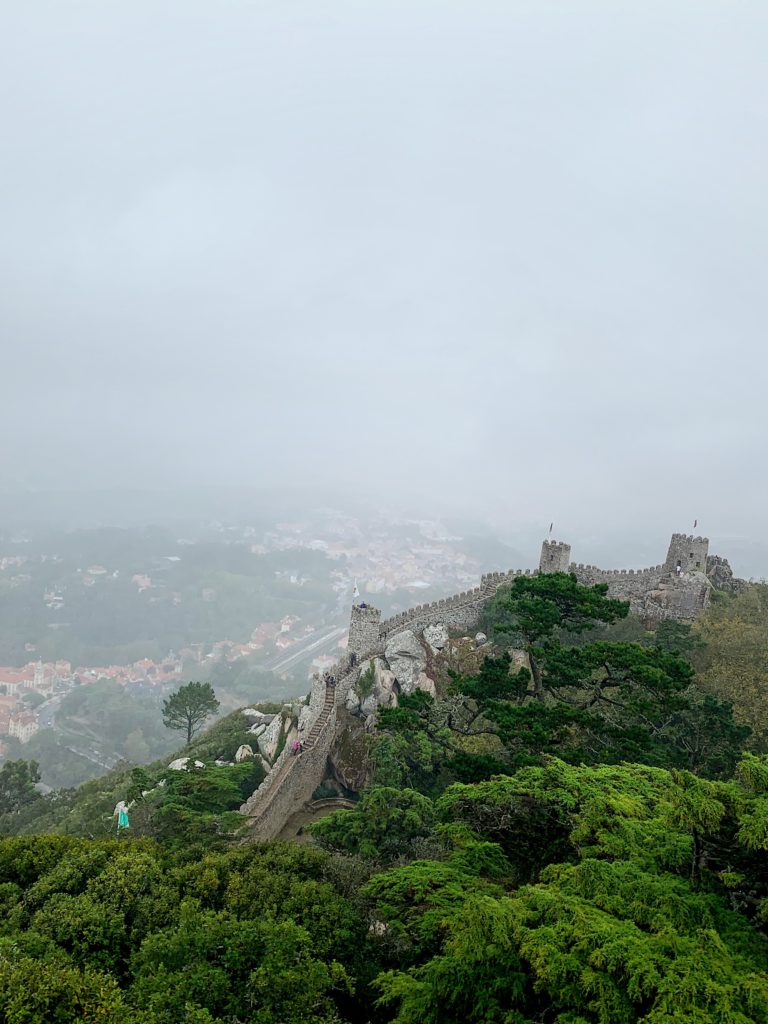 If you are not faint of heart, I highly recommend scootin' around.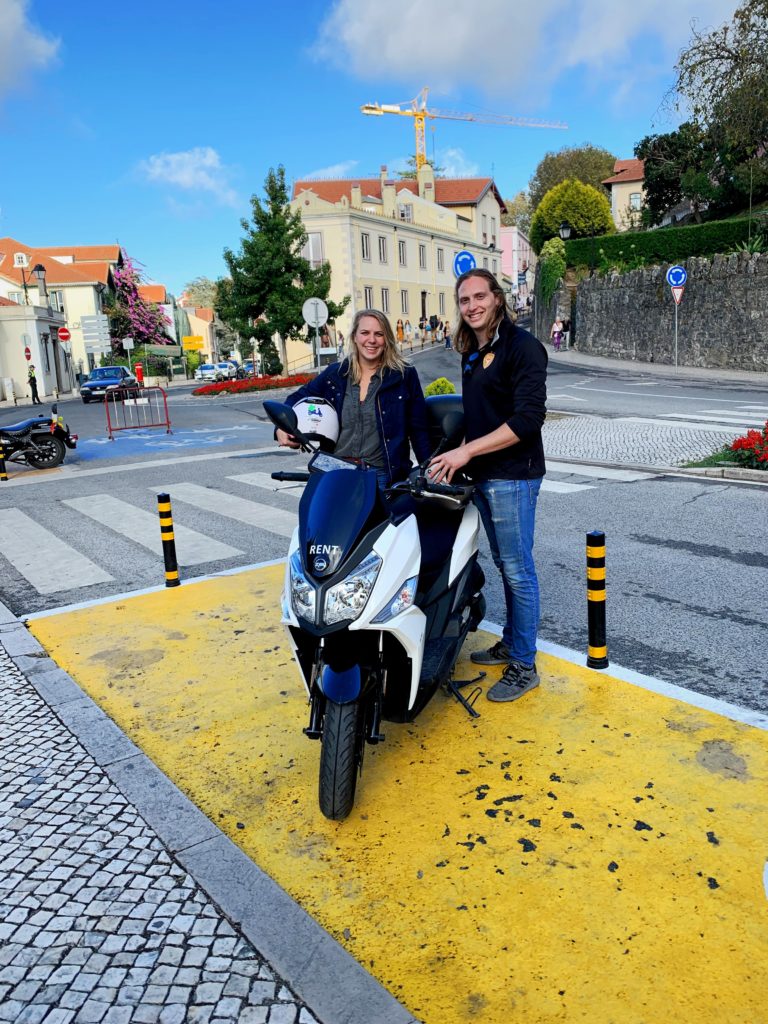 You can fit so more in, score front row parking, and have a ball flying through Sintra's charming streets. Fair warning, you need to be comfortable driving up steep, narrow roads that can get congested and slick when the clouds roll in. We rented from Magik Green, which is ~100m from the train station. Let's just say it: I thought my husband-to-be was taking me to a dispensary, but Magik Green turned out to be an efficient outfit run by a lovely goofball who made sure we knew what we were doing. 
We filled our itinerary with less popular spots, meaning we skipped the Pena (rainbow castle), Queluz, and Sintra National Palaces. We started up top at the Castelo dos Mouros, a medieval structure that consists of long layers of military walls that are exhilarating to walk. Very Eyrie-like, for my GoT fans out there.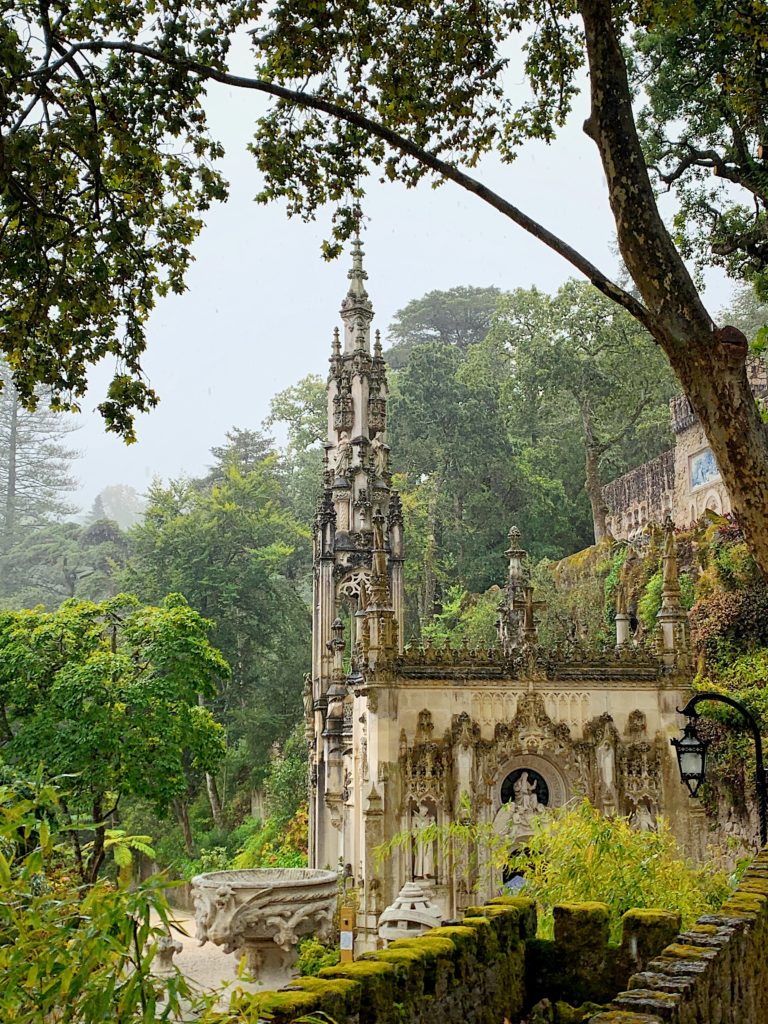 Next up, we visited the Quinta da Regaleira, a captivating and enchanting 10-acre garden. The eccentric owner, a Brazilian coffee and precious stone heir (someone cashed in their karma!) gave the architect free rein and, presumably, a massive budget in designing the garden. We had the most fun exploring all the grottoes, caves, chapels, and statues. We even found Ludi & Mila! Make sure you find the spiral staircases in residence before heading out.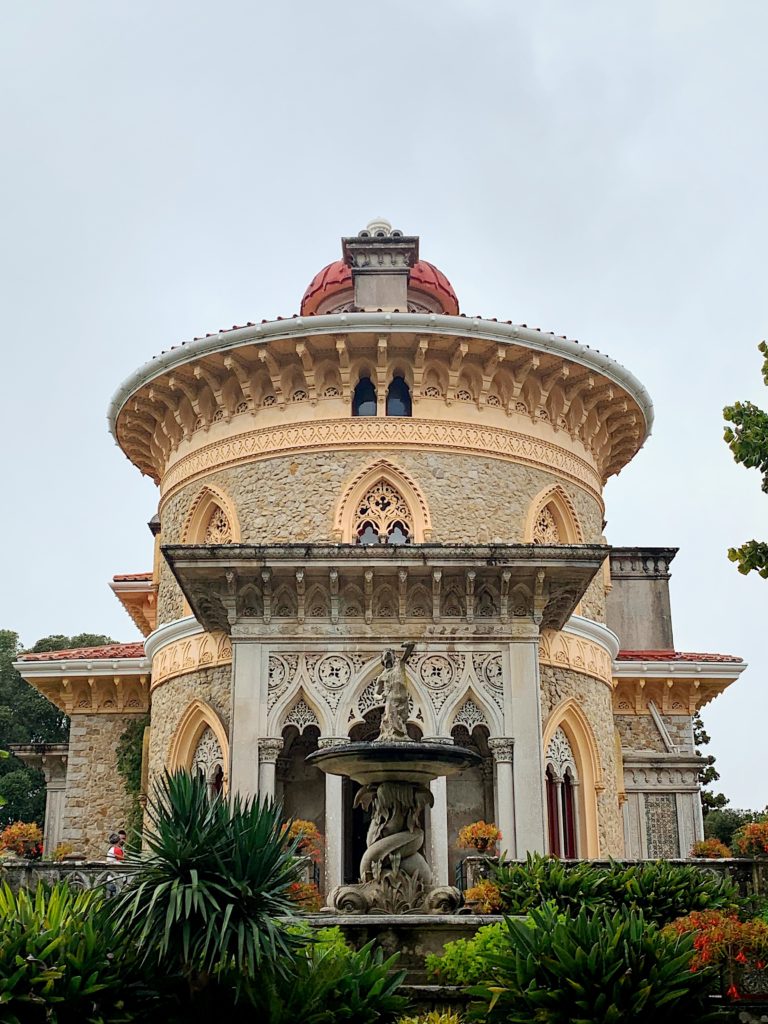 We certainly saved the best for last: the Palácio de Monserrate. If you only go to one place in Sintra, make this it. This wonder of a summer residence literally glows as you approach. The best part is the terrace that backs into the property's rolling hills. It's one of the most romantic places I've ever been to; I mean… it's in a Lord Byron poem!! We had a sweet smooch and nap on the lawn before heading back to town.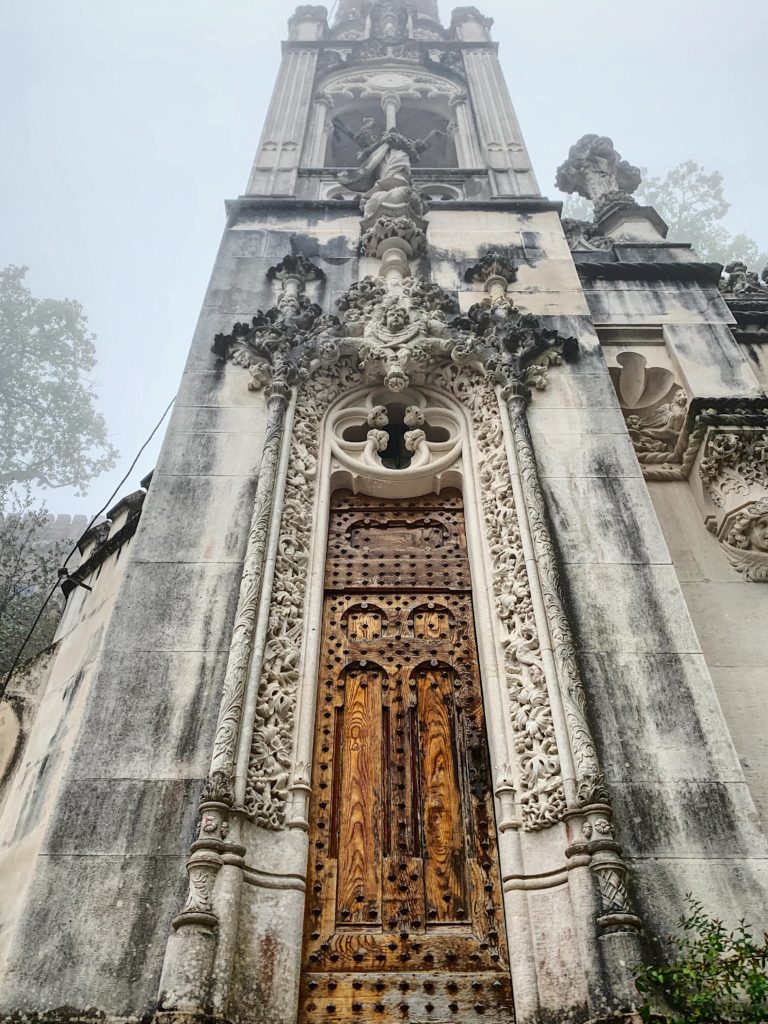 Pro tip: Grab a sangria or two at Café Saudade before catching your train.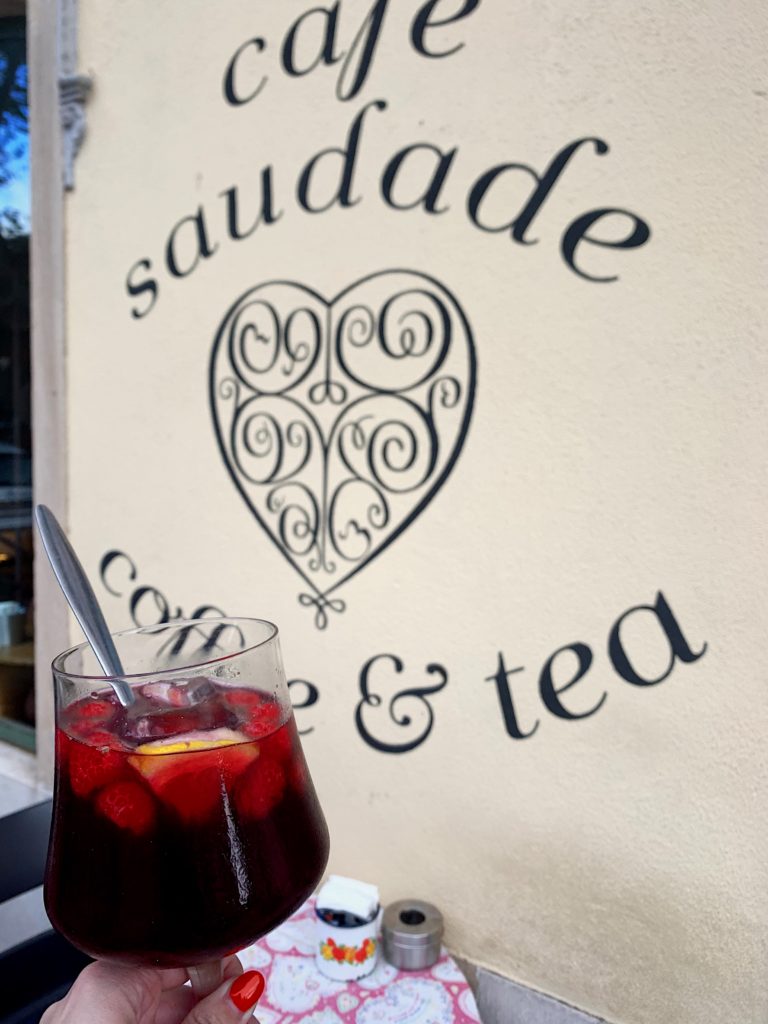 Wished We Could Have…
We underestimated the time needed to take in Lisbon. If we had two more days, we would have spent one exploring the Sintra-Cascais Natural Park, including Cabo do Roca, the Westernmost point of continental Europe, in the morning, then chilling out in luxe Cascais that afternoon. The other day would have been spent surfing with one of several highly-rated Airbnb surf experiences, then checking out LxFactory (Alcantara), an abandoned industrial complex turned creative hub with hundreds of galleries, cafes and creative spaces. The Ler Devagar Bookstore looks especially cool.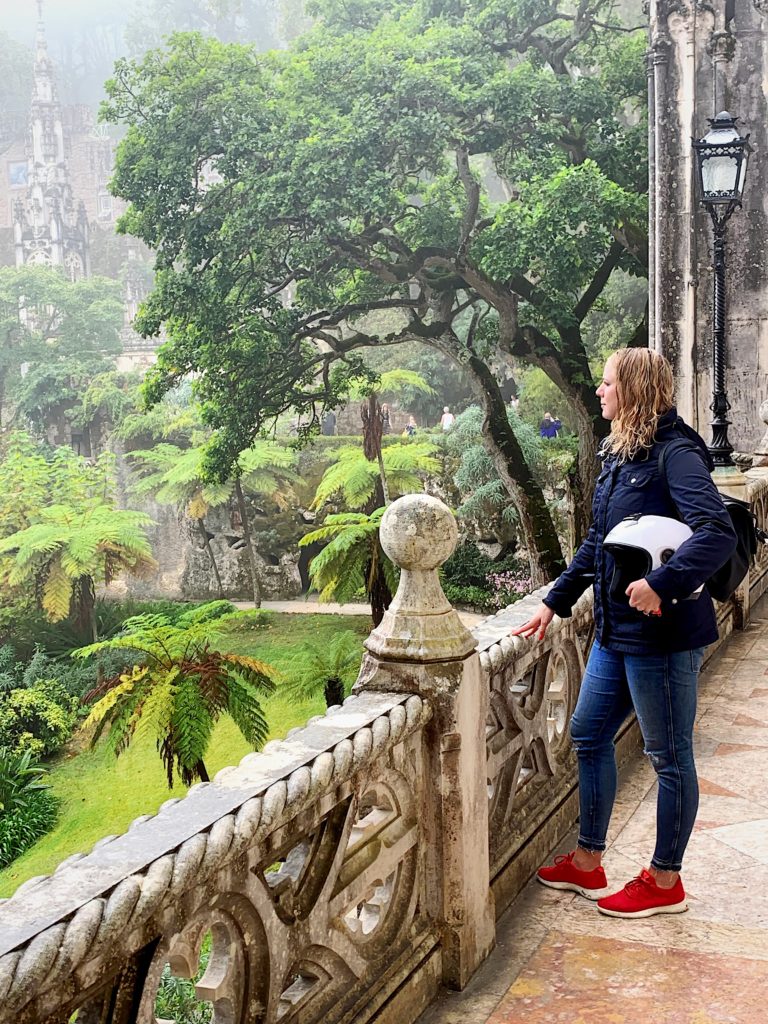 I just watched Phoebe Waller-Bridge's Vogue 73 Questions video. She says her favorite quote is, "We write to taste life twice," so I'm giving a huge thank you to Shruthi for letting me relive one of the best experiences in a sweet time of my life through this post. I dearly hope my tips and thoughts help you plan an incredible journey to this special place.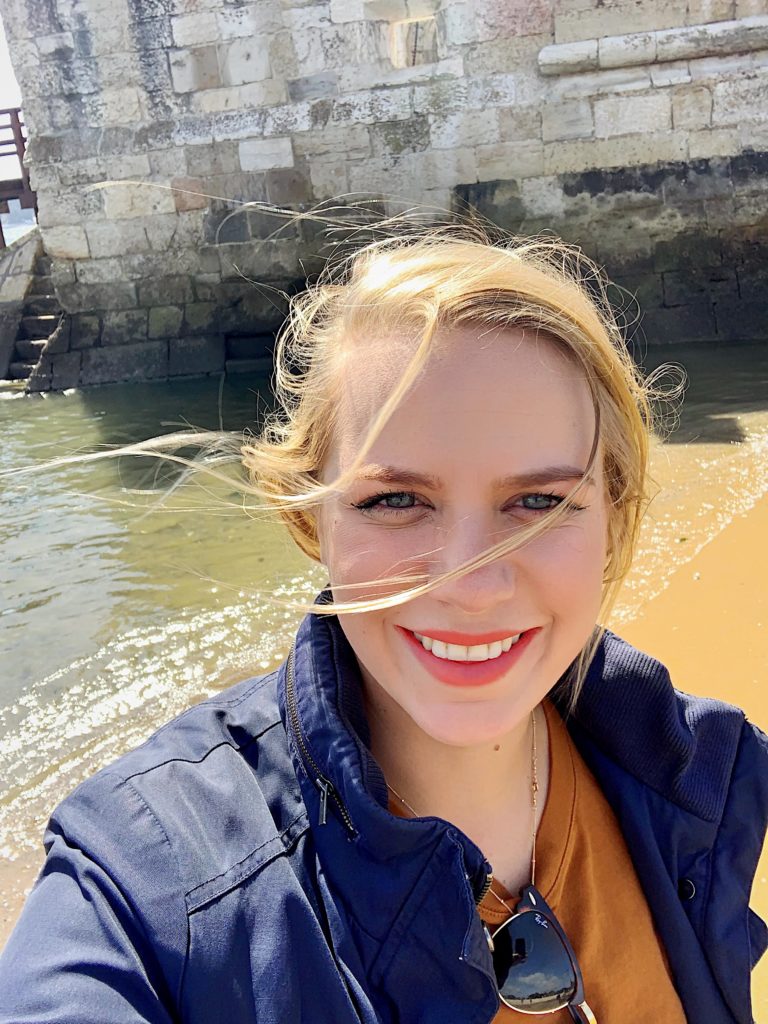 Over and out loves,
Tully