Do you know what I love? Surprises. Unexpected little gems. That's what The Wayback off of Old Bee Cave Road is. Three of my friends and I stayed overnight for a mini staycation and to get away from the city for a hot second, literally. The day I went to The Wayback was the warmest day in January. Yup, you read that right, January. Austin is full of surprises like that! What is The Wayback? It's a casual boutique hotel, with eight cutie cottages just 20 minutes west of downtown designed to help you rest.
Our Wayback Cottage:
As soon as I parked, I headed to the front office to pick up our key and explore our temporary digs. From the outside, the cottages look like small metal homes, but the inside is disarmingly cozy. It certainly feels like you've escaped the city.  You'll want to curl up in blankets, drink hot chocolate, and spend time with your people right away.
The cottage shone with natural light, the bathroom was bright and big, and the beds were very comfortable! The four of us stayed in one cottage with one master and two twin beds. From the upholstery of the chairs to the tiling in the bathroom, the details in the cottage caught my eye! So, what did our cottage need? Our cottage did not have a TV, cups, or lotion. Maybe they didn't have a TV because they want us to escape into nature (makes sense), but I needed to buy get cups & lotion (there is an H-E-B five minutes away) because I drink a ton of water and the winter weather gives me dry skin. So keep that in mind! You might want to pick up some snacks too.
Other Wayback Cottages:
I took a walk into the other cottages and noticed that they have different layouts! There was one cottage with just two twin beds, and there was another cottage with a master bed but also with a full bed in a nook. You can probably ask the staff for the type of accommodation you want and then see if that cottage is available when you make your reservation. They have several options to choose from so don't hesitate to ask!
Pool:
Right in the middle of all of the cottages is the pool. It's pristine, blue, and the yellow-striped umbrellas on its perimeter are so darn cute. I can't wait for warmer weather and plenty of pool parties.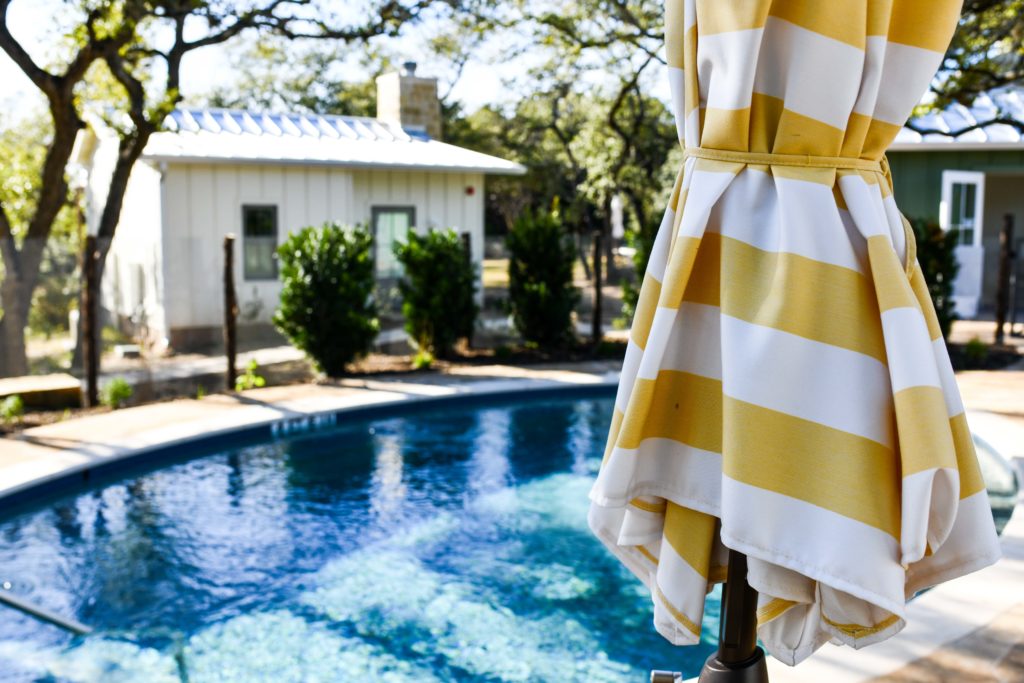 Bar:
In between the pool and the restaurant is a tiny-house type of a stocked bar. It has enough seating in there for four and standing room for a few more.
Wayback Restaurant:
However, the real gem of The Wayback Austin is the restaurant. The design of the entire space is like reading a book – there's just so much to take in! I appreciated the stunning restroom wallpaper, and the light fixtures. But the real winner? Light. That abundant natural light pouring into the space is enough to make anyone grab a drink and let out a sigh.
How's the food you ask? For the most part, the food was delicious. I had a minestrone with homemade chips. One of my friends had the burger, and the other had chicken with a side of salad. I'd go here more often for happy hour than a meal. If you go there for happy hour, definitely sit on the patio and enjoy that stunning sunset. Make sure to get dessert here too! I wish they had more nonalcoholic drink options. Also, if you get the salad, you cannot add any protein to it. My friend originally wanted a salad with added chicken, but they suggested the chicken meal with a side of salad which up-charged her significantly. Also, if you have leftovers, not all the cottages have refrigerators in them.
Patio:
The patio and lawn are spacious. This space would be an excellent place for groups and gatherings. Are you listening future brides and family reunion planners? They had blankets on their lawn chairs, a fire pit with smores making in the evening, and a stunning sunset over the Austin hills.
Parking:
There is plenty of parking in between The Wayback and Bee Cave Road so you won't have to worry about parking. If you have children, watch them carefully when you get out of your car because Bee Cave Road is a busy, high-speed road and roughly 30 feet away from the parking lot.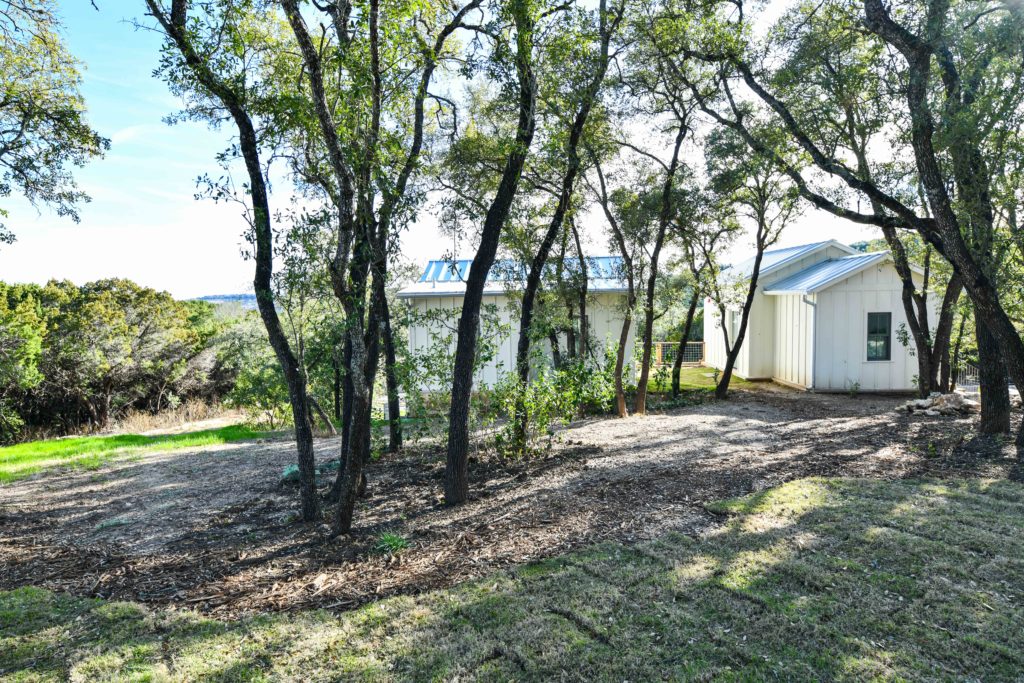 Conclusion:
I appreciate how the owners have creatively used this land. They've preserved the natural beauty of it by building in spaces around the trees, and the Austin hill country is a spectacular backdrop to have. The Wayback is a great place to have a staycation, experience a weekend get-away, or host an intimate event. If you are interested in staying at The Wayback, contact them today to book your stay!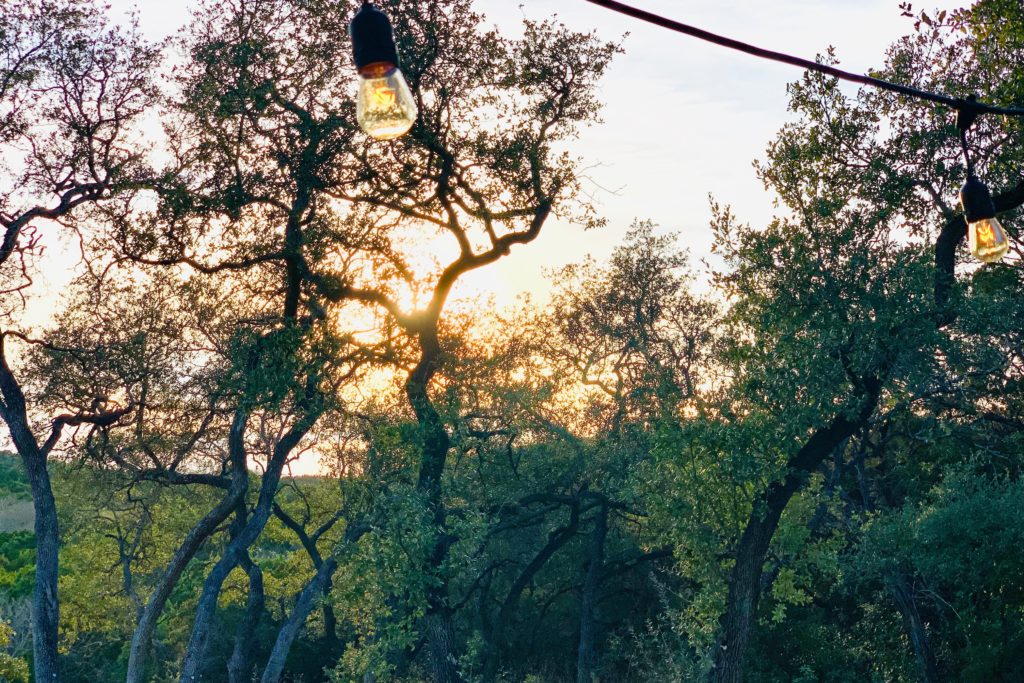 Cheers,