Welcome back! If you missed part one of my trip to Saudi Arabia, you can read that here! As soon as we got to our hotel, we passed out for a solid three hours of sleep and then the day got started! Again I was faced with the question, what do I wear in Saudi Arabia? I knew our itinerary said we would be out all day and in the desert too, but I just didn't have any idea what other ladies were wearing. I wore loose fitting blue trousers, a long white collared blouse, and a dark green knee-length cardigan. The scarf around my neck also doubled as a headscarf if I needed one. With my abaya and camera gear in my backpack, I was as ready as I could be.
Let me tell you guys about breakfast aka all the *heart eyes*! If I could have this delicious Mediterranean and Arabic breakfast buffet every day of my life, I would! Never have I ever had so much hummus with scrambled eggs before in my life LOL. It was all delicious and colorful and flavorful and filling. After breakfast, we huddled in the lobby as other parts of our group came in to meet us. Who is this group? Our group consisted of several international bloggers, photographers, videographers ever and investors. We were probably a group of 30.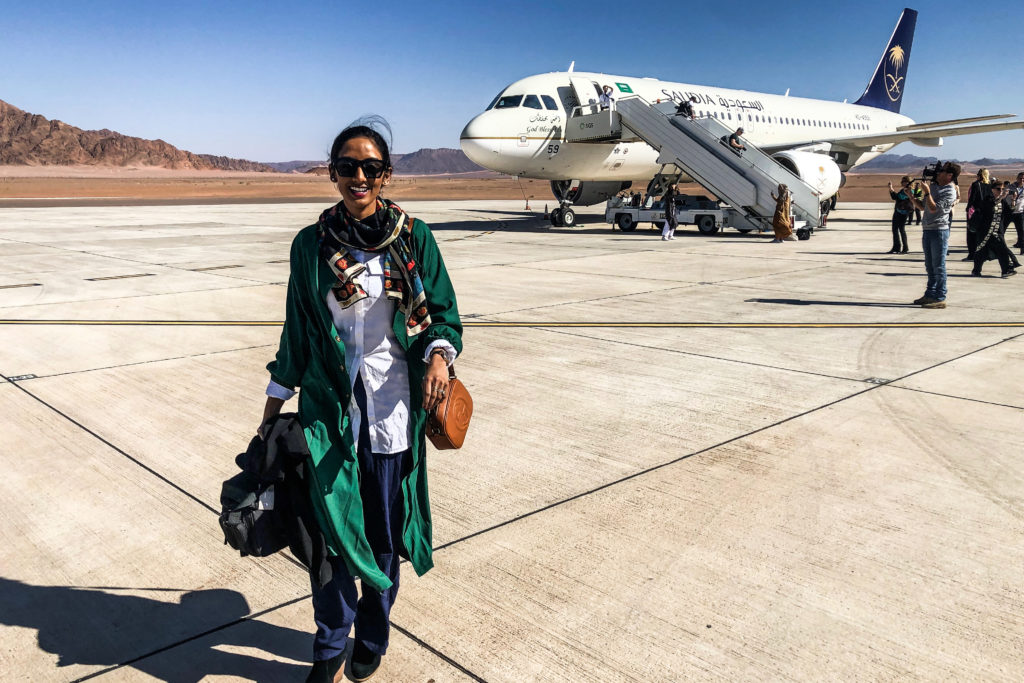 Our bus driver drove us to the airport, and then we hopped on a private plane, which, hello, so cool! I've never walked onto the runway and onto a private flight. SO spoiled! Oh, did I mention that on this hour and a half journey, the staff served us a five-star meal? Yeah. All my hummus dreams again. So where were we flying? This flight took us to Al Ula, Saudi Arabia.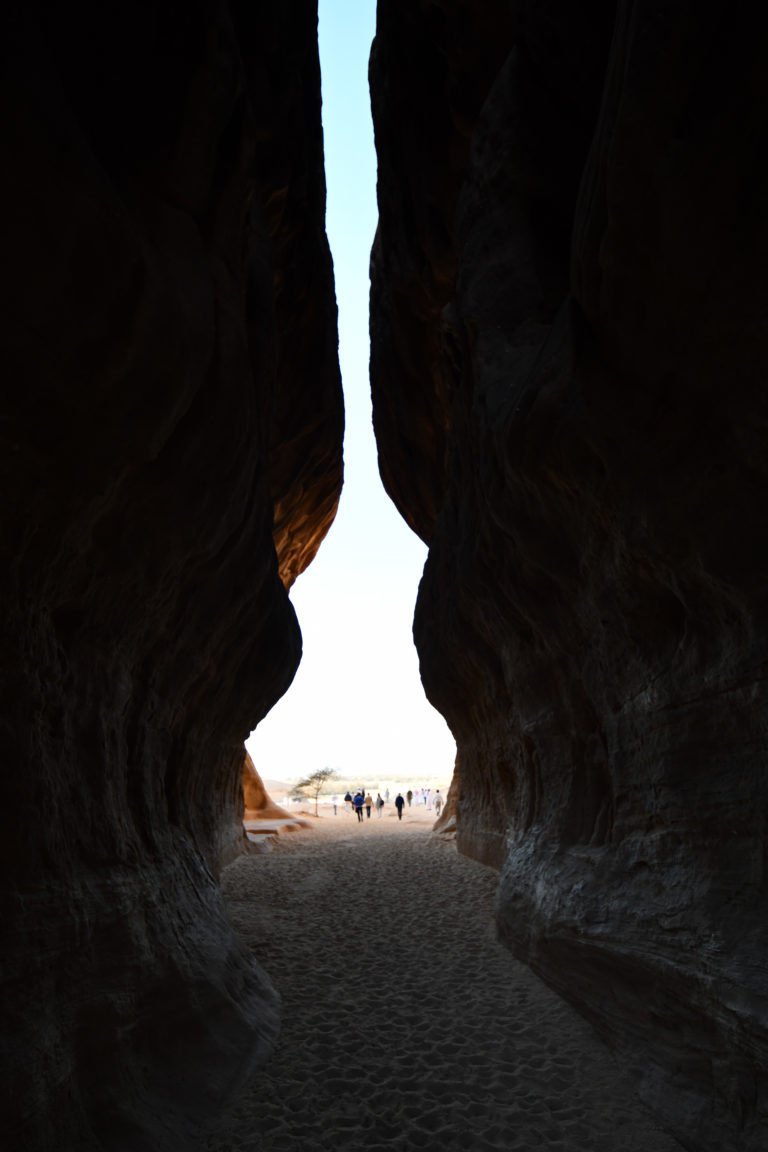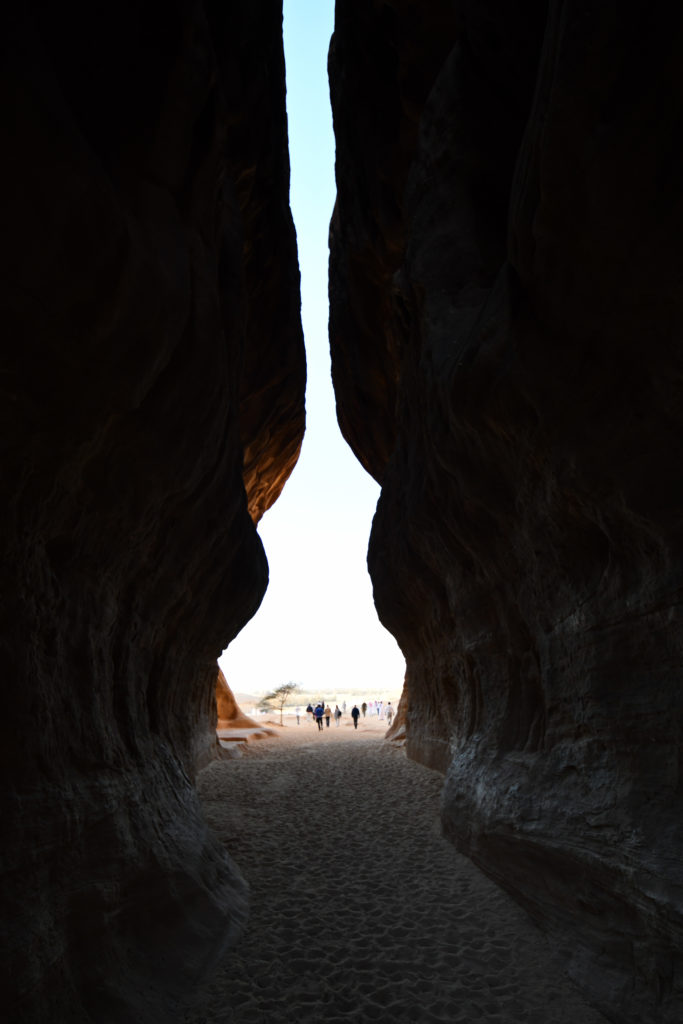 What is Al Ula?
Al Ula was founded in the 6th century BC, and it is a city in north-western Saudi Arabia. Al-'Ula was historically located on the Incense route, the network of paths that facilitated the trading of spices, silk, and other luxury items through Arabia, Egypt, and India. The city lies within the Governorate of 'Ula, one of seven in the Medina Region. Al 'Ula stands on the site of the biblical town of Dedan.
It is expected to be one of the most critical and exciting places to visit in the entire world. Until a conservation and development plan is established, some of the sites including the World Heritage Site of Madain Saleh are temporarily closed to the public (but we got to go!!!). It will re-open in 2020 for other visitors.
How is Al Ula compared to Petra?
The people who have been to Petra in Jordan said that Petra didn't compare even a bit to what we saw in Al Ula. It was just breathtaking. All of these incredible structures and the rocks and the nature of the desert everything! We drove around in 30 white forerunners throughout the desert and stopped for lunch in the middle of the desert.
They welcomed us with a traditional dance and the staff also set up this immensely regal tent with ornate chairs, polished serving ware, and a buffet for days. Plus, the snazzy servers' uniforms only added to the grandeur. I'll never forget the six drinks placed in front of me! I loved seeing the traditional dances and performances, enjoying Arabic coffee, eating all the hummus my heart could handle, seeing this untouched nature and archaeology, and driving through the desert.
Driving through the sand dunes in the desert was hilarious. Cars stuck in the sand left and right, and it was the bumpiest ride I've ever experienced! But finally, they navigated us into a canyon in the desert where they set up this gorgeous campsite with thick carpet's, a fire, cushions, and lots and lots of Arabic tea.
They had live music, and we were all able to enjoy each other's company around the fire. Enjoying the sunset in the desert is something I'll never forget. Just stunning.
After a full day of exploring, we drove back to the airport, got on our flight, drove to our hotel, and passed out. Day two of my trip to Saudi Arabia awaited us!
Cheers,