If you didn't read my post on the moment I found out I was pregnant and how I told my husband, you can read that here! After I told my husband, we kept that exclusive news to ourselves for a week before we shared our update with the family. If I had to sum up weeks 4-9 in a few sentences, they would sound like this.
Father God, you are incredible! Magnificent! Gracious beyond words!
But…are you going to take this away for me?
Actually, how soon are you going to take this away for me?
God, I need you to help me trust you and not be anxious.
God, help me remember that you are a good God, that I trust you, and that you are NOT a God who is out to get me.
Seriously, those five statements just kept revolving in my mind for weeks. I would sit there in the shower fighting out loud against anxiety because I was so scared to lose this precious life. Where was this anxiety coming from? Well, most of it was the fact that someone incredibly close to me was walking through the aftereffects of a miscarriage. Seeing how that loss of life grieved her in the deepest part of her soul left me frustrated, anxious, and SO angry toward God. I know I wasn't the one experiencing her level of grief or anywhere close to it. But seeing loss so close up just further amplified the fragility of pregnancy for me. It was hard to walk through early pregnancy with any confidence but bringing those hurts and thoughts to the feet of the Father day after day is what helped me not drown. Remembering that God loves us immensely more than we love our families helped me open my fists and slowly surrender this life to Him. But more on that in weeks 10-14.
I'm sharing my music playlist and scripture I kept on my background up until the end of the first trimester. These songs and these words really helped me fight anxiety day in and day out!
My First Doctor's Appointment and Ultrasound
My doctor walked in and said, "Well, that was fast!" We exchanged relieved smiles and then she prepared for my first ultrasound. In the movies they make it seem like your ultrasounds are always with that gel on your stomach but when the baby is so small, it's an uhm…invasive ultrasound. Maybe you already knew that but if you didn't, be prepared haha. The discomfort and slight embarrassment disappeared when I saw that little booger on the screen. Not a real-life booger, that's just gross. But really, it was overwhelming. She printed out the ultrasound for me, and I just stared at it in the car singing in worship for a bit, cherishing getting to see the life in me and the flickering heartbeat! Yes, even at just six weeks there was a heartbeat…amazing.
I went home and excitedly stuck it on my fridge. My intern saw it that day because I forgot it was on the refrigerator, but she kept it a secret 🙂 Y'all, it was so strange being in an OB/GYN's office. I went there by myself and saw all these moms in all different stages of pregnancies with the same role change…motherhood! Gah! There will forever be a third soul under the Parker household name. Eternity has been changed and impacted.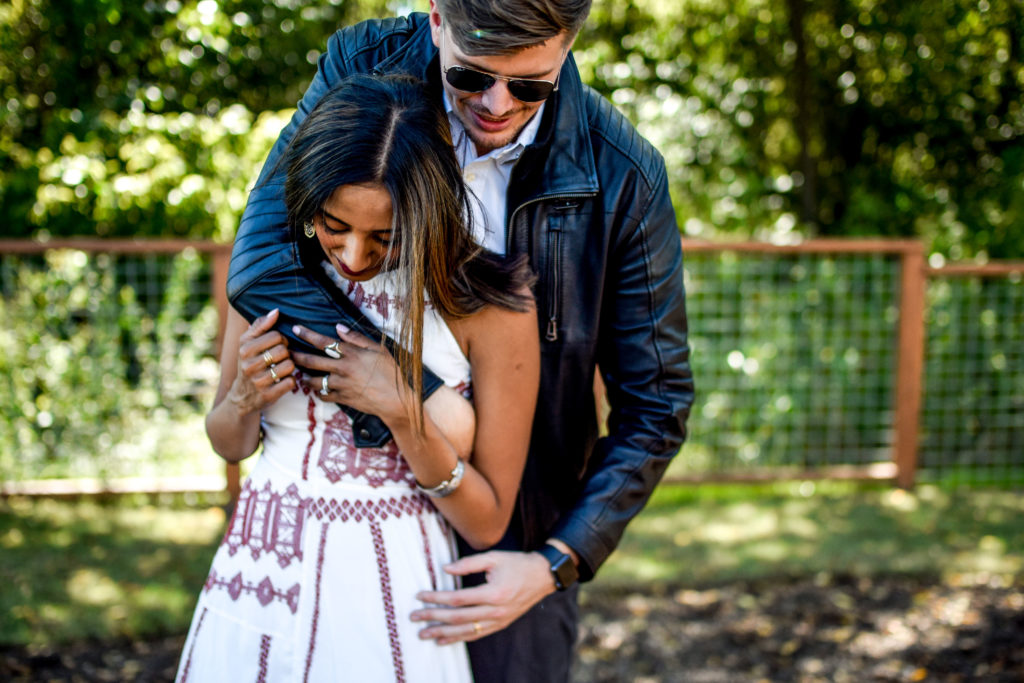 Telling Family I Am Pregnant
I will never forget the way each family member reacted when we told them our news. We had to FaceTime all of them because nobody was in the same city as us (typical), but I did take screenshots which will go in our baby's scrapbook!
The Mothers
His mom: We were chatting with hub's mom about random things and then all of a sudden, hubby goes, "Mom we have something to tell you." Y'all! My hands were clammy from nerves!! This was the first person we were telling, and my husband did not tell me he was going to drop it that casually. We ended up telling her I was pregnant and awhh, man, it was the sweetest thing. She cried, we celebrated, and it was just pure joy in the air.
My mom: My mom was with her mom in India when we FaceTimed them. I said, "Oh I wish I could be with my grandmother right now. By the way, you were going to be a grandmother too!" My mom didn't hear it at first and just sort of laughed and said "Awh." And then she looked back at the phone and shouted, "WAIT WHAT?!??" I repeated myself and said, "You are going to be a grandmother!" Oh. My. Goodness. The cheers and shouts that erupted from her and my grandmother were so full of joy that I felt like I was with them in our living room in India telling them about our pregnancy. Just thinking about it makes me smile.
My mom and my mother-in-law are such generous and kind women. They are mama bears who love with their whole hearts! I know our child will have a stellar pair of grandmothers in those two!
The Fathers
My dad: My dad was not in India with my mom, so we called him to see how he was doing. Then I think this time I casually mentioned to him if he was ready to be a grandfather and his face exploded into the biggest smile. He immediately went and got a glass of scotch and told Hank to do the same. Then they did a "Cheers!" on Facetime, and we just celebrated that news once again!
His dad: Okay so if you haven't figured by now, we've just been casually dropping the fact that we are pregnant into conversation with all of our family members. Hub's dad I think was the most taken aback haha. He was of course so excited for us, but his first reaction was "Oh my, oh my! How special is this!"
My dad and father-in-law are symbols of incredibly hard work and stability paired with humility. I know our child will learn so much from these two wonderful men!
I'm so glad weeks 4-9 are over but I can understand why they are important. Besides the obvious biologically, it is important as women for us to realize everything is pretty much out of our hands. We can't control this child inside and I'm sure I won't be able to once they are here haha. It also is just so good to learn to build those trust muscles, learn to fight anxiety spiritually, and rely on the Father for everything. I am sharing weeks 10-14 of pregnancy next week. What to expect? My first fall. My second fall. Hearing the solid heartbeat. Hubby surprised by some things at my appointment. Cravings. Was I sick? Telling friends. And so much more!
Cheers,
Shruthi