If I had an unlimited spending budget, I don't think I'd cook nearly as often. You would probably find me at bars—not because of alcohol (I don't even really like alcohol), but because of the food. I freaking love bar food. Especially when it leaves you raving to every random person you see for the next 48 hours after.
I'm a ranter. I think you guys have figured that out. But there's usually significant truth in those words. I really believe the nature of a bar—you know, the jovial mood and eagerness to relax—must resonate with the chefs because man, that food puts me in a good mood.
Recently I went to Strongroom Bar & Kitchen in Shoreditch, London to try out their new menu featuring Salt & Dry. In case you're not familiar, Salt & Dry is a bespoke catering company that runs a fleet of cooking vehicles as well as designs menus for some of London's successful new restaurant launches. I apologize in advance for the severe pangs of hunger headed your way.
S P A C E
First things first, what's the space like? We walked down an alley and found the bar to the left. There's a lively outdoor space, covered in golden lights, probably where the live music usually takes place. We walked inside and the first thing I saw was a ukulele club meeting. Can I tell you how much happiness that brought me? A lot. Then we made our way upstairs to the bar and seating area. It was quirky, expressed a musical theme, and was well-lit and comfortable. We were seated near the kitchen, always a win, and then I eagerly looked over my record-shaped menu.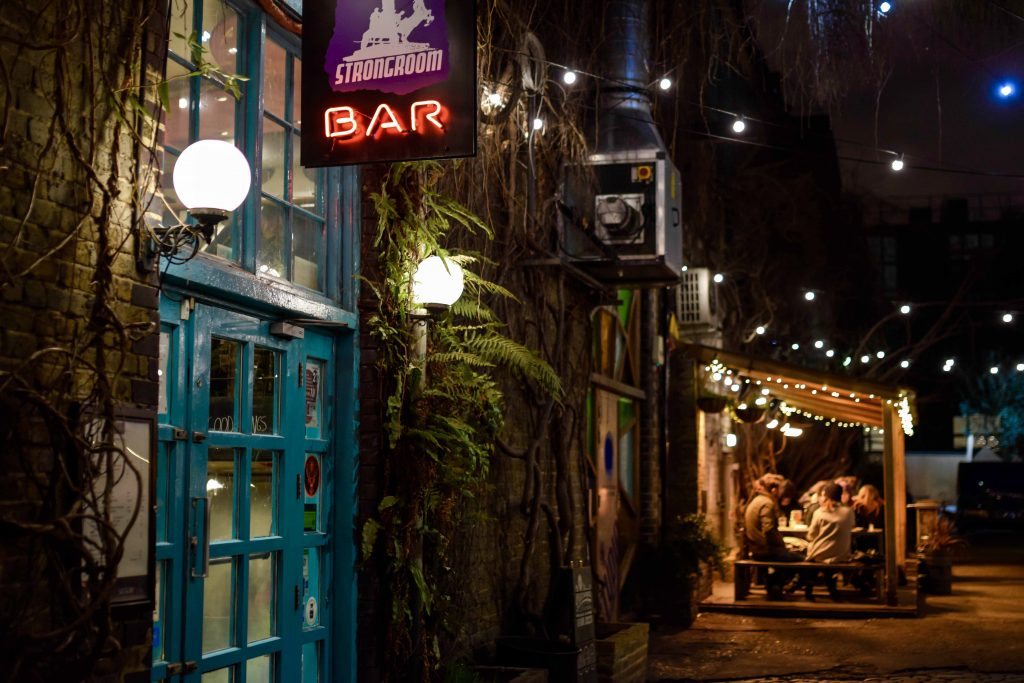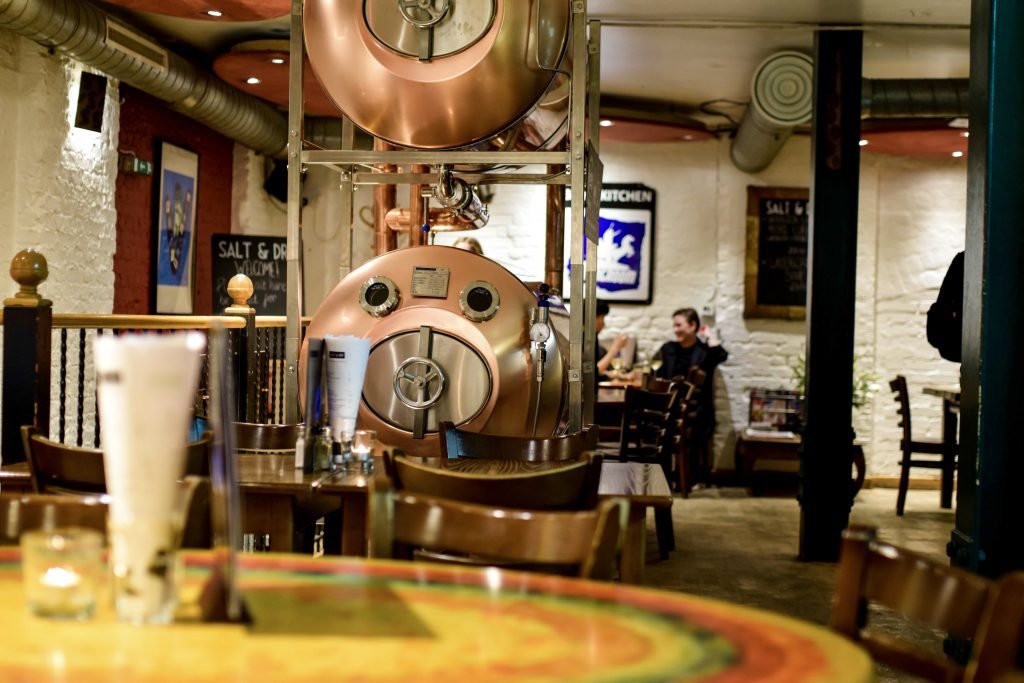 E A T S
As a vegetarian, I usually have to research a restaurant in advance before I can just waltz right in. But sometimes I like to be surprised, and I was pleasantly so this time. The menu was split into four sections: bites, plates, sides, and sweets. The vegetarian, vegan, and gluten-free options were all labeled, and there were plenty of options. That was a breath of fresh air. The first thing we ordered were drinks—two ciders.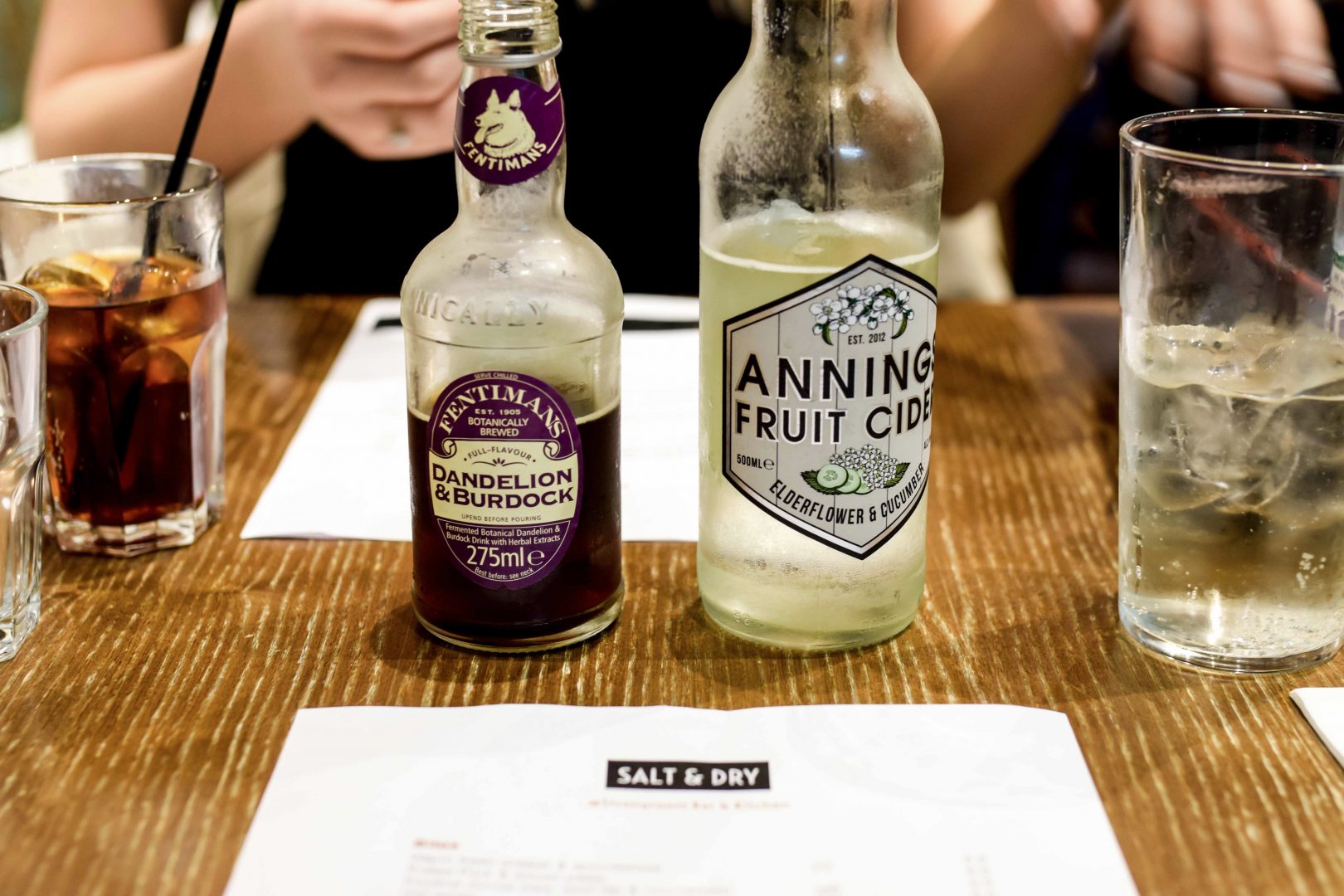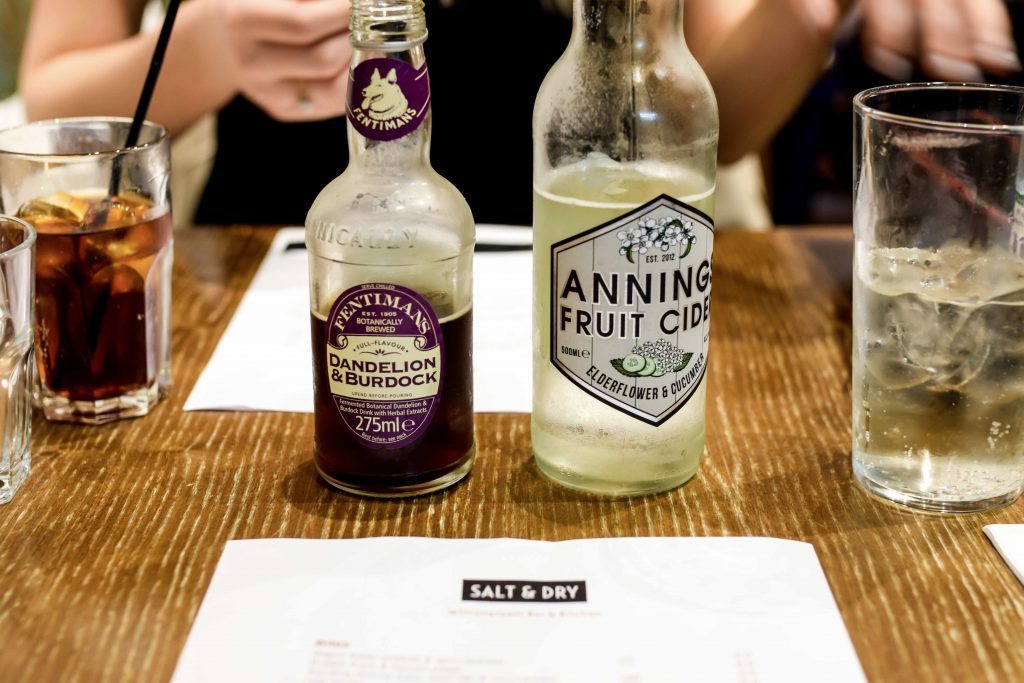 For appetizers, I started out with the pretzel & spundekase (3.00) and okra masala fries & raita (5.00). My friend Charlotte tried, and devoured, the hot wings (5.00). I have a pretty high standard for okra fries because Dishoom serves them, and theirs are phe-nommz-en-al. These were on par with those. Also, pretzels are my jam because as an American, pretzels are basically a food group in my diet. This pretzel was warm, fresh, and flavorful. The sauce added to it as well. Char didn't leave any chicken on those wings, so I'll take it that they were fantastic.
After our appetizers, we moved to our mains. I ordered the avocado soup with chipotle & corn (6.00), and she had the ghurka chicken curry (12.00). Avocados are delicious, but I'd never had them in a soup before. Especially with corn. But the soup was actually really good. It wasn't too creamy or salty, but there was definitely a punch with the chipotle and a softening with the corn. I would order it again, so I'd say it was a success. Even though I don't eat meat, the aroma of the chicken curry was enchanting. The bright orange and red shades made me long for my jar of garam masala at home. Sometimes I open that jar and just take a whiff. Is that strange?
Anyways, given that there was nothing left on her plate, I know Charlotte enjoyed the curry, and I'm sure when I bring my husband next time, he will too. The manager, Philip, couldn't help but chuckle when he took our plates away because we were in a full-on food coma.
At this point, I really didn't think I had any space for dessert. But as usual, dessert trumped logic. Philip encouraged us to get the homemade ice cream, so we did. We had scoops of vanilla, cherry, and mince pie (4.50). The vanilla and cherry were our favorites. Homemade ice cream is kind of a big deal. I tried making homemade lavender ice cream once…bad idea. I wish I'd had space to try the blackcurrant and custard donut, which looked absolutely divine, but there was no way I could fit any more food in. Thankfully, I plan on heading back there soon for one of their quiz nights, so I donut have to worry about that (pun intended).
M O N E Y Z
Strongroom Bar & Kitchen is one of those spaces with amazing bar food, nightly activities, friendly staff, and best of all, affordable prices. Put down the Pret, my fellow Londoners, and make yourselves a reservation for a night of good food and fun at Strongroom. In the next three months, I implore you to check out this menu while you can before Salt & Dry move on. If you're not too keen on Shoreditch, I've got to say that it's cool, it's hip, and it reminds me of my old home, Austin, Texas. The music is abundant, the food is diverse, and the people are usually pretty weird. Love it.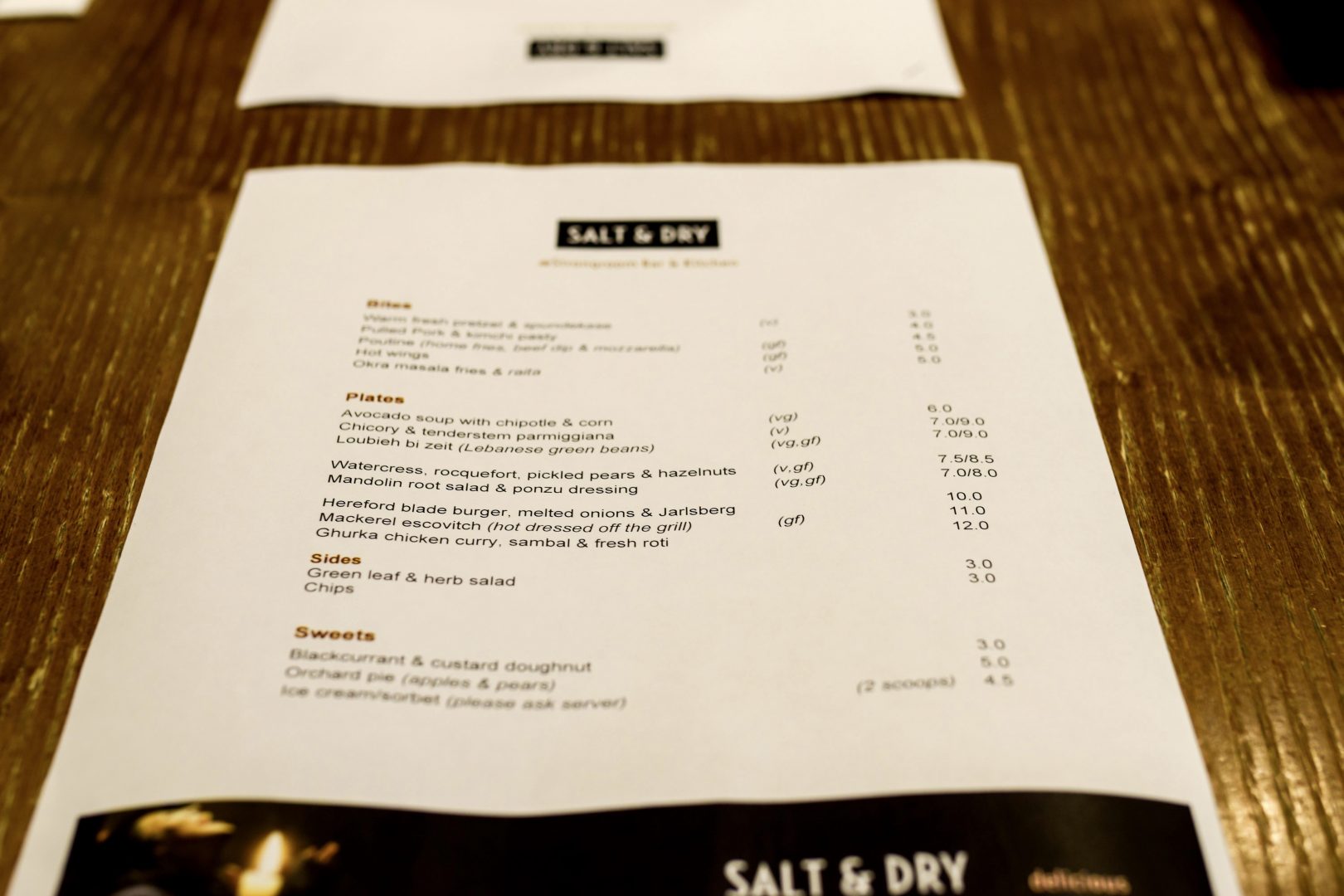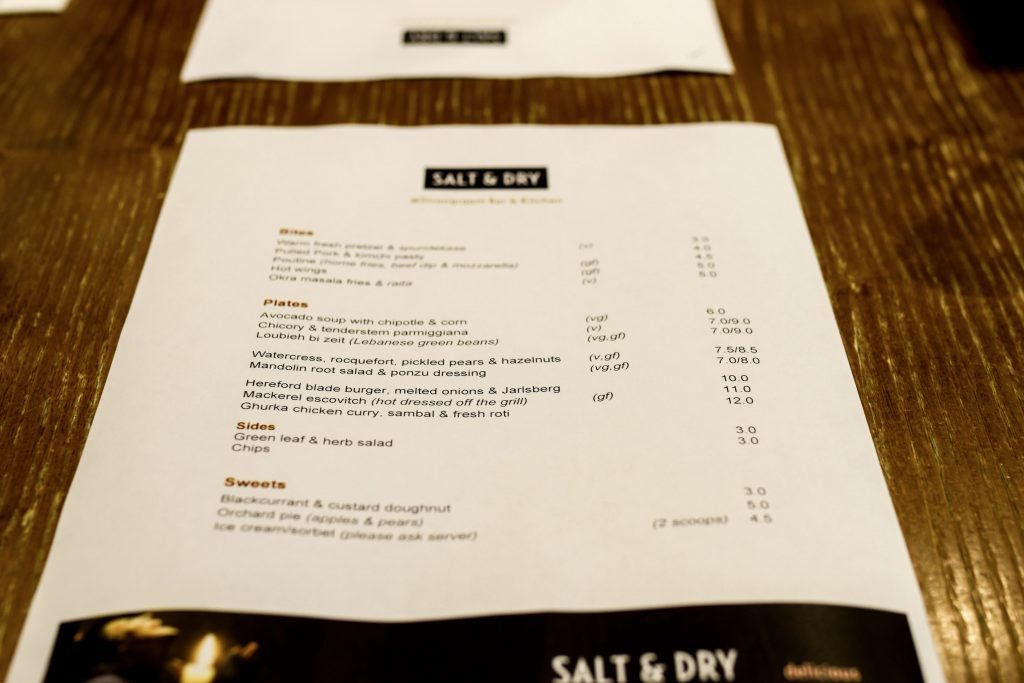 A little bit about Strongroom Bar & Kitchen:
Strongroom Bar & Kitchen is a multi-level, multi-function venue with a huge outdoor courtyard in the center of Shoreditch; it's perfect for any number of events, including private parties, weddings, conferences, creative meetings, corporate hospitality, team-building events, filming, product launches, and receptions. They offer a personalized service in a quirky setting, nestled amongst music industry creative spaces and adorned with artwork from the iconic radical artist Jamie Reid, who is most revered for his work with the Sex Pistols. Strongroom Bar, located at 120-124 Curtain Road, serves breakfast, lunch & dinner, Monday to Friday, from 8:00 a.m. Brunch is served on weekends from 11:00 a.m.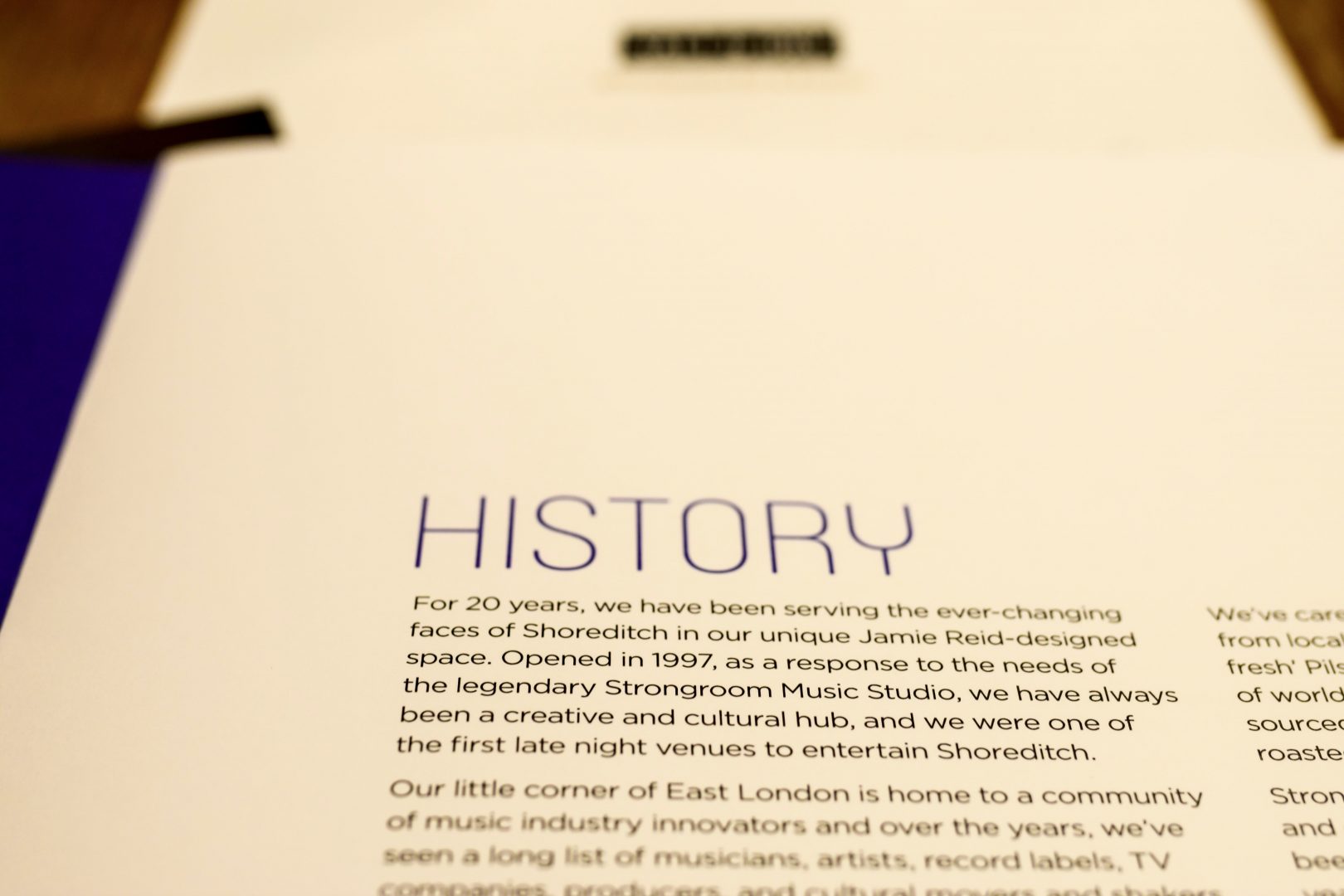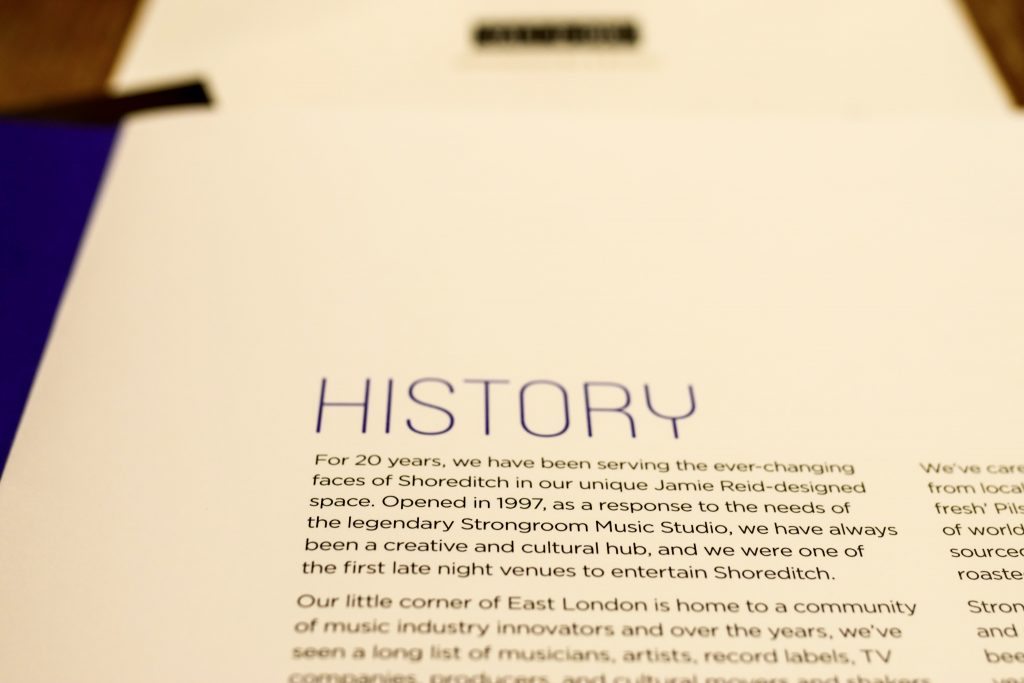 For more information on Strongroom Bar:
Web: http://www.strongroombar.com
Facebook: https://www.facebook.com/strongroombar
Twitter: https://twitter.com/StrongroomBar
Instagram: http://instagram.com/strongroomshoreditch/
ViewLondon: http://www.viewlondon.co.uk/whatson/strongroom-bar-and-kitchen-info-14857.html#userreviews
TripAdvisor: http://www.tripadvisor.co.uk/Restaurant_Review-g186338-d3202923-Reviews-Strongroom-London_England.html
Cheers,