We finally worked up the courage to travel with a baby and go on a long road trip! And we traveled pretty well if I may say so myself. I mean y'all, hubby says he is no longer scared of traveling with babies. If you're planning a road trip with your baby soon, I have you covered!
We headed to Arizona from Austin, and our total drive time there and back was 30 hours. We added a halfway stop in Marfa, where we spent the night on the way to Arizona and back from Arizona. Breaking up the drive was SUCH a good move for us, and if you can do that on your road trip, I highly recommend it! More recs after I share our travel with a baby packing list* with you. You can also see my tips for safe road tripping in a pandemic below.
ROAD TRIP WITH A BABY PACKING LIST
Baby Bjorn Travel Crib – I cannot rave enough about this. It is portable, quick to set up, and easy to clean.
Kettle for sanitizing bottles and pacifiers – So if you aren't sure if your room will have a coffee machine where you can warm up hot water, bring a small kettle so you can heat water to clean the bottles and pacifiers!
Crib Sheets – We had two comfy crib sheets with us for the travel crib mattress.

Pool Floatie (If there's a pool) – Baby girl had the BEST time in the pool. We put sunscreen on her 15-20 minutes before getting her into the floatie and the pool!
White Noise Machine – Nothing like setting the mood for your baby. But really. When you play the same music that they listen to at home, it's easier for them to sleep at the hotel! Our girl immediately fell asleep in both hotels as long as she had this sound!
Several Bottles – We washed these out with hot water from the in-room coffee machine or sink and then wiped them down with hand towels I packed. We brought four bottles for our 11-night trip.

Pacifiers – I boiled and sanitized five pacifiers before we left for the trip, and she didn't use all of them! We only give her a pacifier when it is time to sleep, so she knows pacifier = sleepy time. It works great for her and us!
A cloth bag for the dirty clothes – Any of her clothes where she had an accident, spit-up, or wasn't going to wear again went into this bag. Keeping a cloth bag made washing her clothes with baby-friendly detergent as soon as we got home super easy to do.
Formula or Cooler with breast milk – We brought three boxes of formula. We only used two, but it doesn't hurt to have a little more formula! Also, these bags are great for breast milk storage!

Diaper Changing Pad – We used this to change her diaper in the car and the bed in the hotel room! So easy to wipe down and sanitize as well as transport.
A trash bag for the dirty diapers – I feel like this is common sense but easy to miss! You don't want your car stinking up on your drive, haha. We used these scented bags.
Diaper Caddy – We kept the diaper caddy near her in the car, and I filled it with twenty diapers, wipes, powder, a trash bag, brush, tissues, and diaper rash cream. We brought the seat down next to her to use as a changing table.

Baby's Travel Bag – We emptied out our regular diaper bag and combined all of our baby's travel things with her diaper bag essentials in this bigger travel bag. I know there are many adorable trendy ones out there, but we decided to pick a bag that either of us could carry. Plus, this one is sustainable, so easy to wash (I just threw it in the wash and dry when we came back from our trip and it's like new), had tons of pockets, easy to wipe down, and was also our "pool" bag when it needed to be because it dried so quickly. We filled her bag with diapers, wipes, clothes, toys, and sunscreen.

OPTIONAL PACKING LIST
Carrier – I only used the cloth carrier one time on our entire trip. I know some moms love wearing their babies, and also, when babies are younger, it's easier. I'm more of a stroller gal because I like the freedom or ability for hubby to take over, but if you're a carrier gal, bring it!
Stroller/Car seat – Our UPPAbaby VISTA stroller and MESA car seat were so clutch on this trip. We just popped her into her car seat and the stroller in the hotel too. She sat in the high chairs they offered for meals, but we took her on walks and around the hotel in the stroller. Plus, it doubles as a luggage cart, so we almost always had our hands free.
We have an Owlet baby monitor that allows us to our phones to stream video and sound via the Owlet App. This gives me such peace of mind whenever we are not at home!
TIPS TO ROAD TRIP WITH A BABY
We regularly stopped every two hours regardless of if she was whining or not on the way. This "routine" made her whines/cries less, and she understood what it meant when we stopped. It was a time for her to be fed, changed, and we held/played with her for a little bit before putting her back into her car seat.
I kept a swell water bottle with warm filtered water so that I could easily make bottles whenever the car stopped and give them to her. I also kept food packets like these on hand to give her. A full baby is a happy baby!

I kept a few clothes changes because one time she spit up, and another time, she peed a little bit out of her diaper!
We exchanged the toys we kept on her lap between stops. We always put two big toys (big, so it's not a choking hazard), and she seemed to like that.
Although we didn't use our mirror, they are super popular! You can check it out here if you're interested. I had this in the car, but we never put it up because we just honestly forgot.
As I mentioned in the beginning, breaking up the drive with a place to stay halfway was helpful. This gave us all a chance to rest and made the journey enjoyable! I don't honestly think I could handle being in the car for longer than 7-8 hours at a time anyway.

Music! Our girl loves having music on in the background, and so do we! Our car allows for the music to be louder in the front and softer in the back, so we used that setting. We also made sure she was always cool enough because road tripping in Texas can get hot fast!
TIPS TO SAFELY ROAD TRIP IN A PANDEMIC
Mask up! We bought these disposable ones and also brought several cloth masks. Hubby has an O2 mask that makes him look like Bane if you're interested in something more intense.
Plastic gloves. Keep a few pairs of these on hand if you need to touch the gas station pump or open a trash can to throw anything away.
Hand sanitizer + moisturizer. We kept a massive bottle of both of these in the car and used them liberally!

Wipes. We did use the restroom on our way but didn't touch any door handles or flushes! Stuff several wipes in your pockets and open every door with these. 

Try to bring your own food, but if you need to grab a meal somewhere, stick to drive-throughs!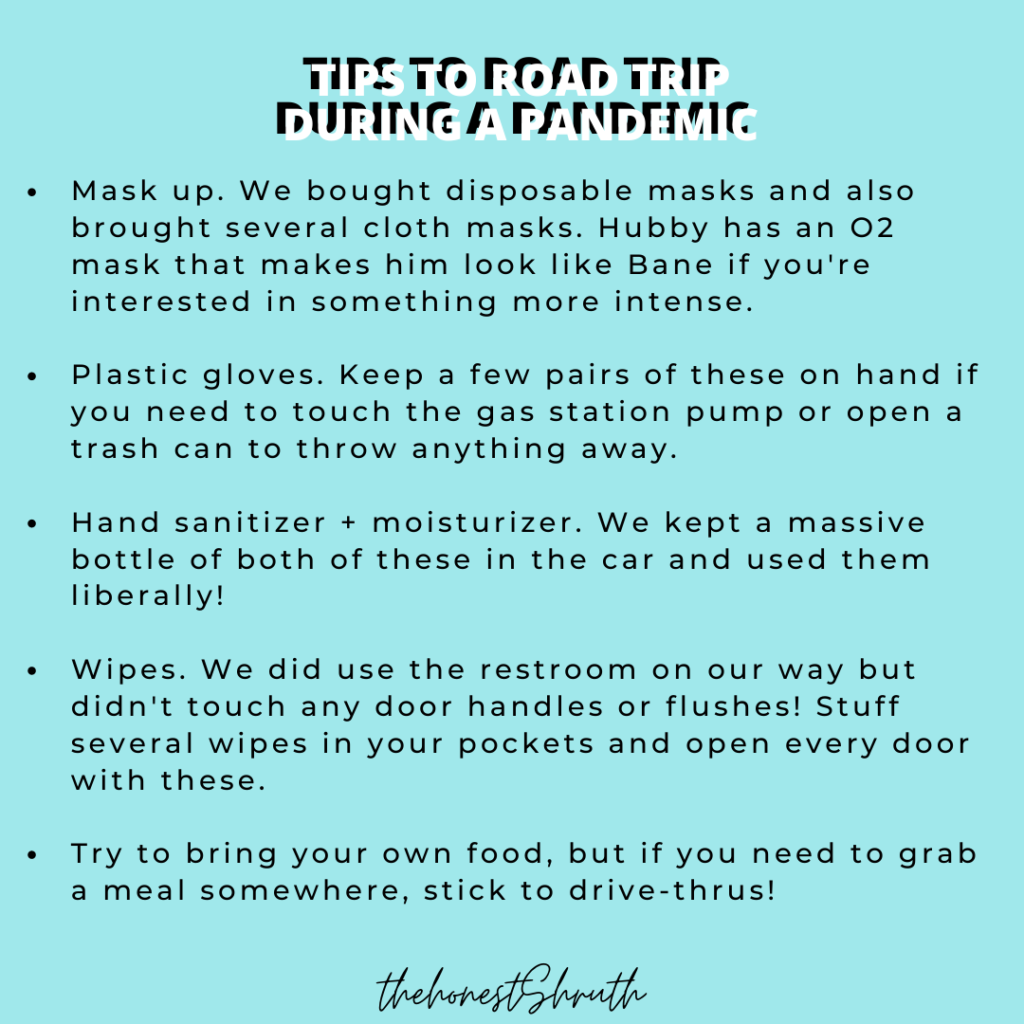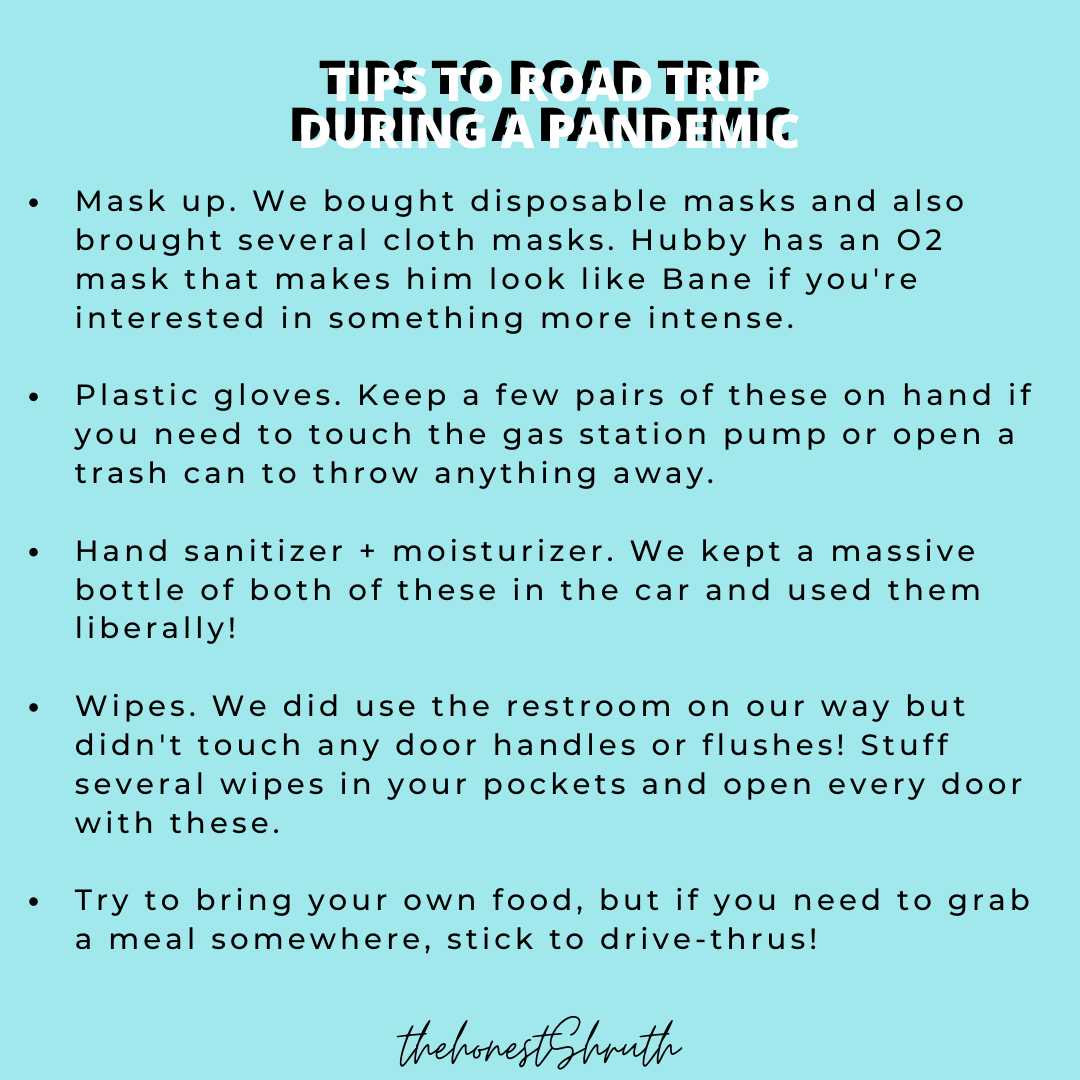 We road tripped with a VERY active ten-month-old, and I'd travel with a baby again in a heartbeat. After our long road trip, we headed to Dallas on a shorter road trip (total drive time there and back was 7 hours), and that felt like a piece of cake! Hubby and I believe that your life doesn't stop when you have a baby, you adapt and keep going. Plus, they're so dang cute you can't help but love having them on your adventures.
*I make a small commission on any purchase from my Amazon store!
PIN ME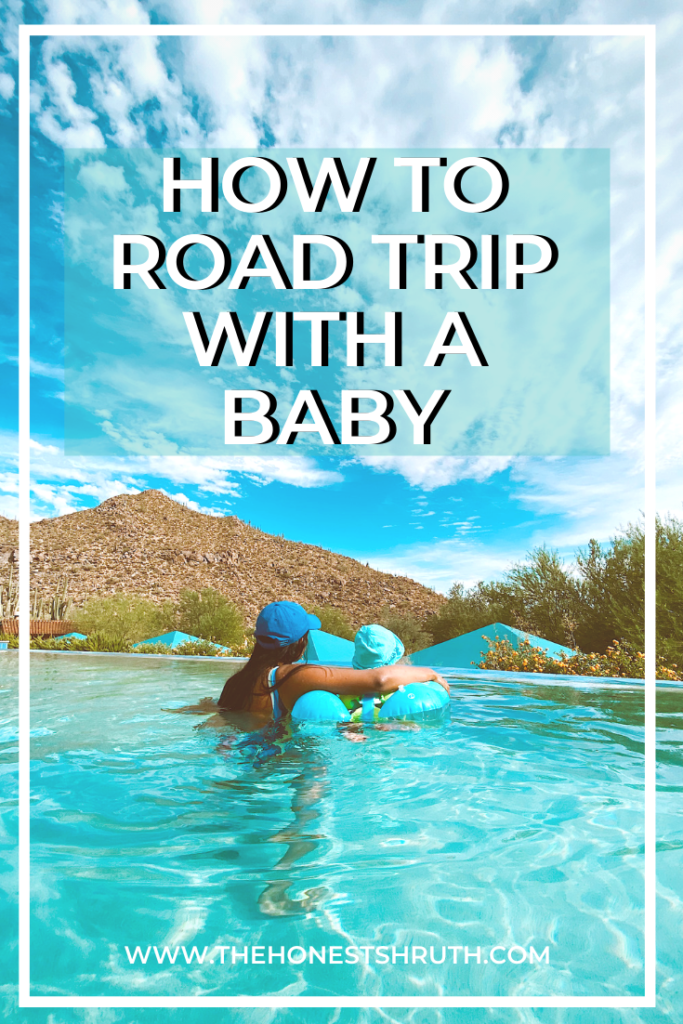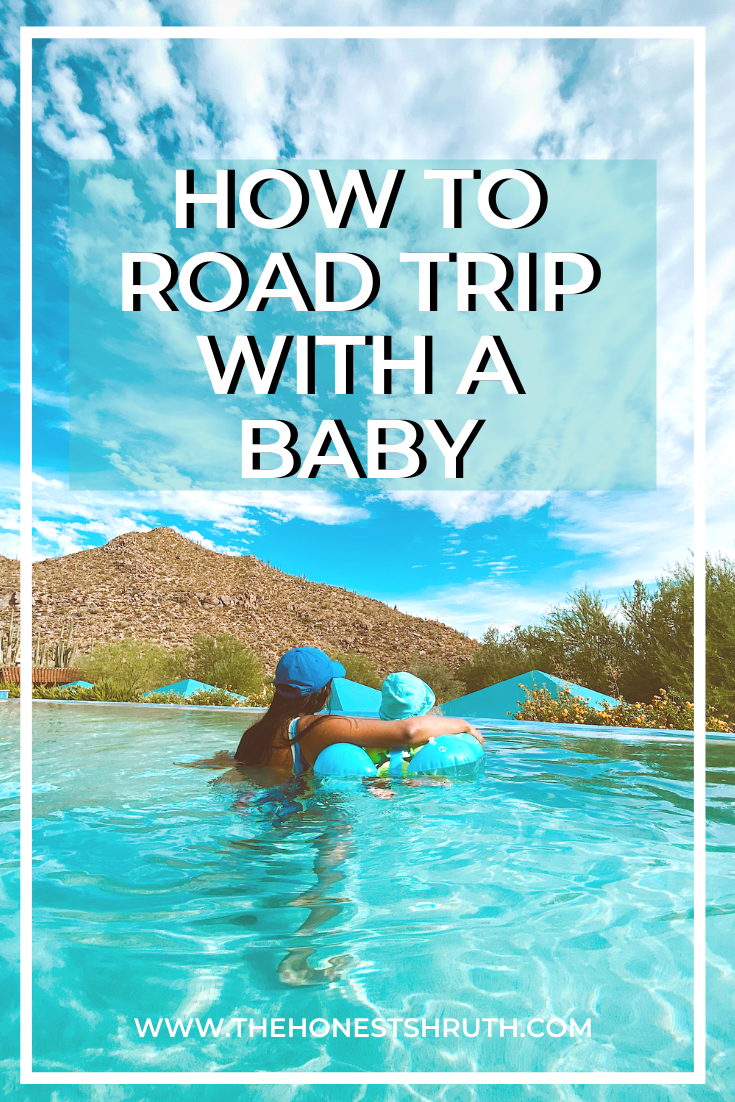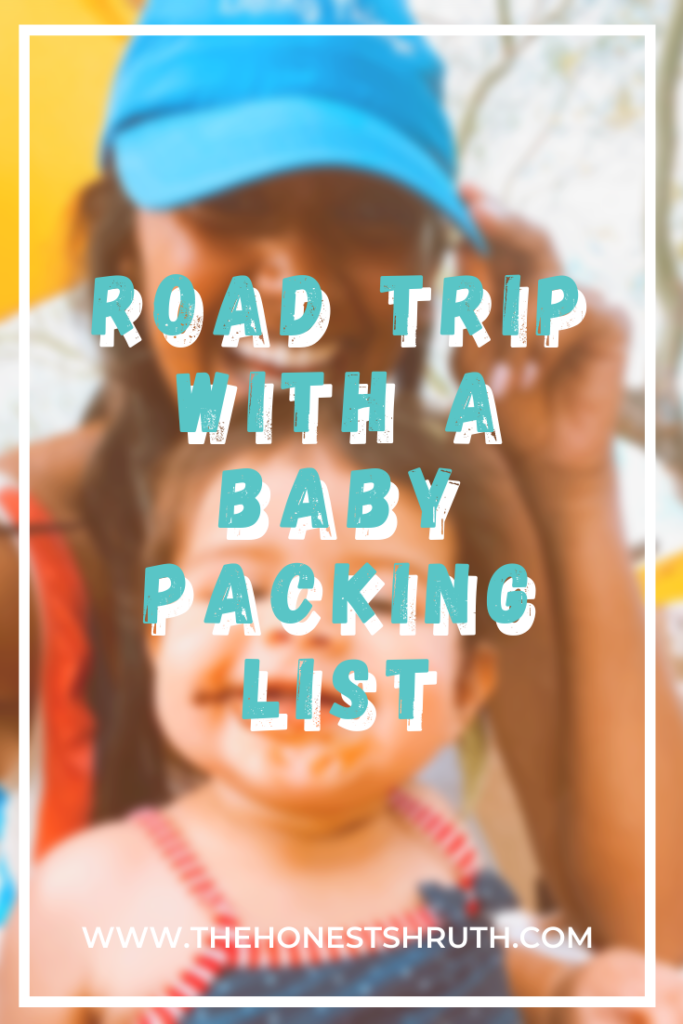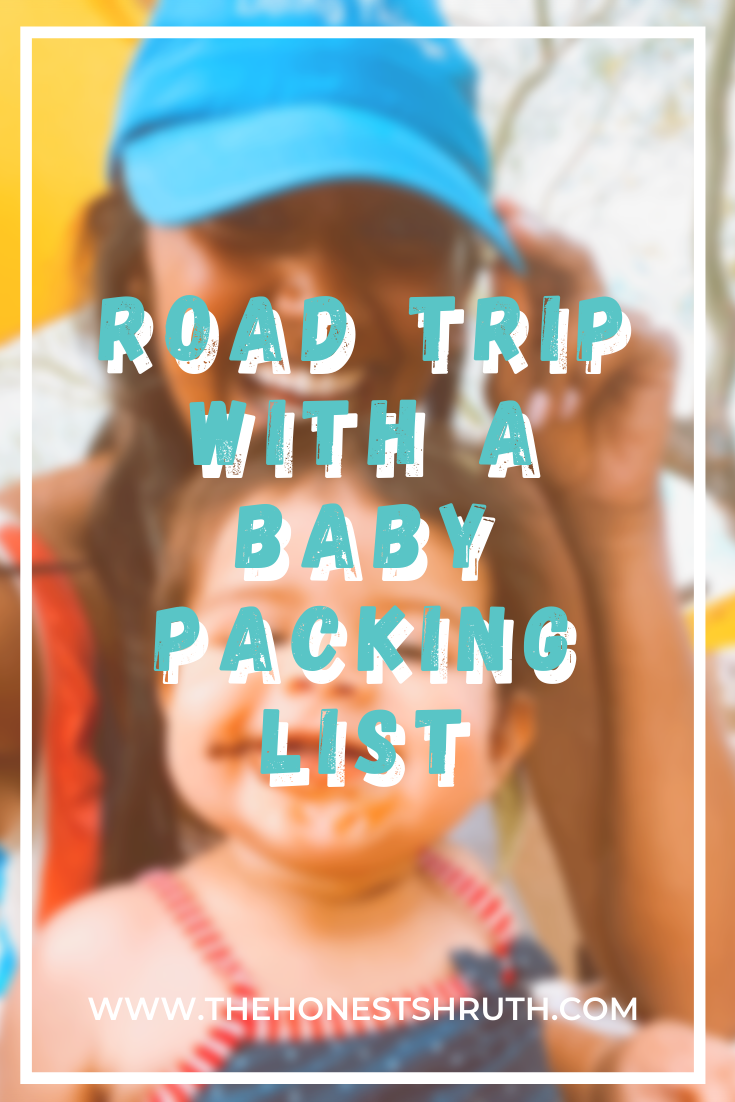 Cheers,