Can anyone else believe that June is literally tomorrow?! With summer literally around the corner, now is the time to stock up on the perfect statement earrings for all of those cute outfits you have. Below you'll find a list of my top 10 favorite statement earrings for summer.
Akola || Brianna Earring || $78

Description: These Akola statement earrings are SO FUN, and they come in two colors. I am all about the raffia tassel trend y'all. Since they're a little busy, I tend to pair them with a simple white dress or a denim-on-denim look.
Kendra Scott || Didi Gold Statement Earrings in Azalea Illusion || $110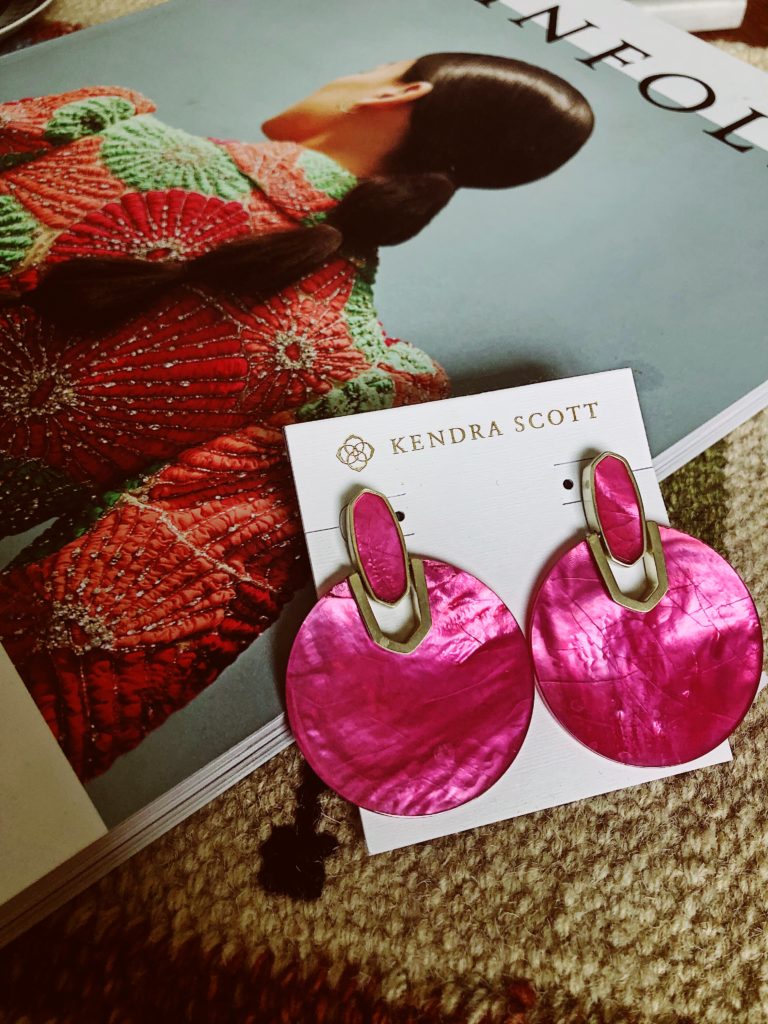 Description: I love wearing these Kendra Scott earrings for a fun GNO! They're such a fun way to spice up an outfit, and I get many compliments on them. Also, while I love wearing them during the summer, the color goes great with winter outfits as well!
Susan Standeffer Designs || Pink Flower Metal Stud || $38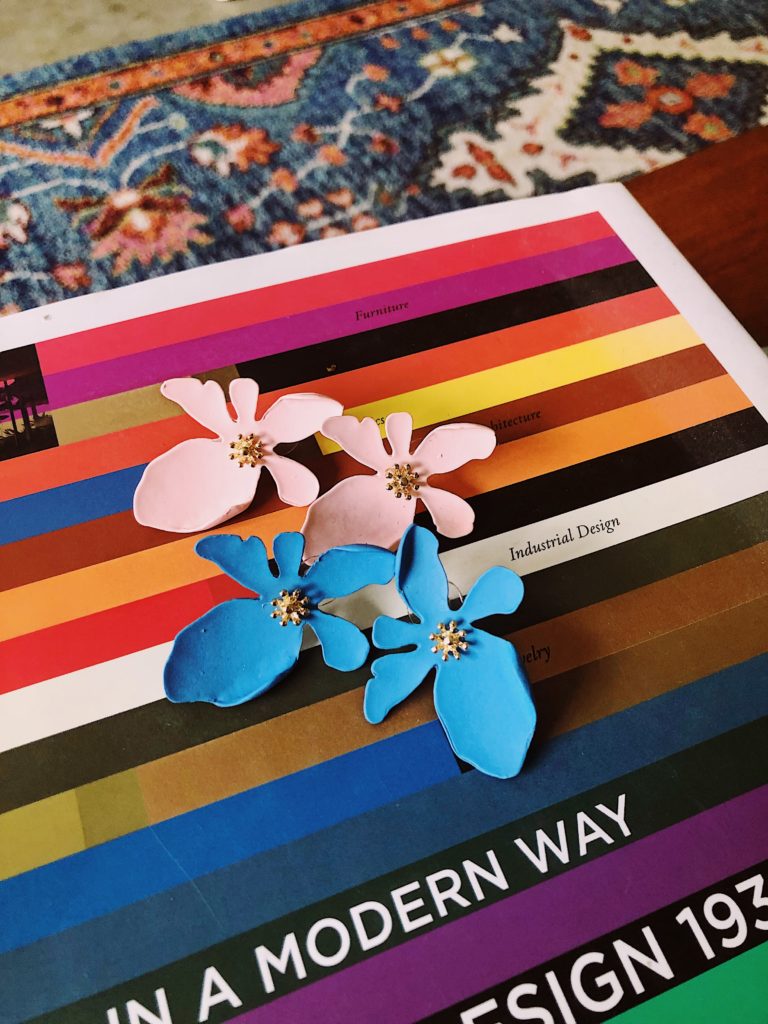 Description: These are great for spring and summer, and pair perfectly with a sundress or simple outfit to add more color. They're also great for a gender reveal or baby shower gift! The pink ones are linked below, but Susan Standeffer Designs also makes them in blue and white. They're going fast, so buy them while they're still in stock!
Kendra Scott || Rogan Stud Earrings in Gold ||
$80
$49.97
Description: I wear these earrings ALL the time! They look like little suns so they are perfect for summer. If I'm honest, I wear them during winter too, and people think they have a "holiday flair" so it works all year round! PS remember, if it's your birthday month then you can score a 50% discount on any piece of Kendra Scott jewelry!
Akola || Cyrus Drop Earrings || $48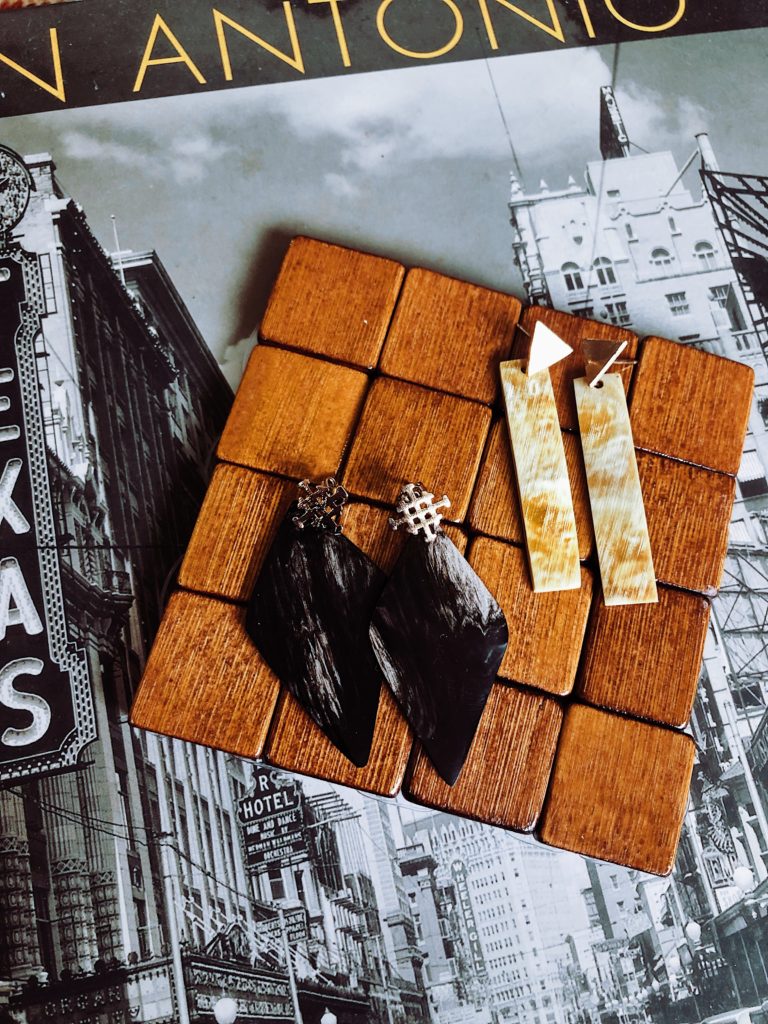 Description: For the minimalist stylistas out there, these earrings are going to quickly become your 2019 favorite! They go with anything from blue jeans to a summer dress. Did I mention these thin, handcrafted statement earrings are super lightweight?
XIXI || At the Cross || $30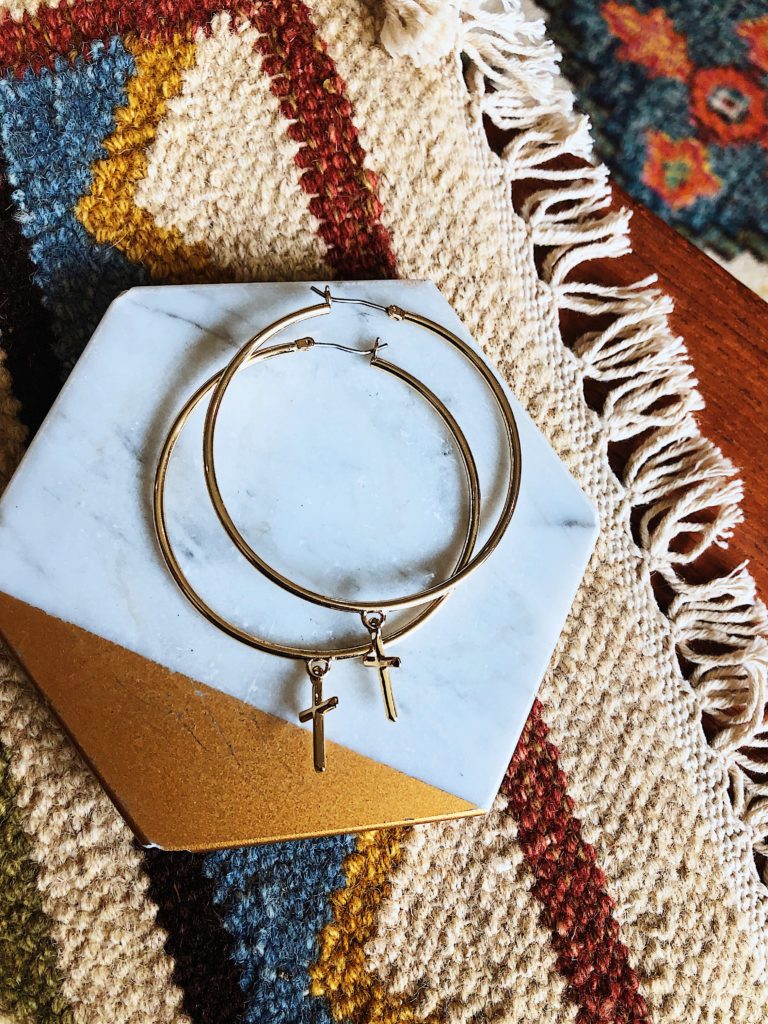 Description: Okay. I'm wary of hoops because I'm not sure I can pull them off, but these hoops are magic y'all! I love the way they look with the little crosses, and they are lightweight too. Perfect with straight hair and a nude lip or a bun and a bold red lip! Did I mention the designer is none other than Adrienne from the Cheetah Girls? Cheetahlicious!
Akola || Asha Drop Earrings || $48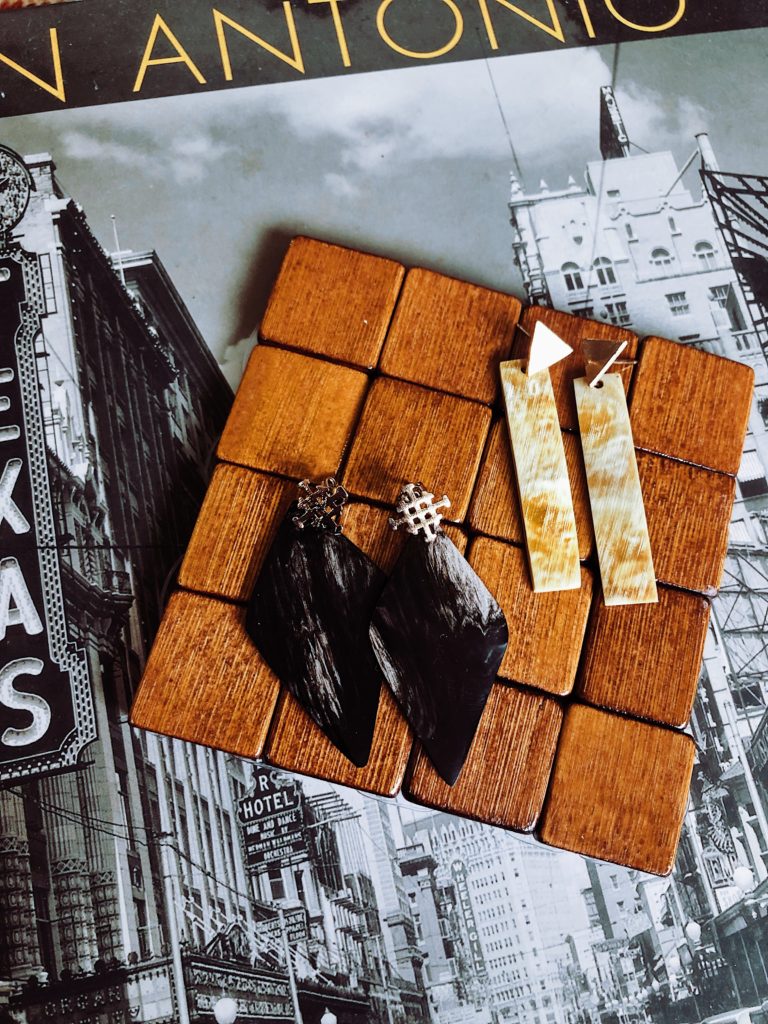 Description: I love pairing these chic, black earrings for an all-black date night look! These Akola designs are handcrafted by African women from beautifully carved horn and versatile. I was worried that horn would make these Akola earrings heavy, but they are lightweight! Please pick up a pair before they're all gone!
Susan Standeffer Designs || Champagne Feather Earrings || $125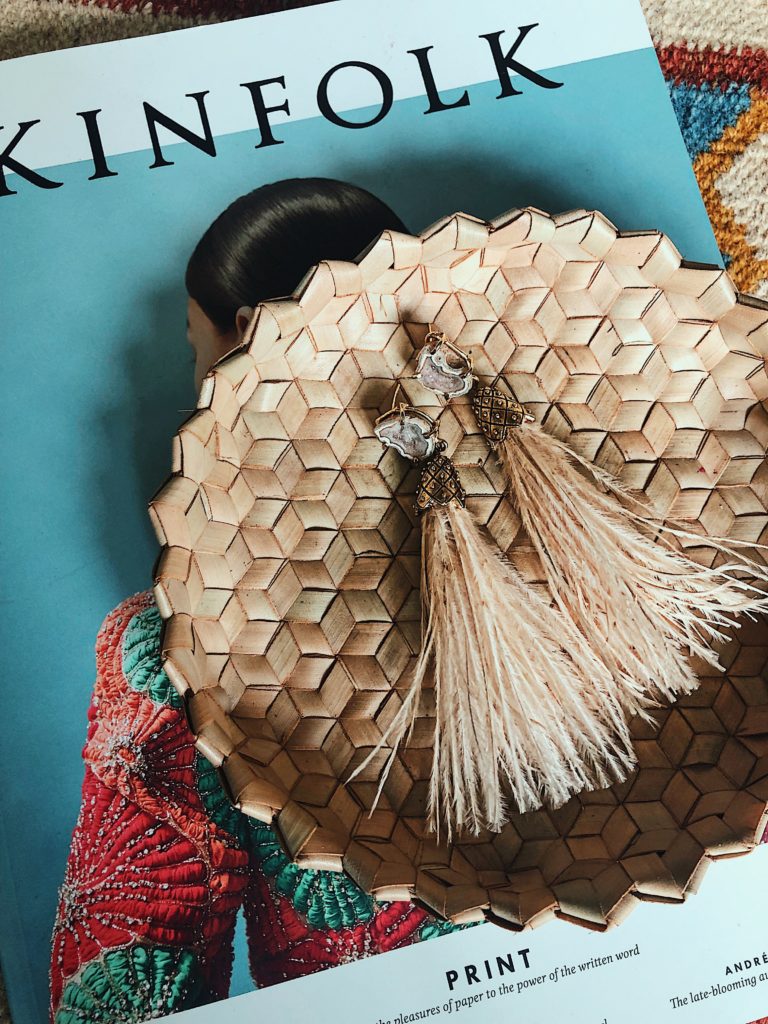 Description: These feather earrings are my favorite earrings EVER. They are so fun to wear and certainly make a statement whenever I wear them. They come in your choice of white, gray, black, nude, gold, or pearl, and all the stones are unique. These would make a great gift!
Nina Berenato || Imperfect Knot Earring || $132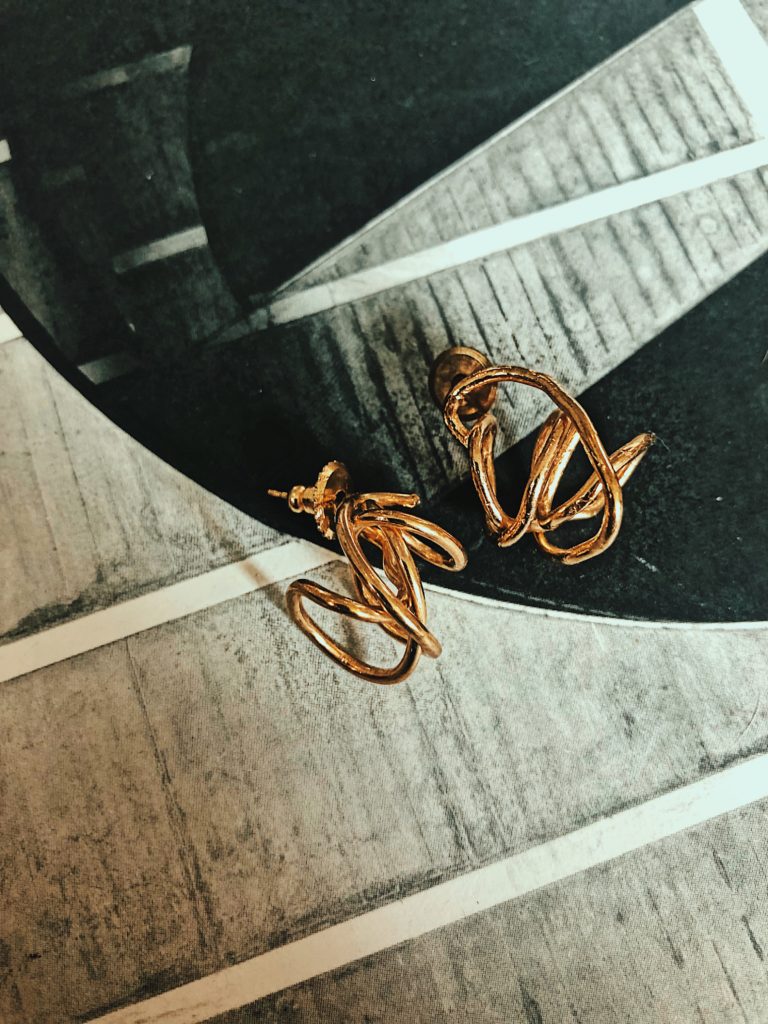 Description: You can buy these from the store, or if you're lucky, maybe Nina Berenato will offer a workshop where you can learn to make them! I made these, so they are extra special to me. I can't tell you how many people compliment this design and the fact that they are gold means that my ears survive a long day of wear haha!
Just Trade UK || Coloured Brass Statement Studs || £25.00 or $32.00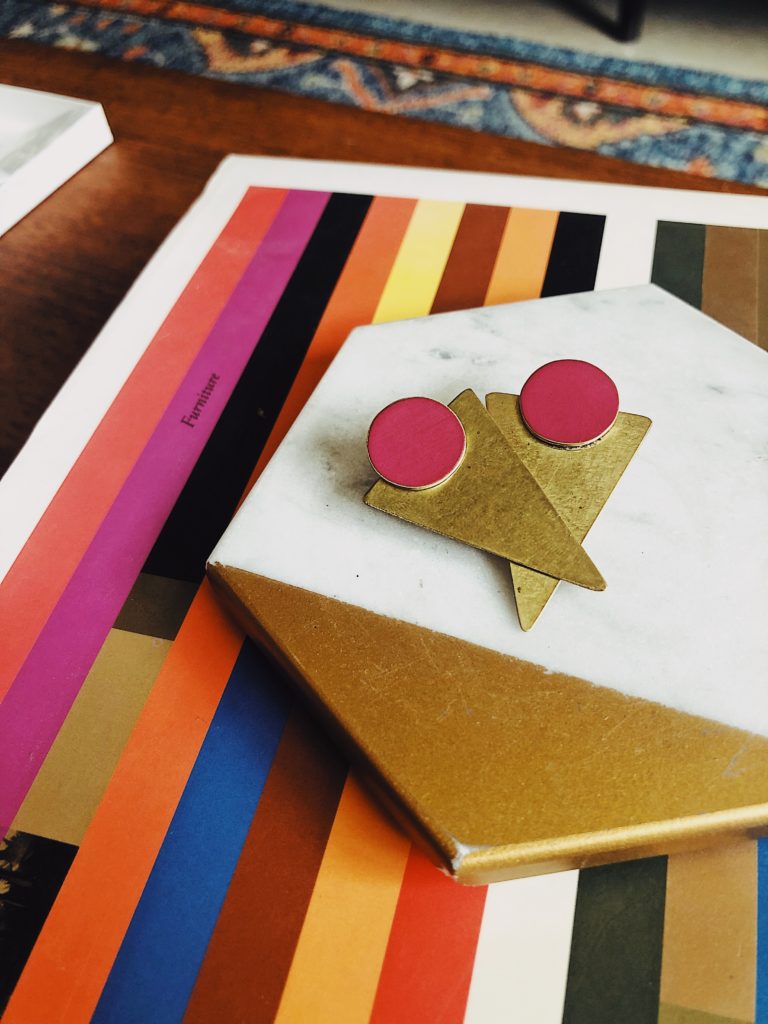 Description: I picked these up at the Fairtrade Federation's conference this year because hello, the geometric design is e-ver-y-thing! These statement earrings are hand cut and polished using traditional jewelry techniques. The color is added using enamel paint, and the ear posts are silver plated. Yay for gorgeous statement earrings!
Do you have any statement earrings for summer you recommend? Comment below and let me know!
Cheers,