Since we spend so much time at home, I wanted our fall tablescape to be something that makes us smile whenever we walk by it. I wanted our fall table decor to be bright & cheery in the day & date-night dreamy at night. Besides those objectives, I also had another challenge. I wanted to use as many real pieces as possible. I don't particularly like storing items year to year, and also, my husband cannot stand fake décor. I'm talking he truly hates it. Sometimes faux decor is best, in my opinion, but I wanted him to love our fall table décor as much as I did, so I aimed for as much real as possible. Here's what I used to create our fall table décor:
Real Fall Decor
Pumpkins⠀
Squash⠀
Pinecones⠀
Succulents⠀
Candles (tapered & tea light)
Sunflowers⠀
Eucalyptus ⠀
Greens⠀
Artificial Fall Decor
Table Decorating Steps
Clean the table
Layout the placemats
Trim the flowers and greens
Remove the stickers from the produce
Burn the candles a little bit to get the waxy melting along the sides
Arrange the flowers
Remove the succulents from the original container and place into my containers
Add the artificial pumpkins in the succulents as well as along the table decor
The Final Reveal
I love the way our fall table decor turned out! The greens, oranges, and yellows add so much joy to our dining room during the daytime! I like a more decadent green feature, so that's why there's so much green here. The eucalyptus smells heavenly too! At night, we are ready for a glass of wine and date night once we light all of these candles. The nighttime scene is cozy, romantic, and dreamy. I am also happy to report that my picky husband loves it! I know it's not yet officially fall, but it sure does feel like it in our home!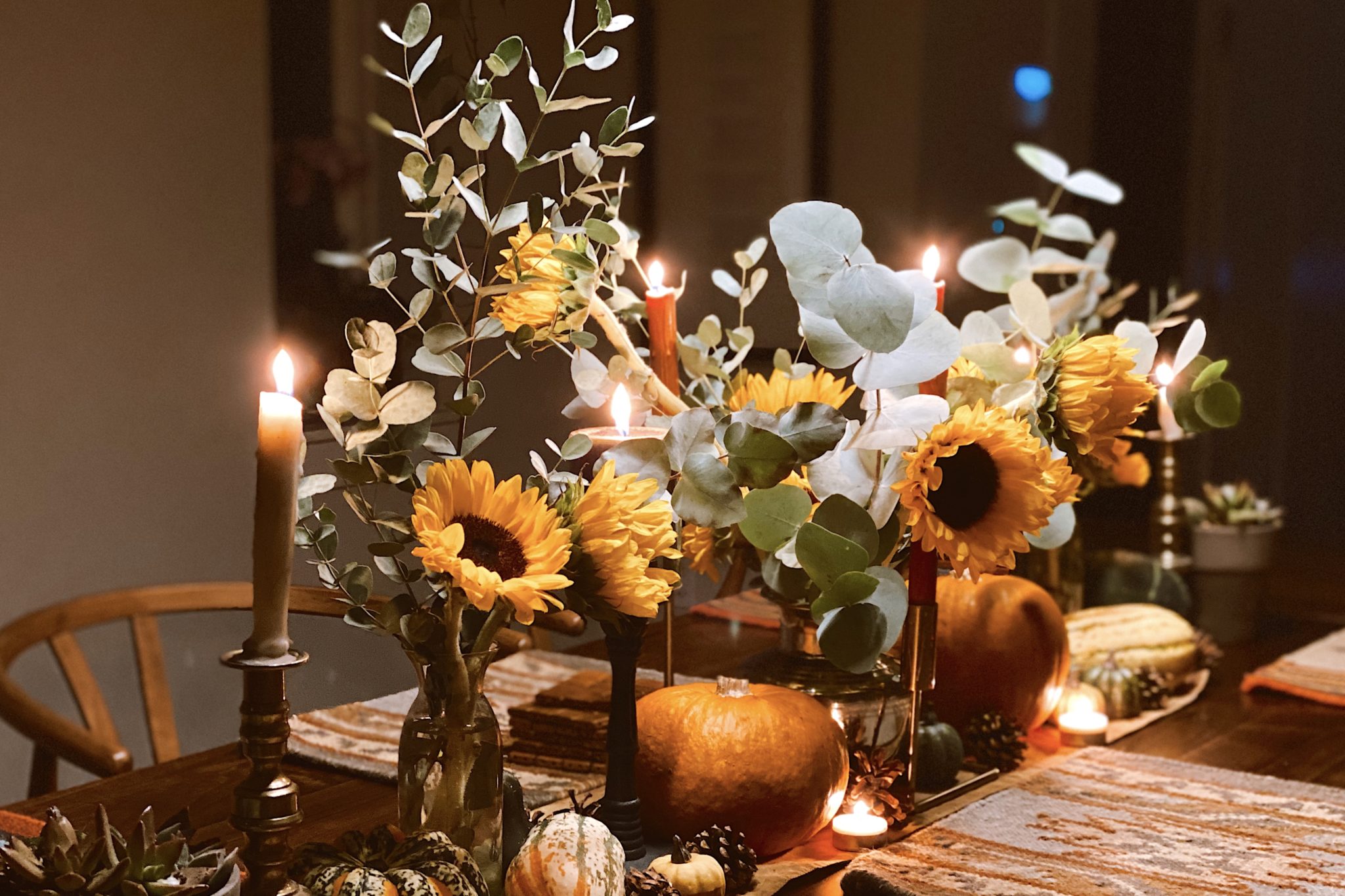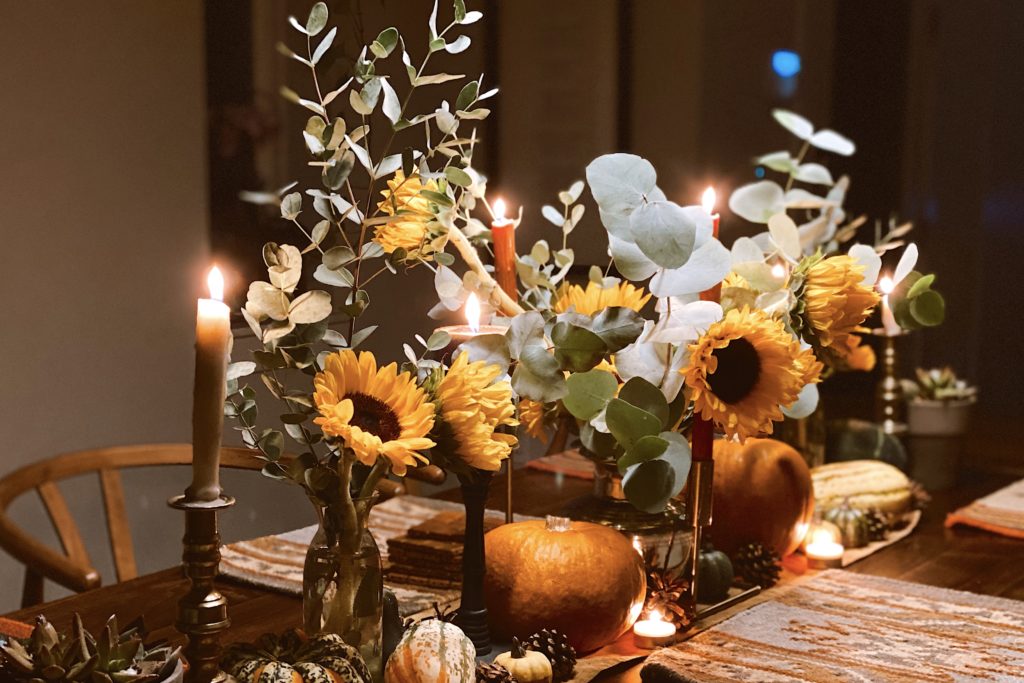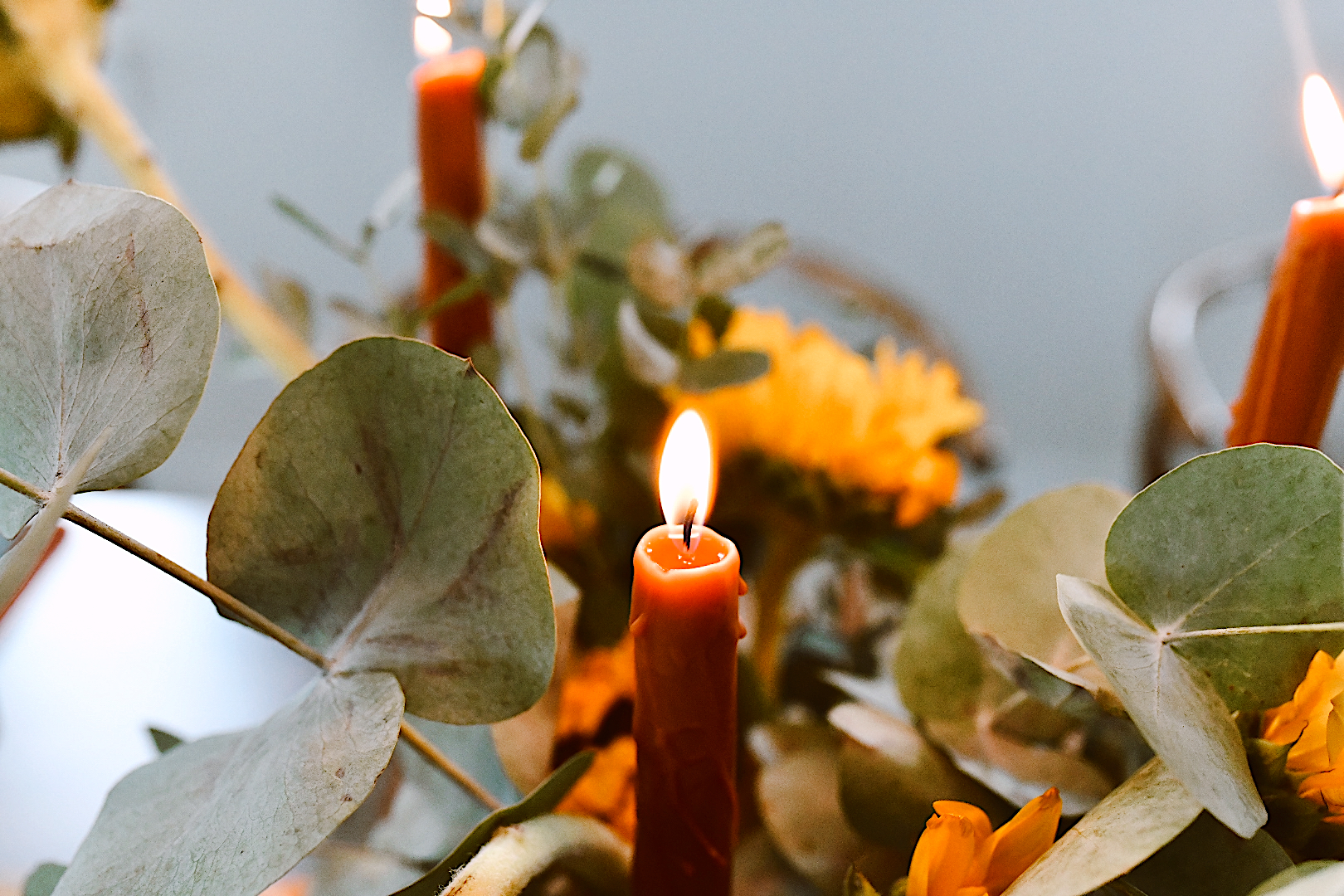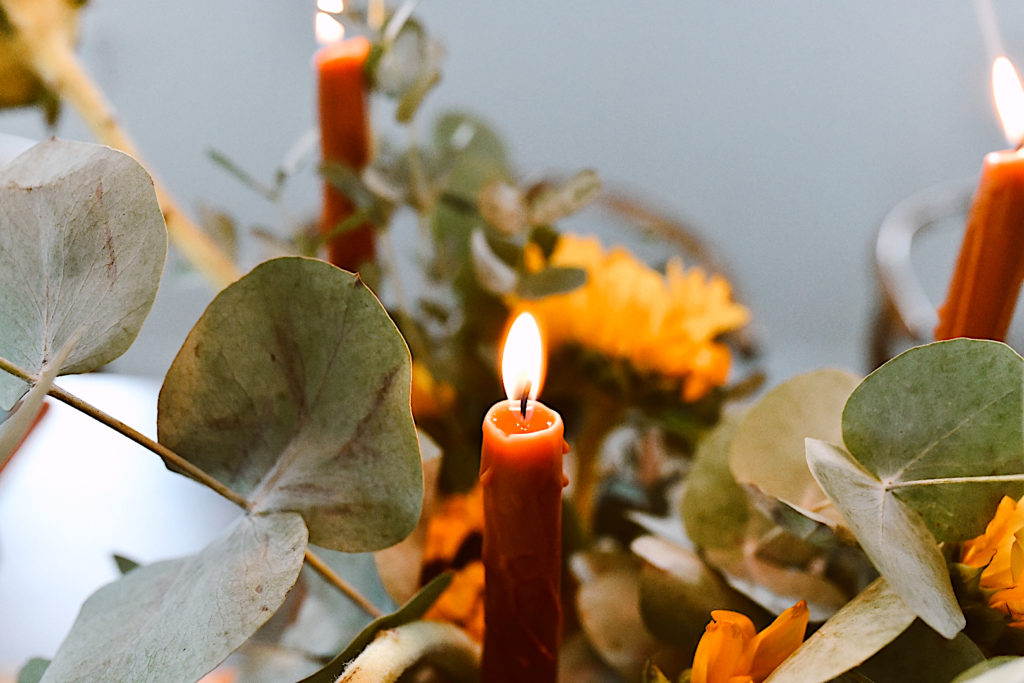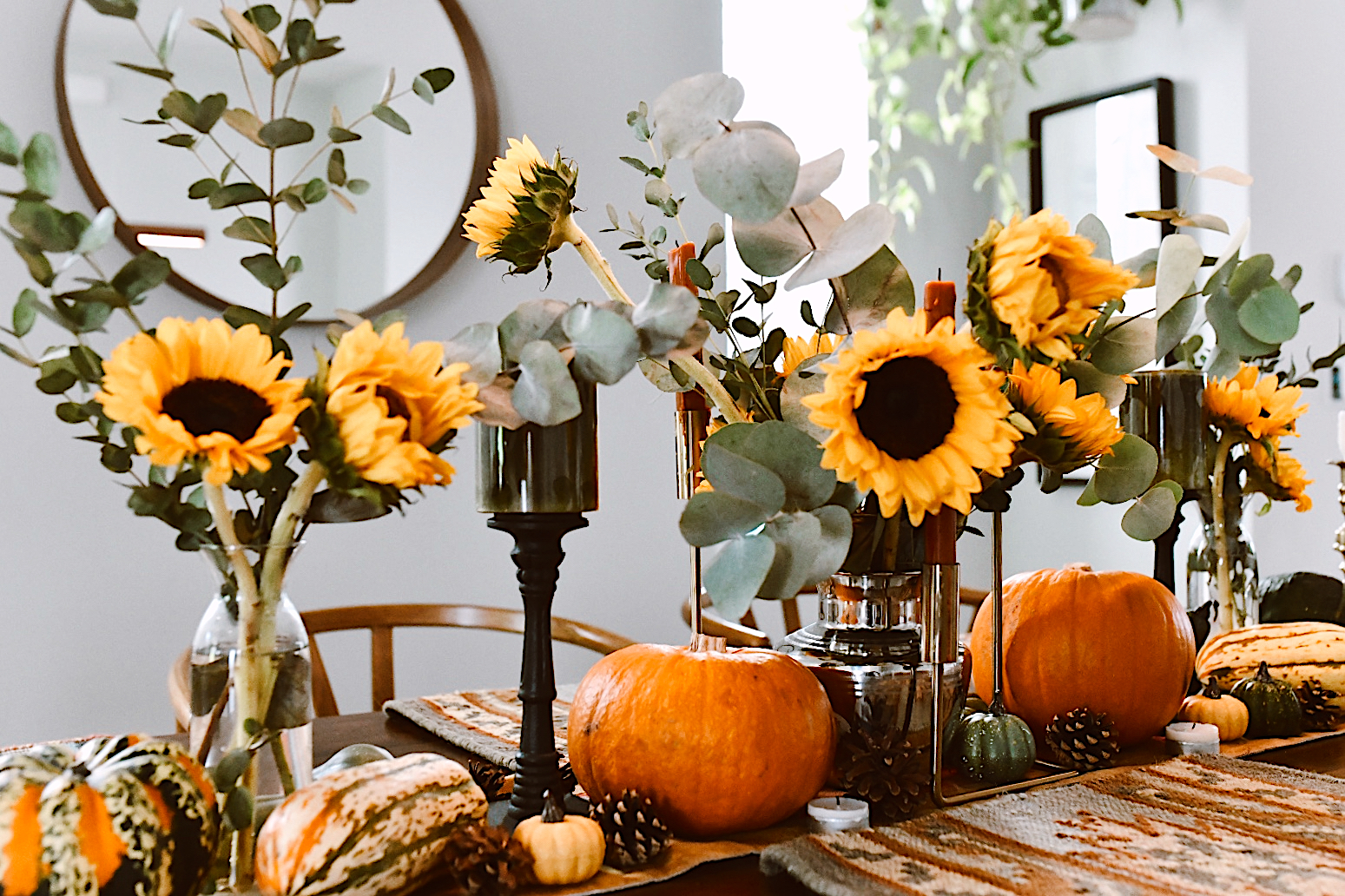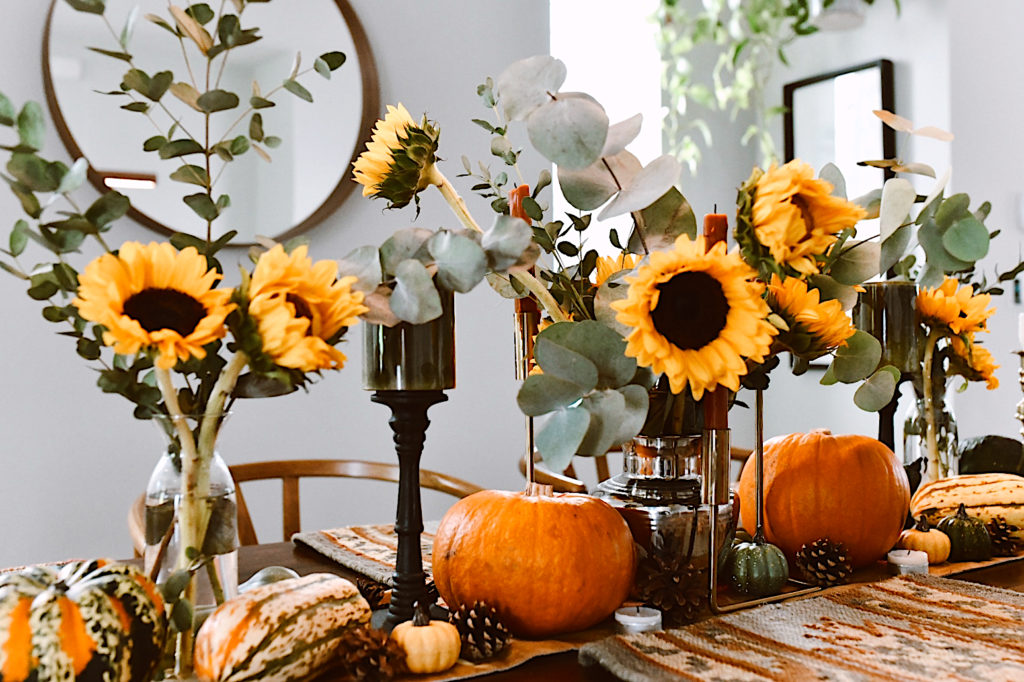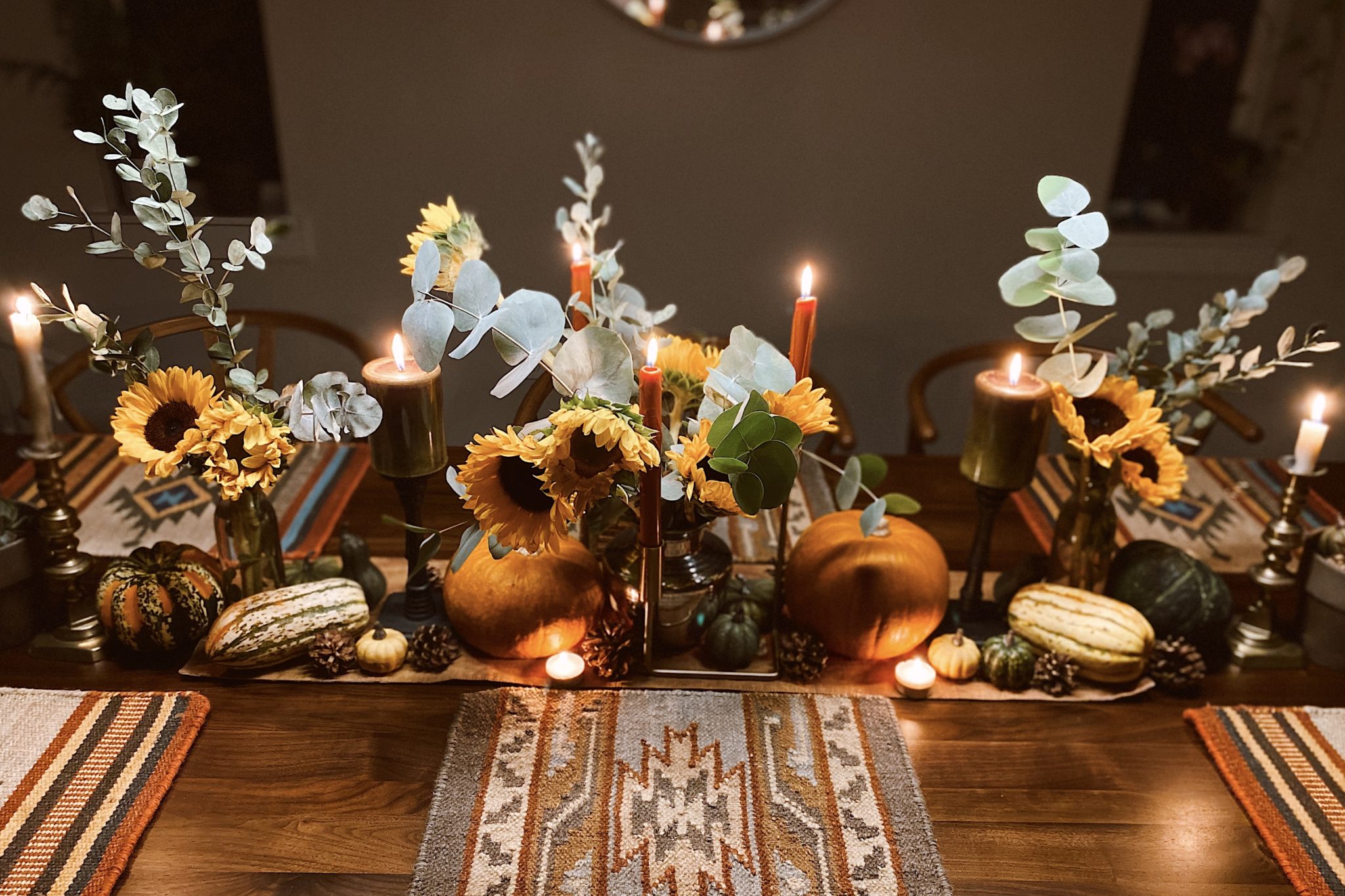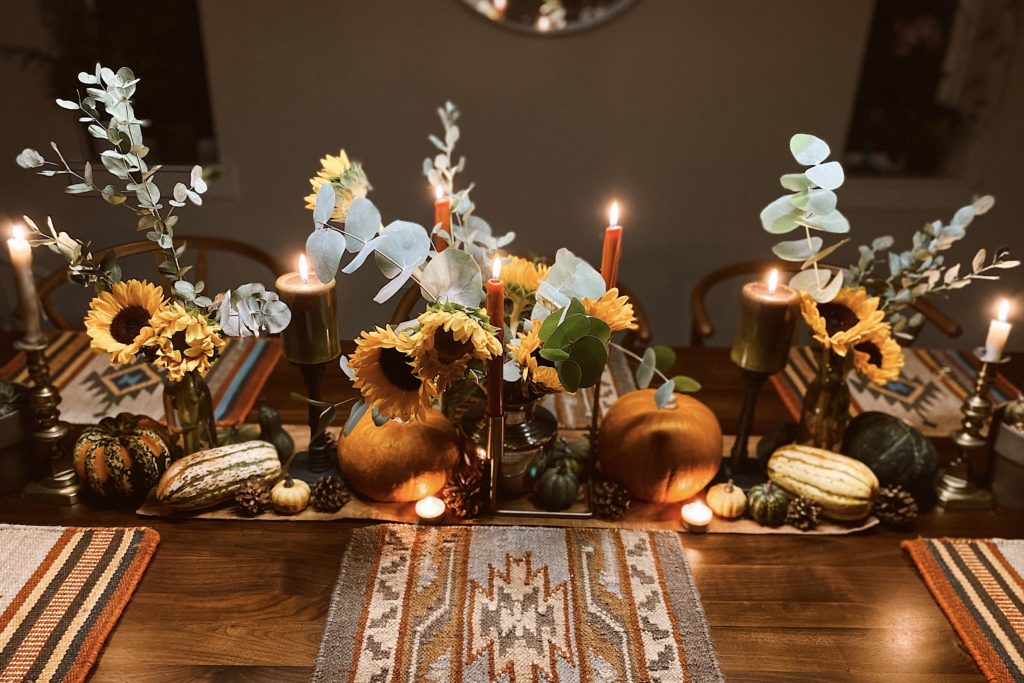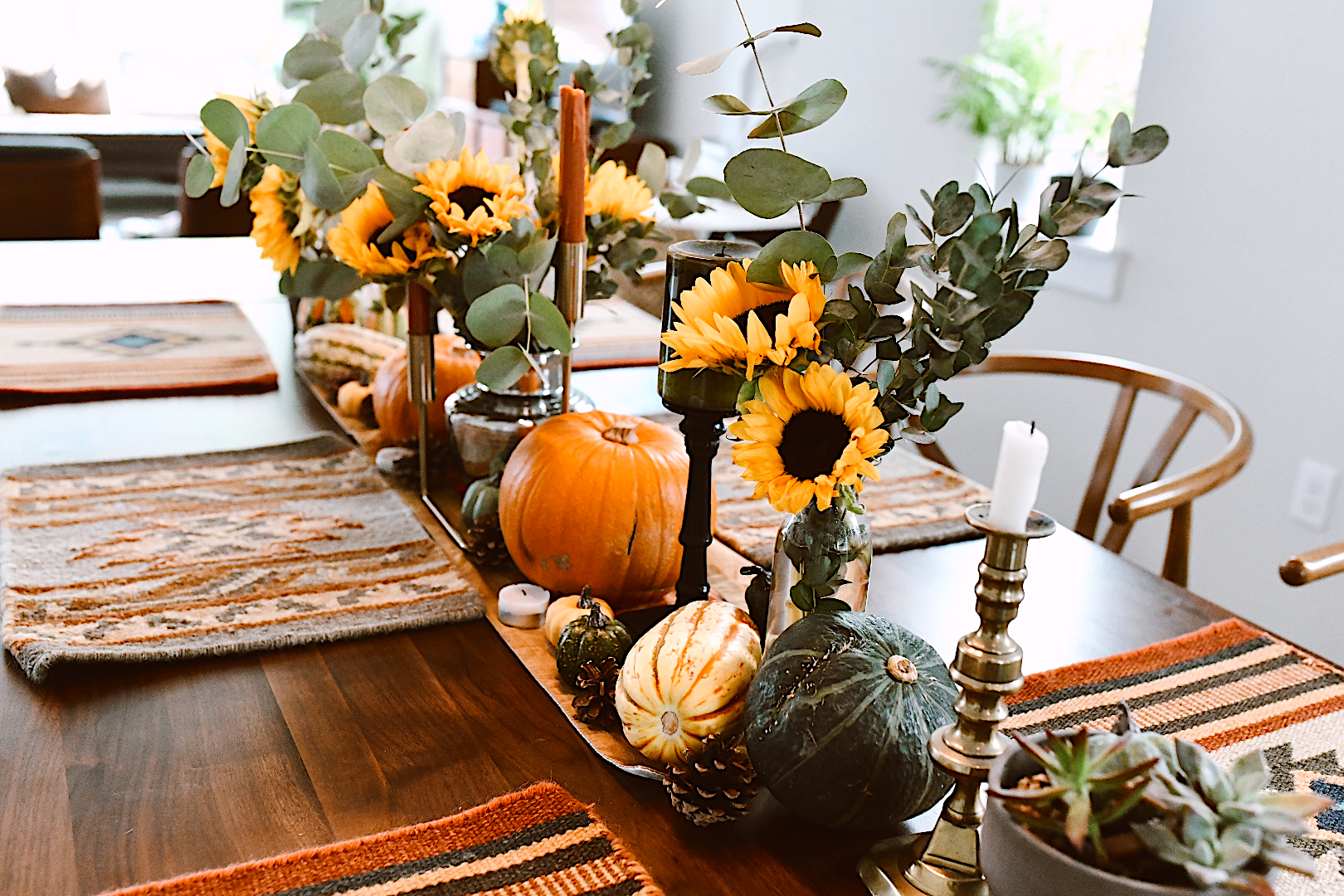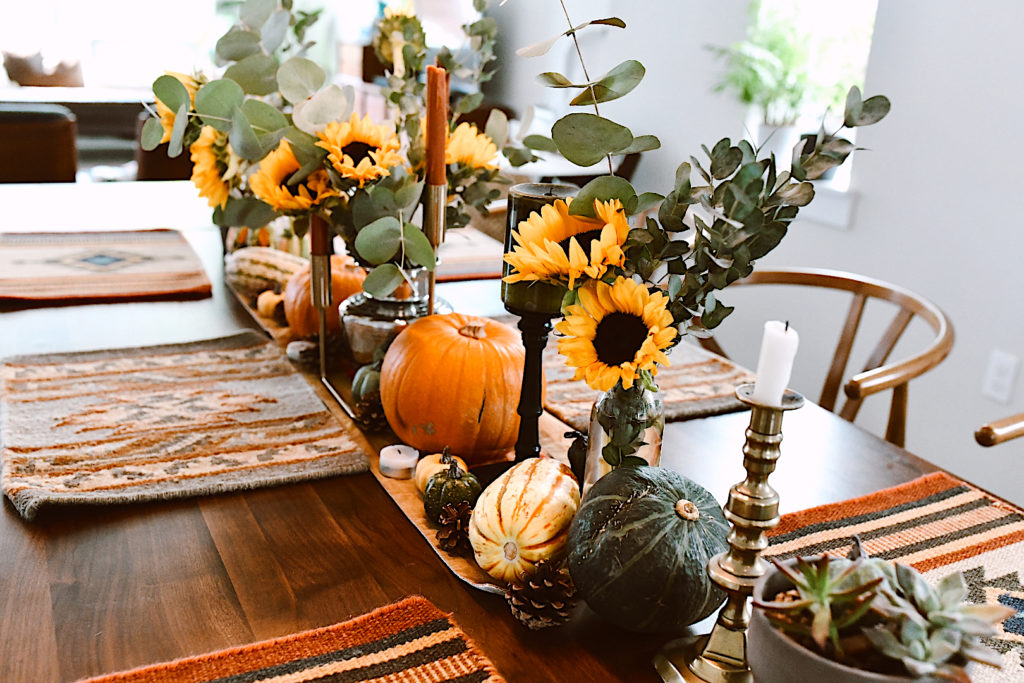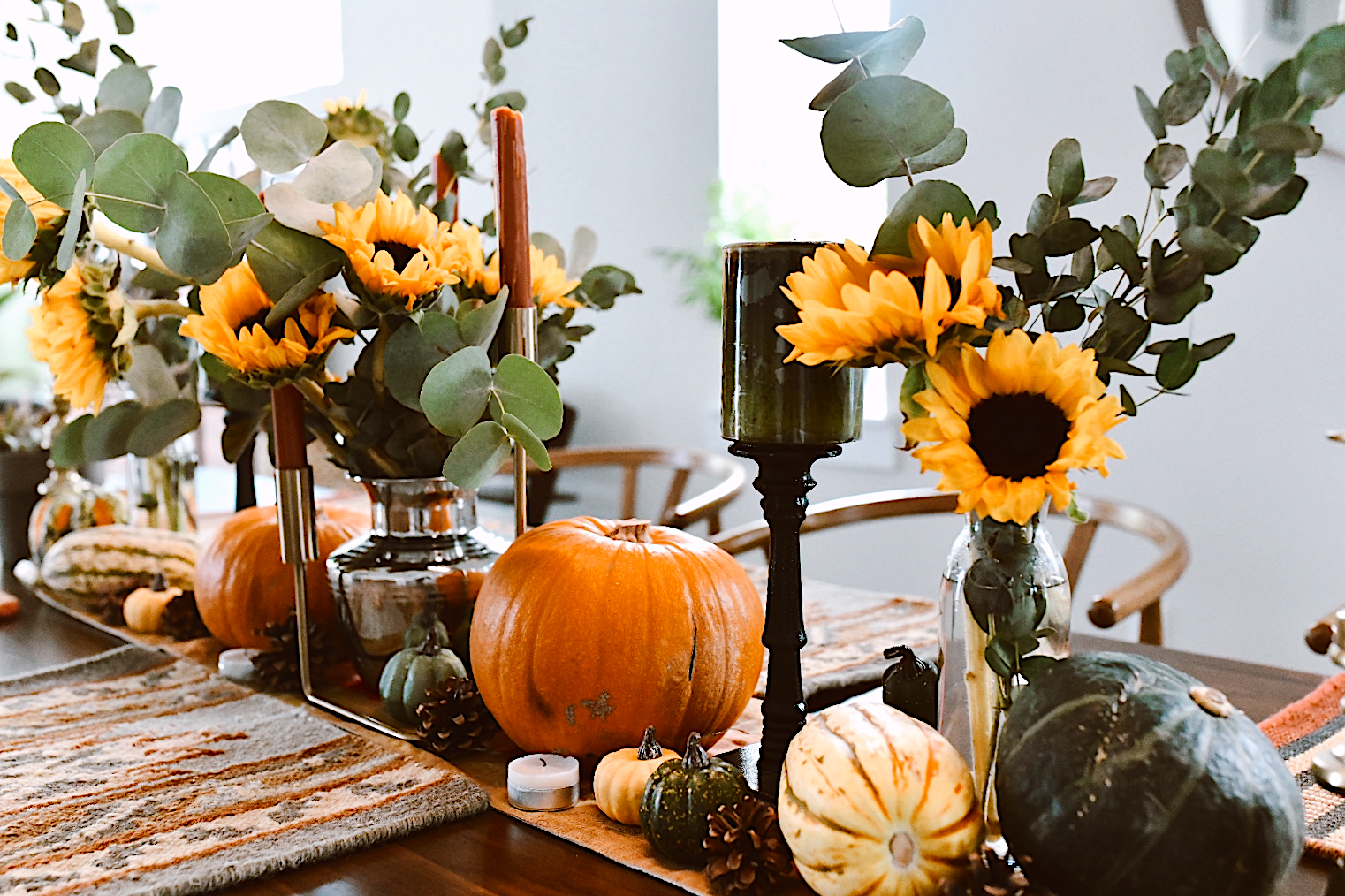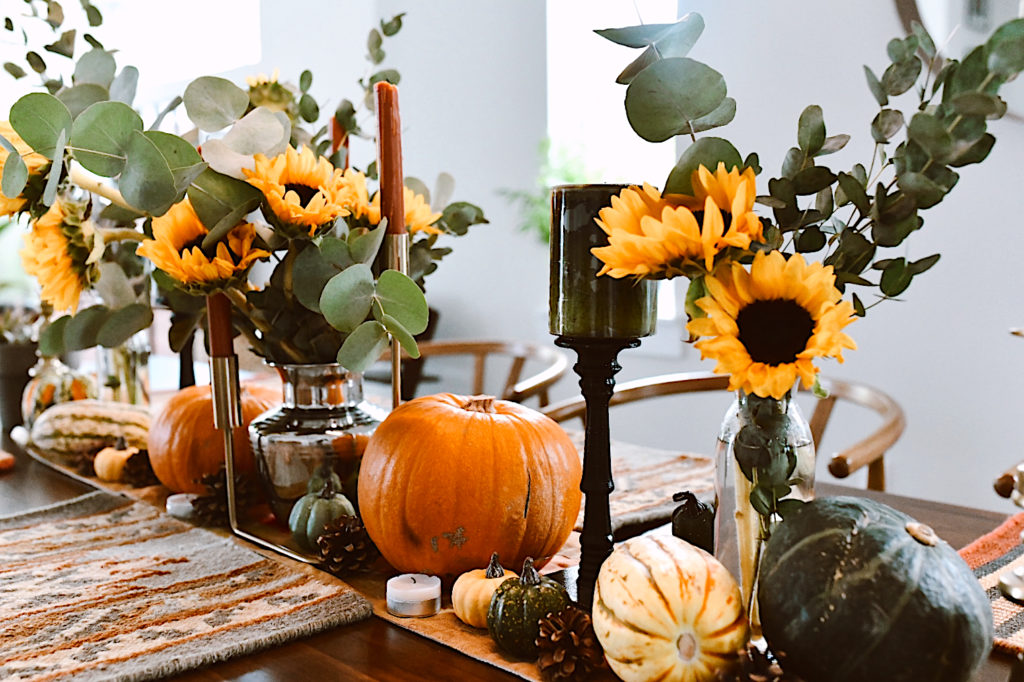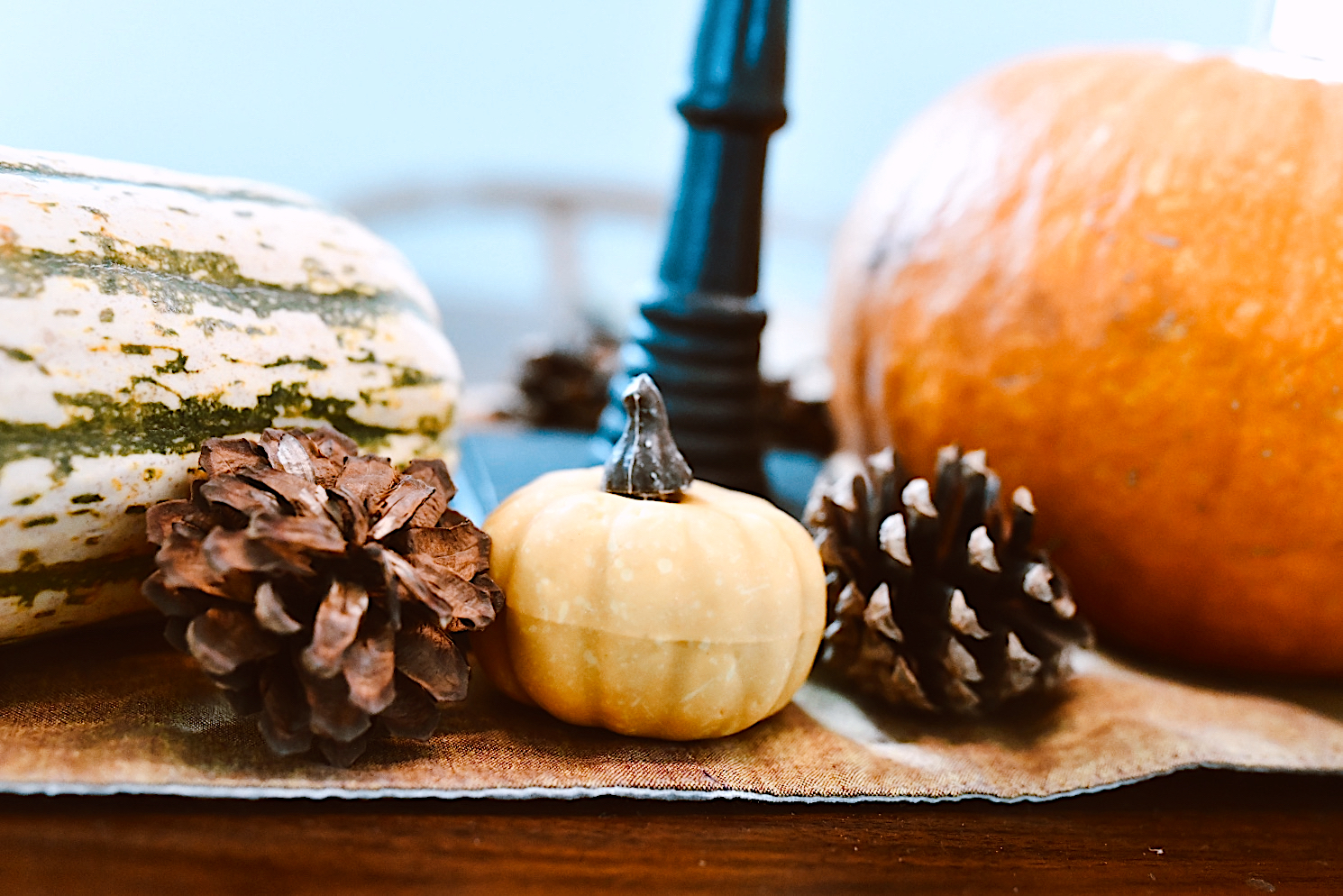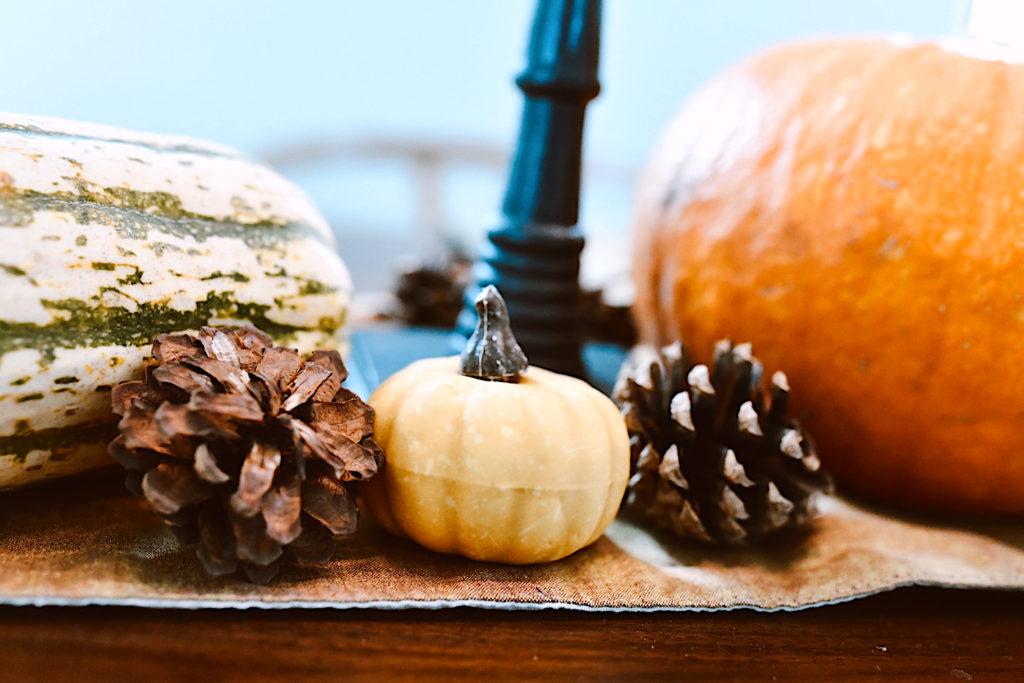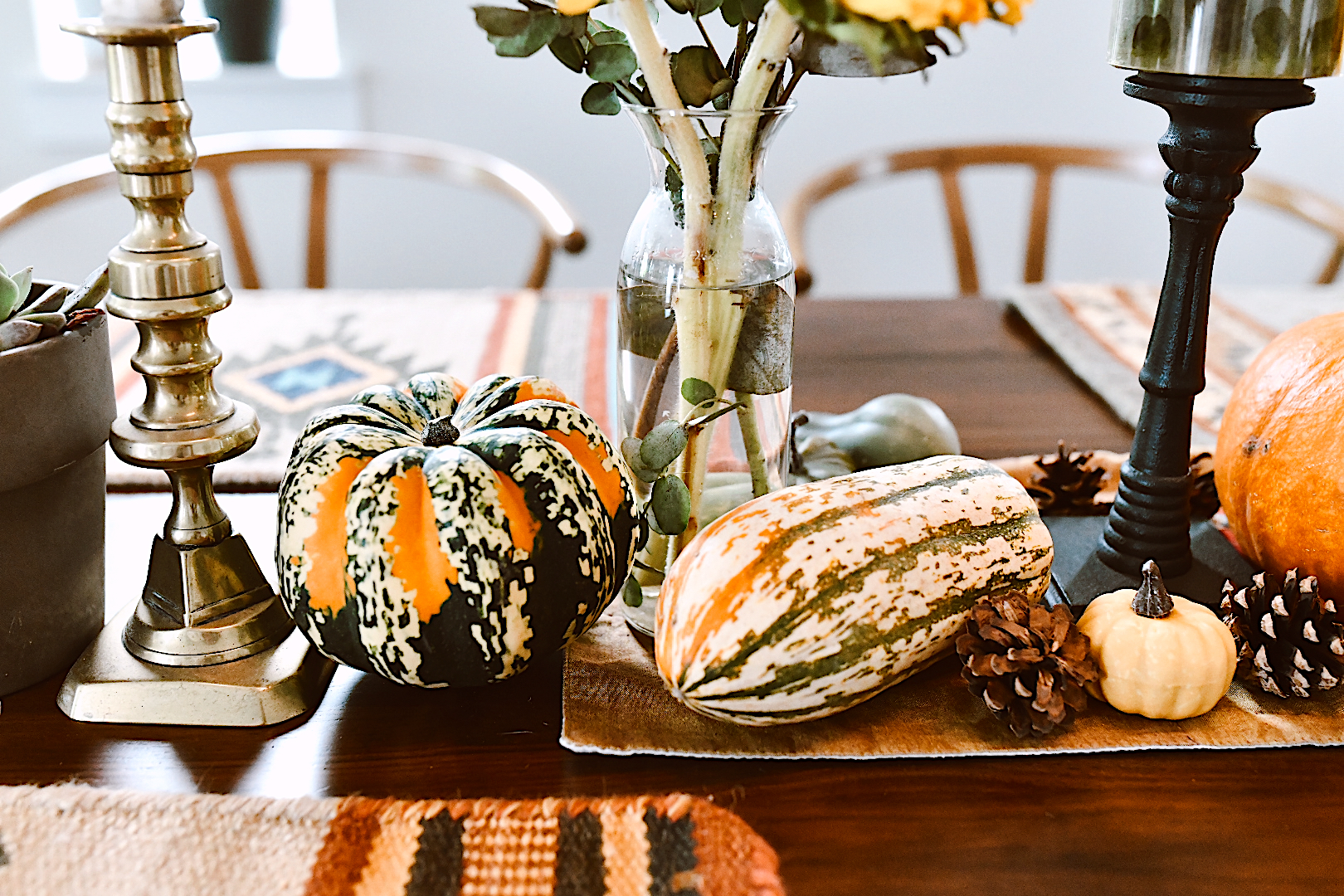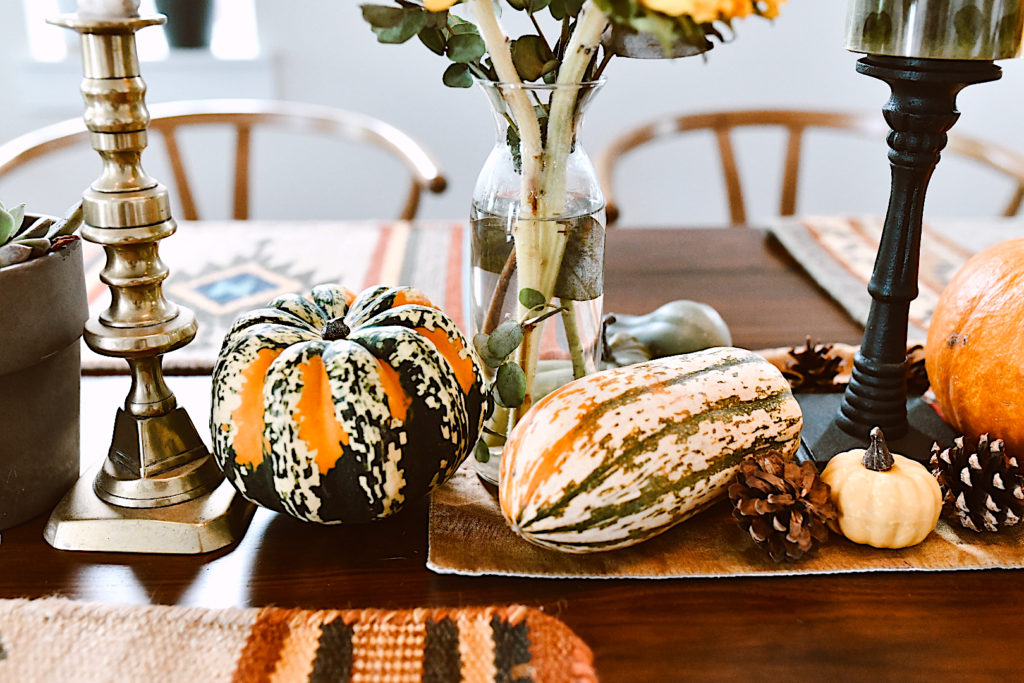 You can find a list of where I bought everything below!
Pumpkins from Sprouts
Squash from Sprouts
Pinecones from Amazon*
Succulents from Home Depot or HEB⠀
Candles (tapered & tea light) from Hobby Lobby
Sunflowers from Trader Joe's
Eucalyptus from Trader Joe's
Greens from Trader Joe's
Mini pumpkins from Target
Small glass vases from Target
Cast iron candlestick holders from Pier 1
Brass candlestick holders from an antique shop
Silver pot vase from a kitchenware store in Chennai, India
Table runner from a small boutique in Bali, Indonesia
Placemats from a small boutique in Fredericksburg, TX
Do you decorate for fall? Where do you buy your fall table décor?
Cheers,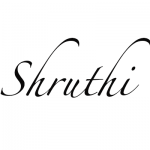 *I may receive a small commission if you purchase from my links.