Our trip to Bali, Indonesia was one for the books. Bali is such a beautiful island, and I wish we could have spent much longer there! We split up our time in Bali at three different cities: Ubud, Kintamani, and Seminyak. I am writing a post or two on each so that you can get a feel for the sights, bites, and atmosphere because they are all quite different. Ubud was my favorite of the three, and that probably has to do with how many fun activities there are in this city.
We landed at midnight on Saturday and headed to our first activity at 8:00 a.m. the following morning. We figured, why not jump straight into the action instead of letting the jet lag overtake us? Our all-day tour (with Ecocyle) was just on the first day, so after that we filled our days with other activities.
L A K E W A Y   H O T E L   V I E W
After we were picked up in an air-conditioned van at our villa, our driver took us to Lakeway for a delicious breakfast buffet and incredible view of Mount Batur (the active volcano we hiked up in Kintamani). Even if you don't want to eat here, grab a cup of coffee or a drink because this view is absolutely worth it. Technically this place is in Kintamani, but we headed there and back from Ubud.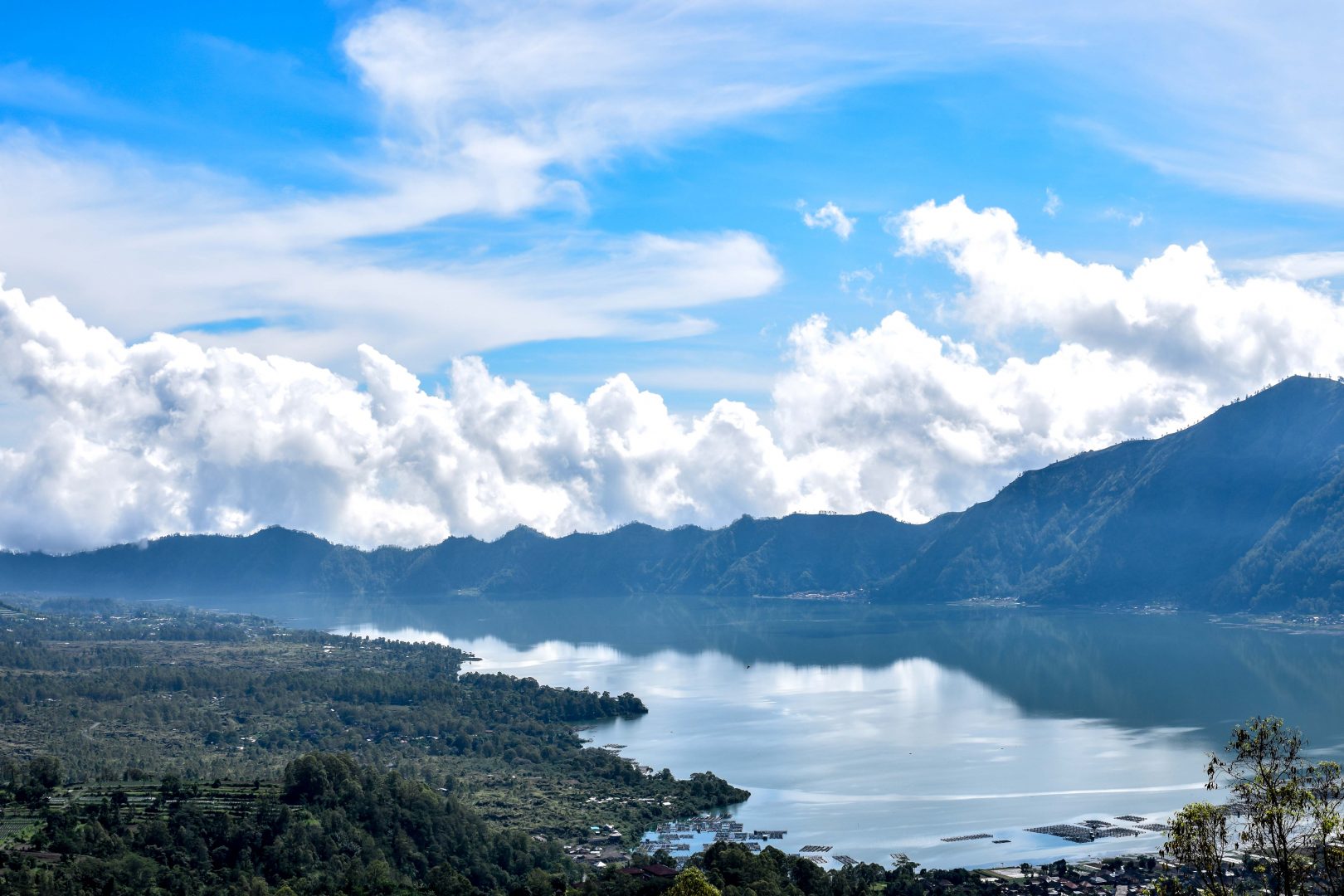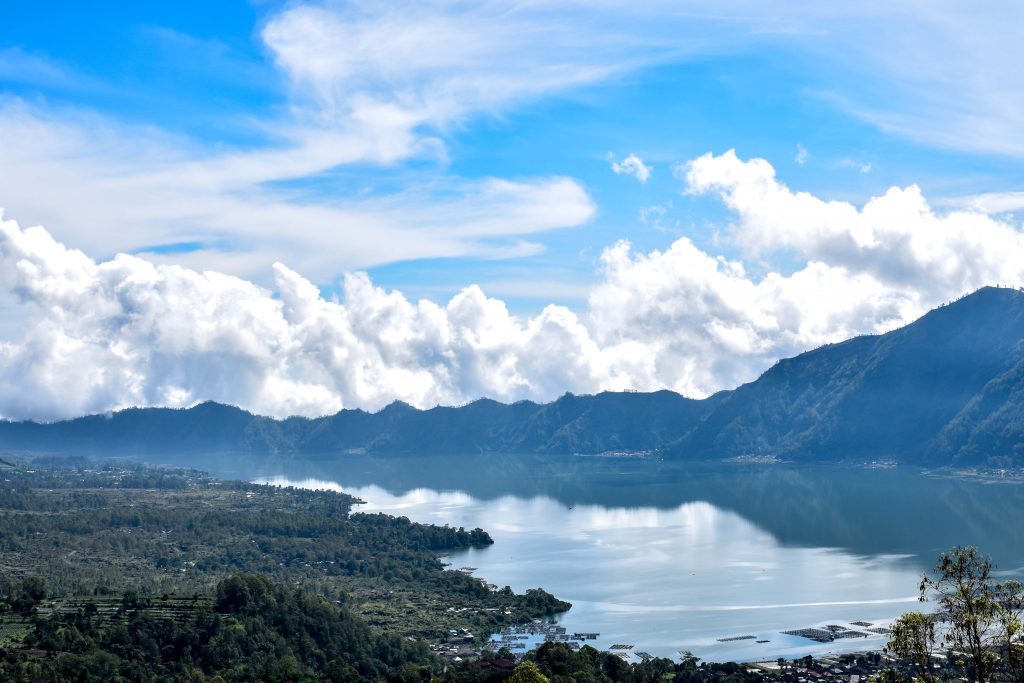 S C E N I C   U B U D   D R I V E
After our breakfast, our driver took us on a really lovely scenic drive, stopping intermittently at the best sights to catch. These rice fields were so gorgeous, and I just love that there's no room for gray in Bali. The bright colors and active population were a people watcher's dream.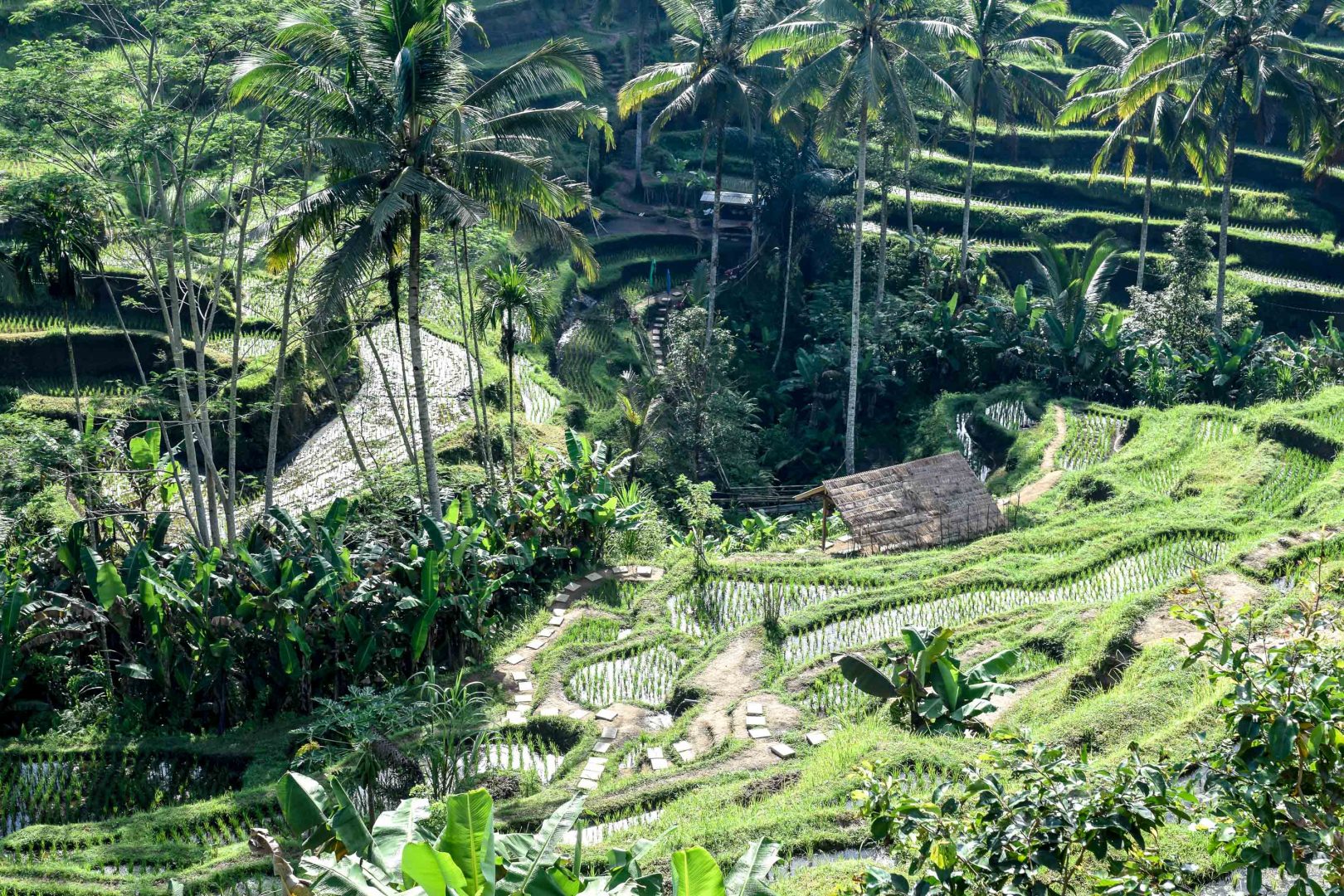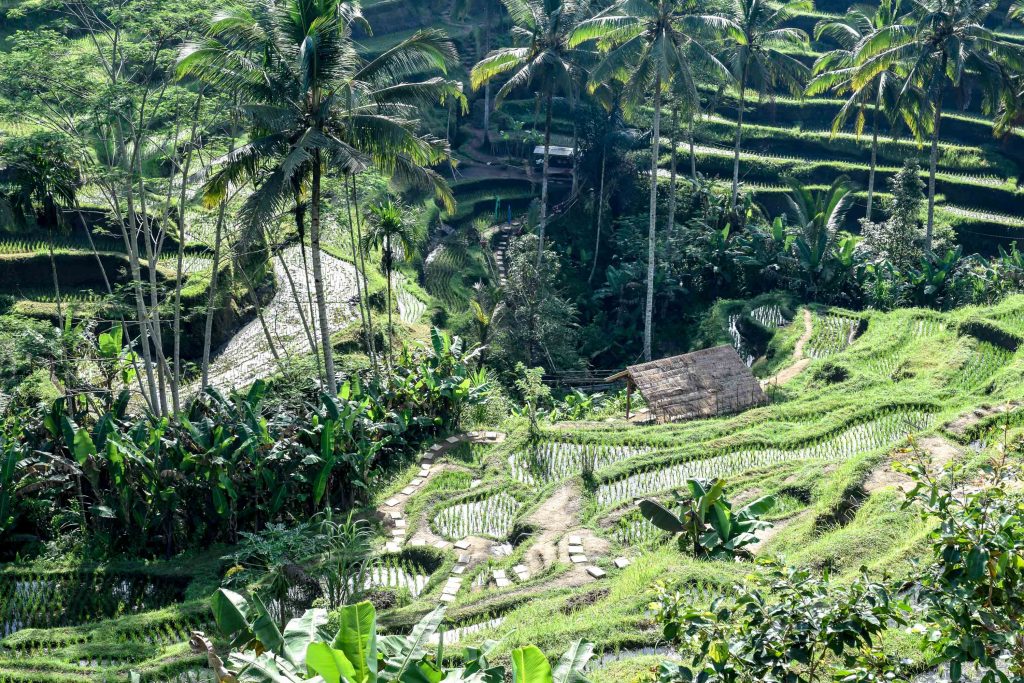 L U W A K   C O F F E E   R O A S T I N G
Do you know what luwak coffee (kopi luwak) is? It is the very unusually produced, most expensive coffee in the world.
Unusually produced? Yes. A giant cat poos it out. Okay, maybe there's a little more to that. According to Wikipedia, "Kopi luwak, or civet coffee, refers to the coffee that includes part-digested coffee cherries eaten and defecated by the Asian palm civet." So actually, I was right!
The reason coffee is created this way is that coffee producers believe that the process improves coffee through two mechanisms: selection and digestion. "The civet eats the cherries for the fleshy pulp, then in the digestive tract, fermentation occurs. The civet's protease enzymes seep into the beans, making shorter peptides and more free amino acids. Passing through a civet's intestines the cherries are then defecated with other fecal matter and collected." We saw the luwaks and the men roasting the beans, and then it was time to try some.
C O F F E E   T A S T I N G
For starters, the coffees were all presented in such a lovely way. I couldn't help myself; I had to try every single one of them! What is it about tasting different foods/drinks that is so fun? I couldn't bring myself to drink much of the kopi luwak, but I tried it, and it actually is the shit delicious (too close to home haha).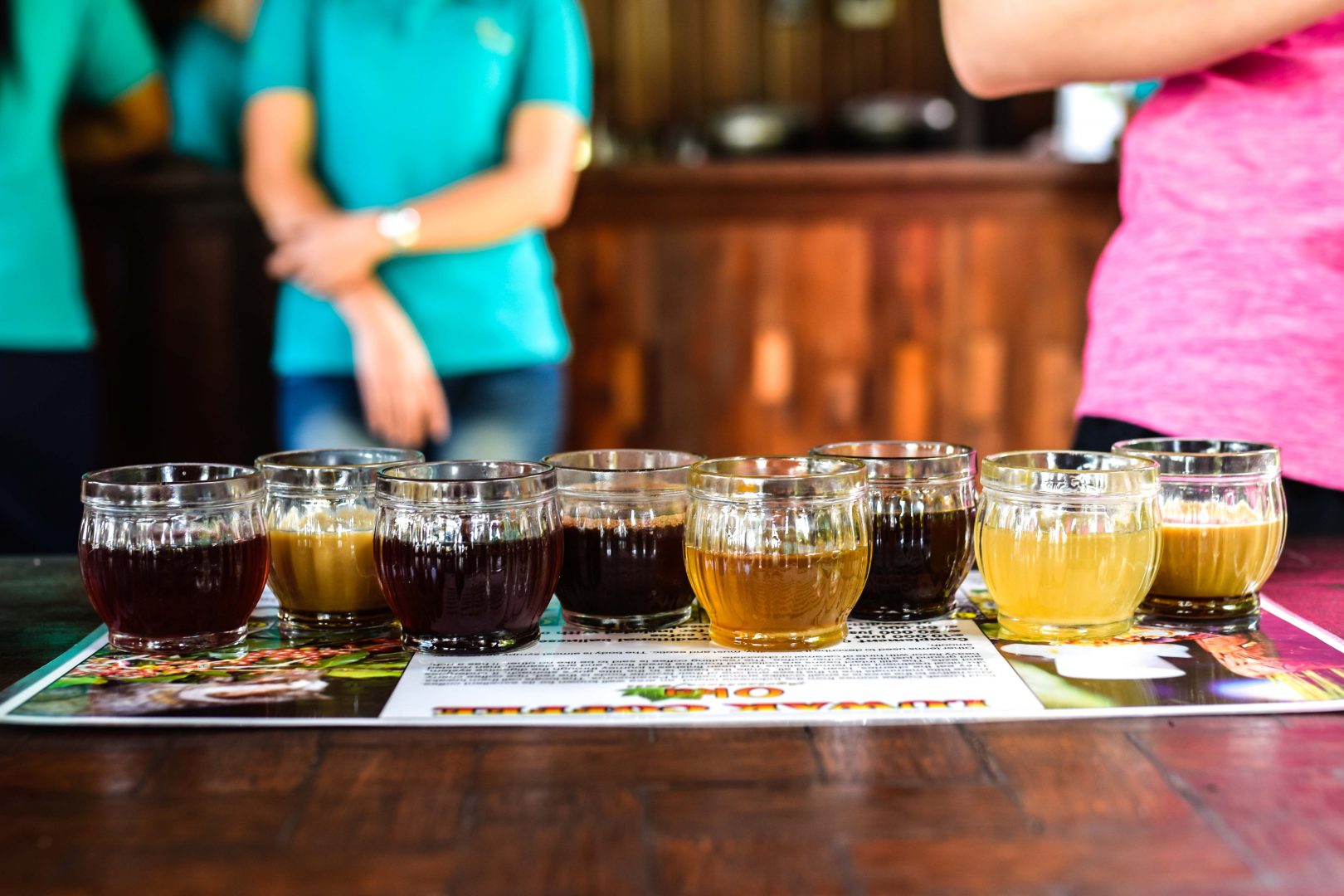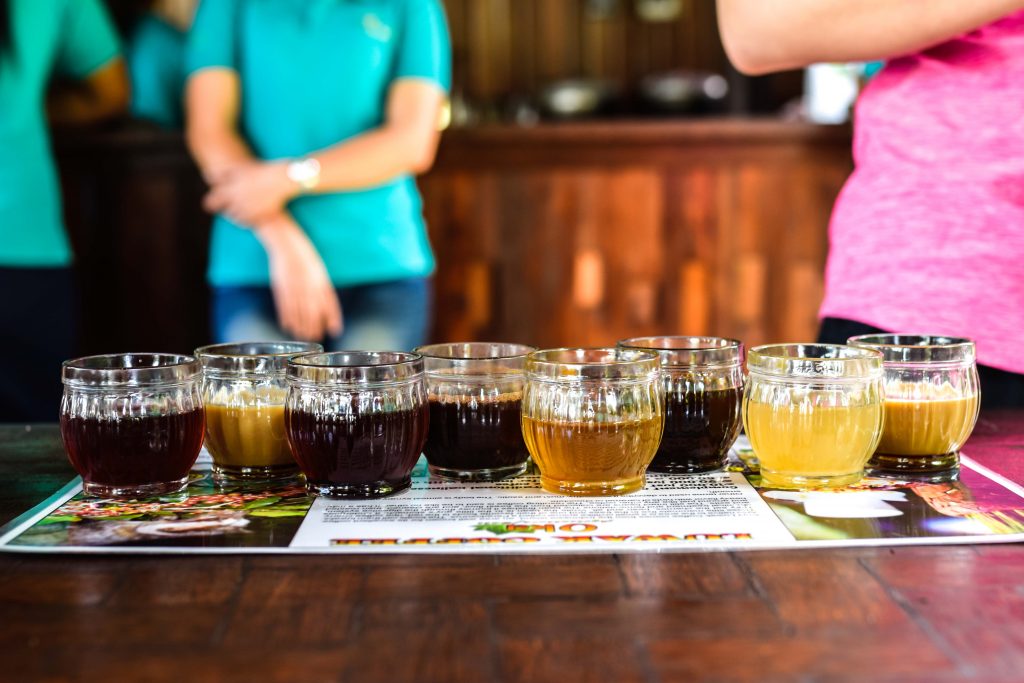 B I C Y C L E   R I D E
This was definitely a highlight of our stay. We rode our bikes on non-tourist, secret back roads and minor village roads (with little traffic). Our guide showed us what typical Balinese daily life looked like all around us, and we thoroughly enjoyed the beautiful Balinese countryside. We rode through lush forested areas, rice paddies, and plantations full of Balinese staples (cloves, coffee, cocoa, vanilla, tapioca, taro, local vegetables, and exotic tropical fruits). The pace is low-moderate and it is all downhill, so most people are able to experience this.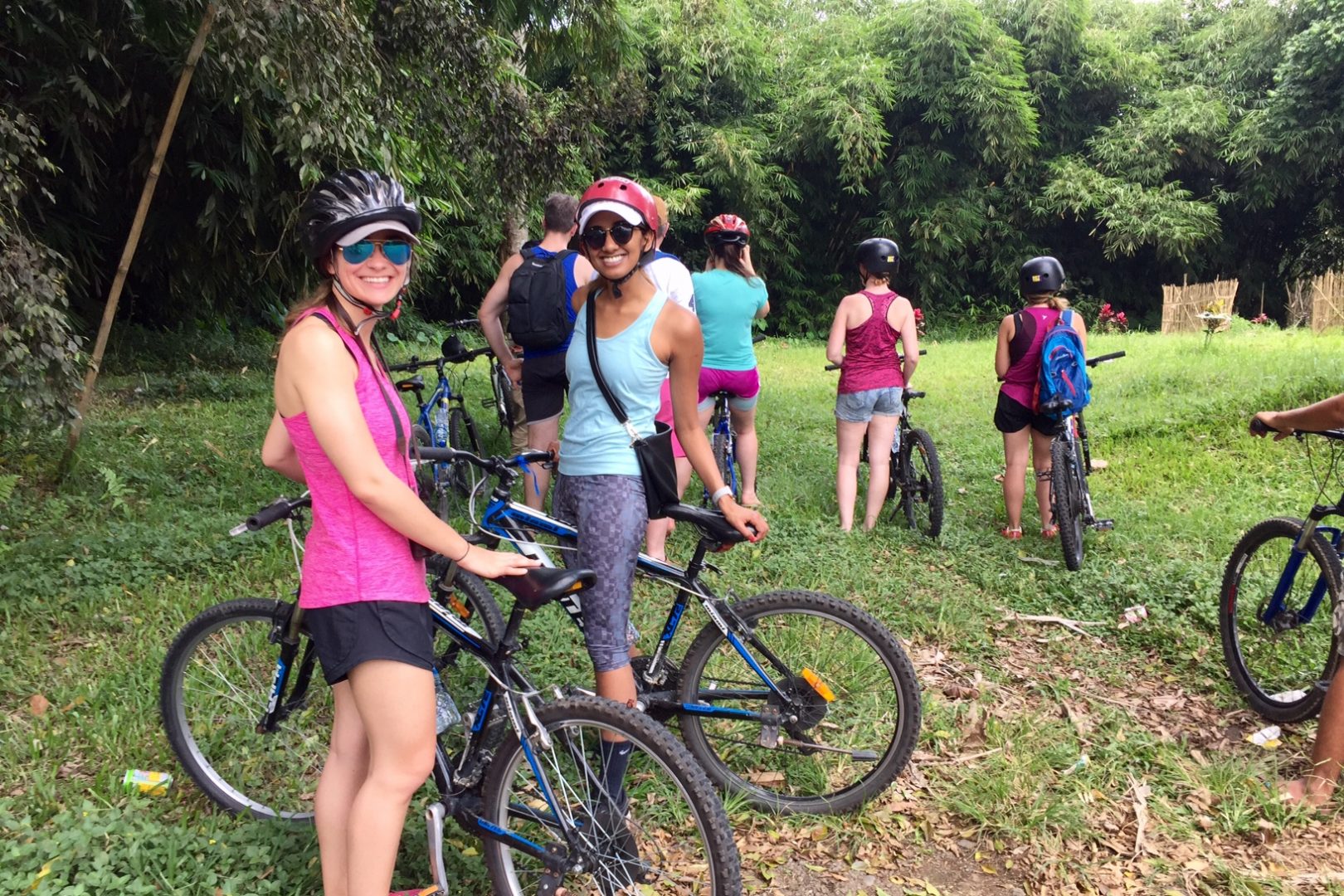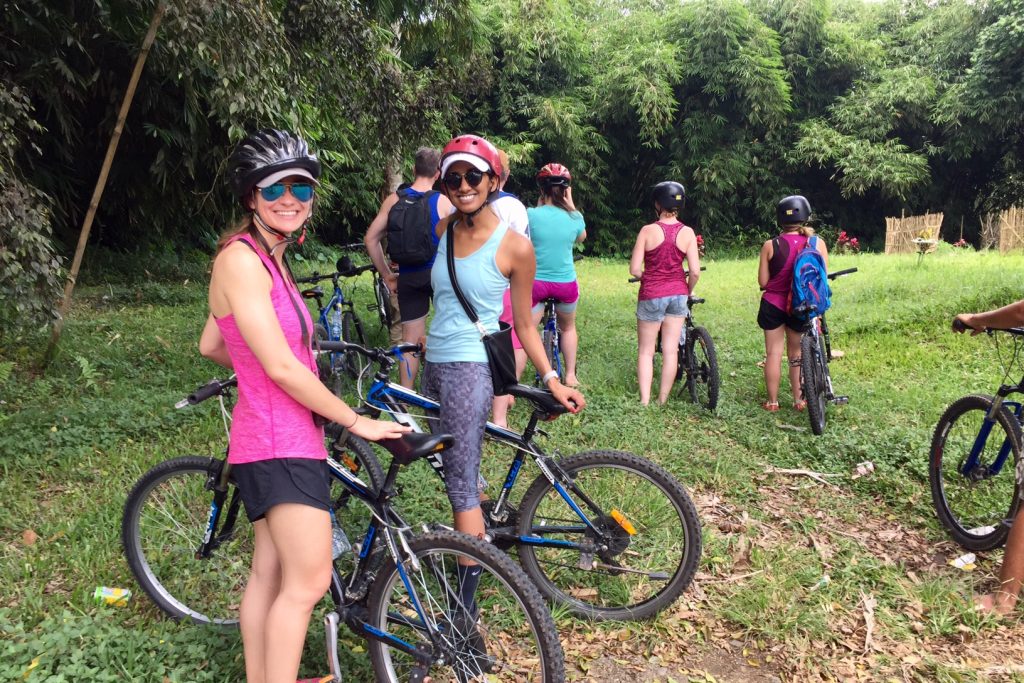 T R A D I T I O N A L   H O M E   T O U R
During this visit, we were able to see how the Balinese live outside the tourist areas. This reminded me a lot of India actually, with the open plan houses, large families, indoor temple, and incredibly warm people. The woman of the household and her daughter charmed my heart by asking me to take a photo with them because I am Indian and they love Bollywood haha!
Y O G A   A T   I N T U I T I VE   F L O W   Y O G A
We had a bright and early start with a 7:00 a.m. flow yoga class. The yoga studio overlooked fields of greens, the sun was slowly rising, and there was no pop music in the background (thank the LORD). All the windows were floor to ceiling length, and they were open, letting the morning breeze come through. All we could hear were the chirping birds, stirrings of people waking up, and our breathing. This class was not expensive, and I would highly recommend it to people in the Ubud area.
M O N K E Y   F O R E S T
The monkey forest was a place I wasn't super keen on going to. I've seen monkeys before—in fact, monkeys are everywhere at many of the temples in South India. One actually attacked my brother! So I wasn't too excited about this. But all of that changed when my husband bought a small bunch of bananas, and these monkeys started crawling all over him for them. They were so darn cute! There's something a little creepy about them, but this was such an interesting and educating experience. It is not like a zoo where you're a safe distance away from these animals. They are right there; they're following you, watching you—especially if you have food. Now I understand why this place is such a signature of Ubud.
M A N I / P E D I
So my friend and I went to get a manicure and pedicure because the prices seemed too good to be true. Sadly, my nails and hers ended up looking horrible. Mine were completely messed up the day of, and hers took a few days. This is the only thing that I would be cautious about. The prices will probably seem much cheaper than what you're used to, but that's because the quality itself is pretty poor. Go to a hotel or a proper spa, not one of the small salons that fill the sides of the roads.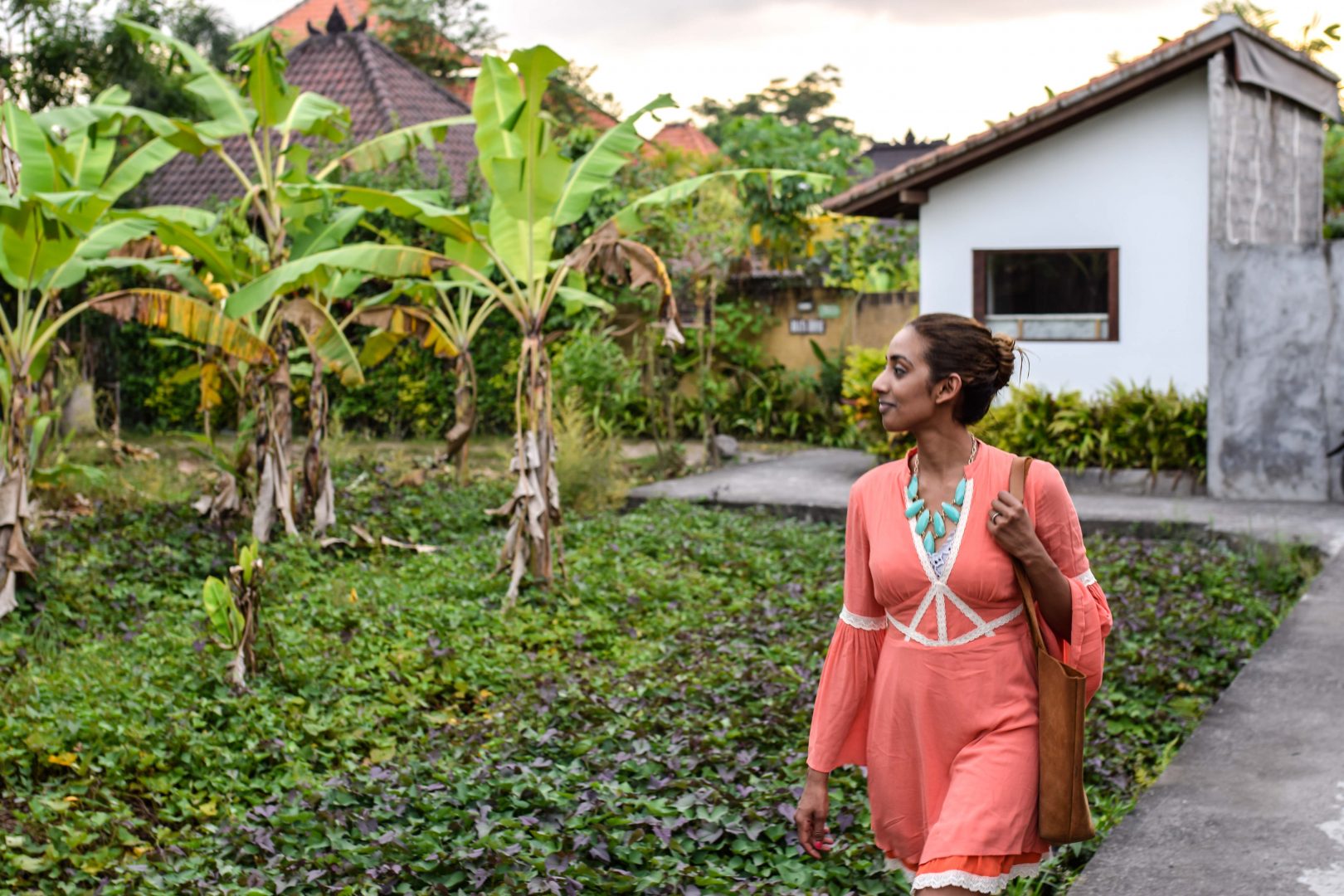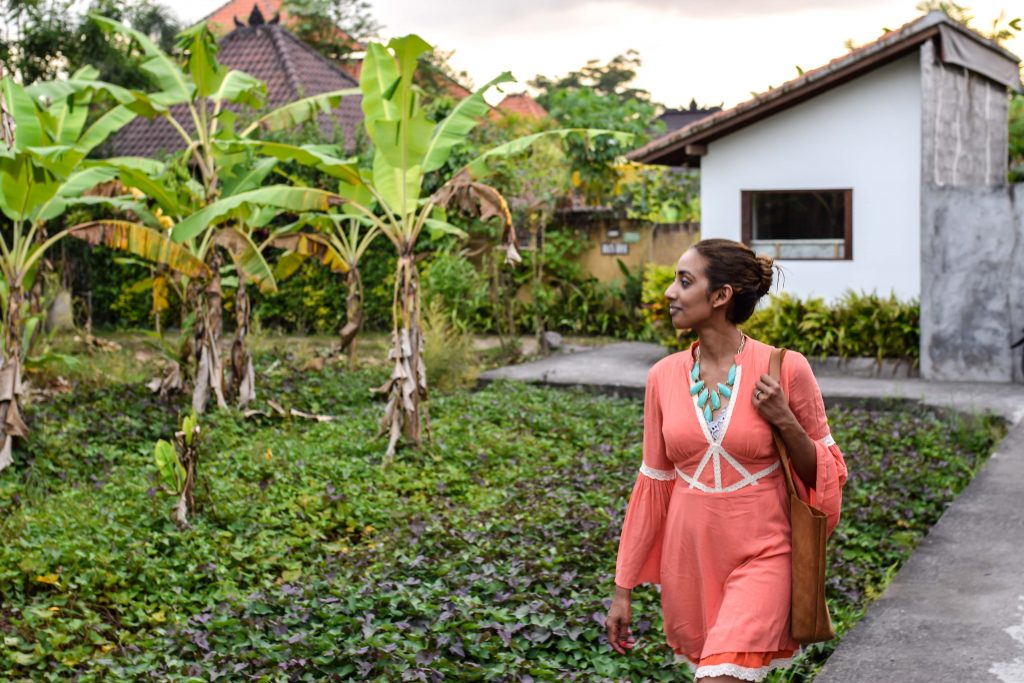 U B U D   M A R K E T   S H O P P I N G
This was one of my favorite moments of life. My husband and I went in a little bit fearful because man, those shopkeepers were aggressive! They would touch you, they would scream at you, they were talking under their breath, they would talk over you…it was tough. But once my husband got the hang of bargaining, we had the time of our lives. We ended up leaving the market with so many textiles and goodies, and we spent less than $100. If you know how to bargain or someone with you does, you will have a great time.
F O O T   M A S S A G E
So I know that the manicures and pedicures at the little side salons weren't up to par at all for me, but the foot massages at the same places were great. The four of us decided to get foot massages one night, and it was awesome. My 6'6″ husband even said for the first time in his life that they might've massaged a little too tough for him!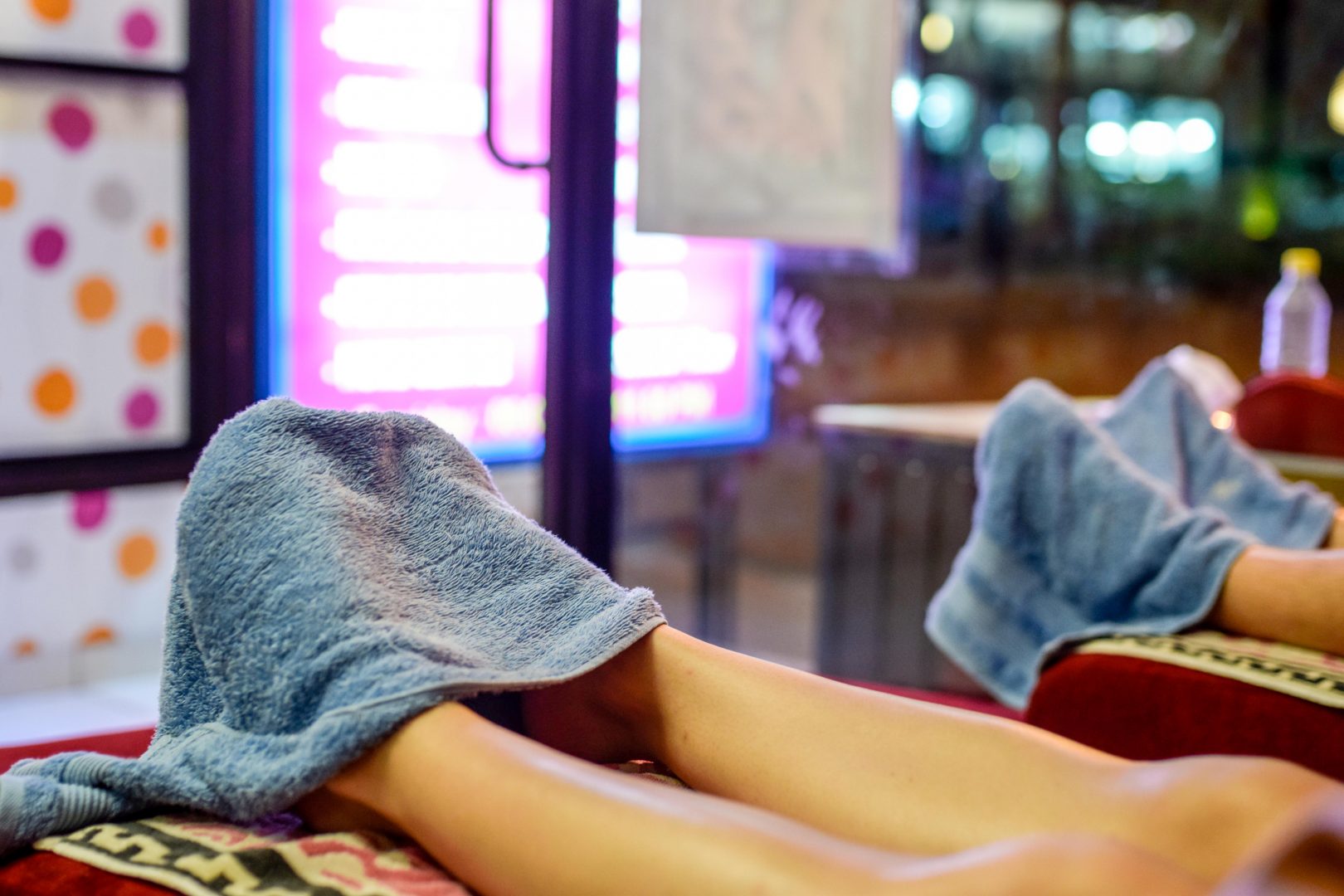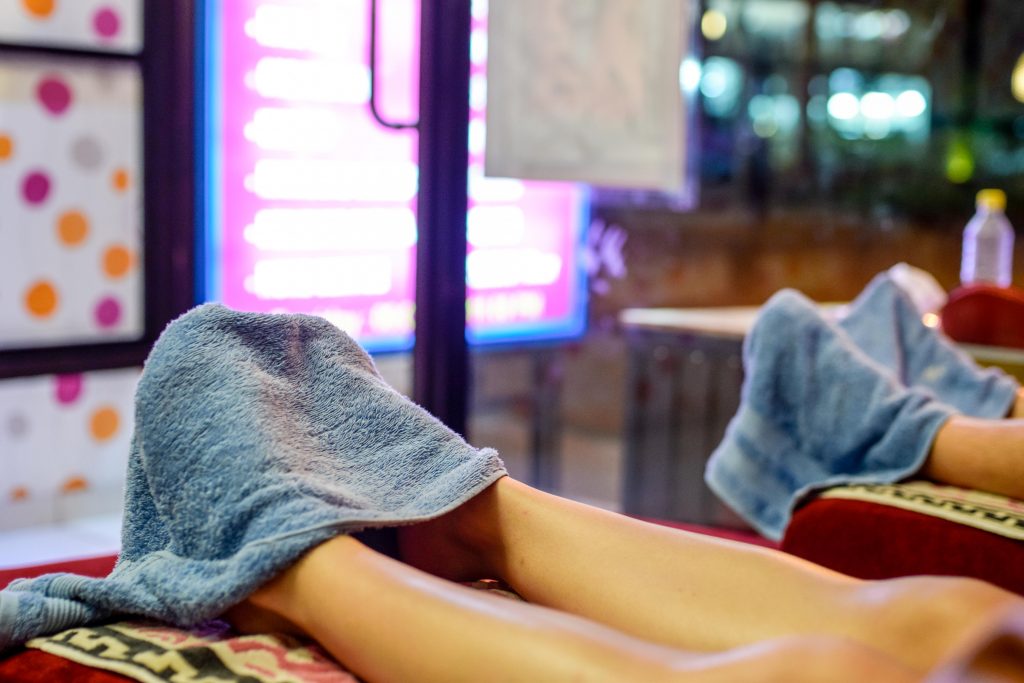 C O F F E E   C L A S S
On our last day in Ubud, my husband and his friend took a coffee-making class at Seniman Coffee Studio. They learned about the various different flavors within coffee and how to make the perfect cup. If you are a coffee snob like the two of them, this is going to be like heaven for you.
I'm so glad we did all of these activities because we were able to make the most of every minute in Ubud. We spent time every evening just swimming at our villa, playing board games, and relaxing, so there was definitely a balance. I hope this helps when you go to Ubud! I'm writing about where we ate in Ubud next, so be sure to check that out!
If you've been to Ubud, do you have any tips, places to avoid, or places you absolutely recommend? I can't wait to go back!
Cheers,