A few weekends ago, I had the pleasure of staying at the Four Seasons, Austin. This hotel is a royal gem in downtown Austin and boasts a truly five-star experience. I've visited the Four Seasons for corporate events, weddings, date night, happy hour, and this time I was here for a girl's night hosted by two of Austin's premiere travel bloggers PassporttoFriday and TheHungryChronicles. I thought I knew this hotel pretty well already, so I wasn't expecting anything too different this time around. WRONG! Their eclectic variety of summer activities and recently renovated interiors had my full attention. Book your next stay at the Four Seasons, Austin! I promise you won't be disappointed.
Experiences Galore
Four Seasons Ceviche Class – Saturdays, 3:30 to 4:00 pm
I've wanted to learn how to make ceviche for ages! It is the perfect upscale hostess appetizer, colorful, and has tons of flavor. I say apparently because this vegetarian has never had it, but that wasn't going to stop me from learning how to make ceviche. The fact that the Four Seasons offers this complimentary class to hotel guests is such a great perk! The chef walked us through the full step-by-step process on how to make the perfect showstopping ceviche, and from the sounds of all the other class attendees, it was a hit. I can't wait to try (key word is try :D) to make this dish this summer and wow my guests!
Suite Soaks Experience – Daily, launching in mid-July
Who's made a bath bomb before? You know what I'm talking about right? Those super colorful, fun balls that you want to smell all day every day? I love bath bombs, and now you have the chance to make one of your own during this interactive one-on-one session with a member of the Four Seasons Spa team! Suite guests can learn how to craft a therapeutic bath bomb to enhance the soaking experience. This activity is available for a fee.
Vino Vinyasa
Are you a wine-o? Maybe a yogi too? Well then, this wine and yoga class is perfect for you. As the instructor takes you through each pose and leads you through your practice, she also talks about different kinds of wines. This class is open to all levels of yoga practice and takes place on the lawn. It's the perfect exercise before you enjoy a big brunch. Did I mention you'll be drinking plenty of wine during the class? Not a bad way to start your morning at all!
Ultimate Relaxation
Four Seasons Massage
The third trimester is no joke, you guys! The lower back pain is real, and so are the leg cramps and shoulder tension. My Four Seasons masseuse Lizzie was an absolute warrior when it came to attacking my sore spots. She expertly removed weeks of pressure lodged in my shoulders and back and also helped alleviate the stress my legs were under from the extra weight they were carrying. Even if you don't get a prenatal massage, sign up for any of the massages because these professionals know what they're doing!
Four Seasons Spa & Gym
Not interested in a massage? No problem! You will still want to check out their spa and gym facilities. The spa has a steam room, locker room, showers, and other amenities to help you relax. The gym contains several machines, towels, and water.
Four Seasons Pool
The Four Seasons pool was popular! Even though I didn't get into the water, I lounged poolside with a frozen strawberry lemonade (highly recommend) in hand. If you're more of a kayak or SUP enthusiast, you can rent one of those down the hill from the pool!
The Lawn
I'm a sucker for a good book and a comfy chair. Or in this case, a hammock or hill! I love the lawn at this Four Seasons. Spread out a blanket and enjoy a drink out here or curl up with a good book in the patio furniture. With this mostly gorgeous Austin weather, you have to take advantage of their lawn!
Full of Flavor
Happy Hour at Live Oak
We all enjoyed drinks out here on the Live Oak deck before our ceviche class! Their signature cocktail is the El Murciélago ("The Bat") Cocktail. It is a mix of Morita pepper-infused mezcal, Aperol, guava, lime, and pineapple —finished with an oversized square ice cube stamped with a bat haha! If you've never seen the bats on Congress bridge, I recommend coming to the Four Seasons Austin to watch that Austin spectacle while you enjoy this signature bat cocktail too!
Happy Hour and Champong – Daily, 5:00 to 7:00 pm
Happy hour is offered in the Ciclo bar, terrace and back lawn and includes $4 snacks and $3 sweets plus complimentary valet parking. The food menu is a rotating list of $5 beverages from draft beers, house cocktails to red, white, sparkling and rosé wines by the glass. You can elevate your experience by reserving a custom Champong table with the purchase of one of their premium bottles of Champagne, bottles starting at $105. This experience is probably the 'bougiest' beer pong known to man, and there's nothing wrong with that!
Ciclo Restaurant
Looking for the next spot to take your family when they're in Austin? Maybe a stellar date night? What about a girl's night out with a gorgeous view? Ciclo is the place for you to go! Besides lovely service and a great view, Ciclo also delivers when it comes to tasty and filling food. This recently revamped restaurant features dishes with Latin influences, and you can make a reservation for Ciclo here!
Pampered to Perfection
Four Seasons Rooms and Service
My hotel room. Oh, my sweet, sweet room. Did I have a lake view room? Yes. Was my bed ridiculously comfortable with the option for a mattress topper? Mmhmm. Did they bring up a shaving kit within 60 seconds because your girl forgot to shave one of her legs? Absolutely. I am always impressed with the level of service I receive here at the Four Seasons. PS: Take full advantage of the coffee bar they have situated outside the elevators.
On-Demand Margarita Cart – Daily, 3:00 to 6:00 pm
HOW FUN IS THIS. Their exclusive Margarita Cart service brings one of America's favorite beverages straight to your room with the simple push of a margarita button on the guest room phone. Also, yes, they have an incredible variety of tequila!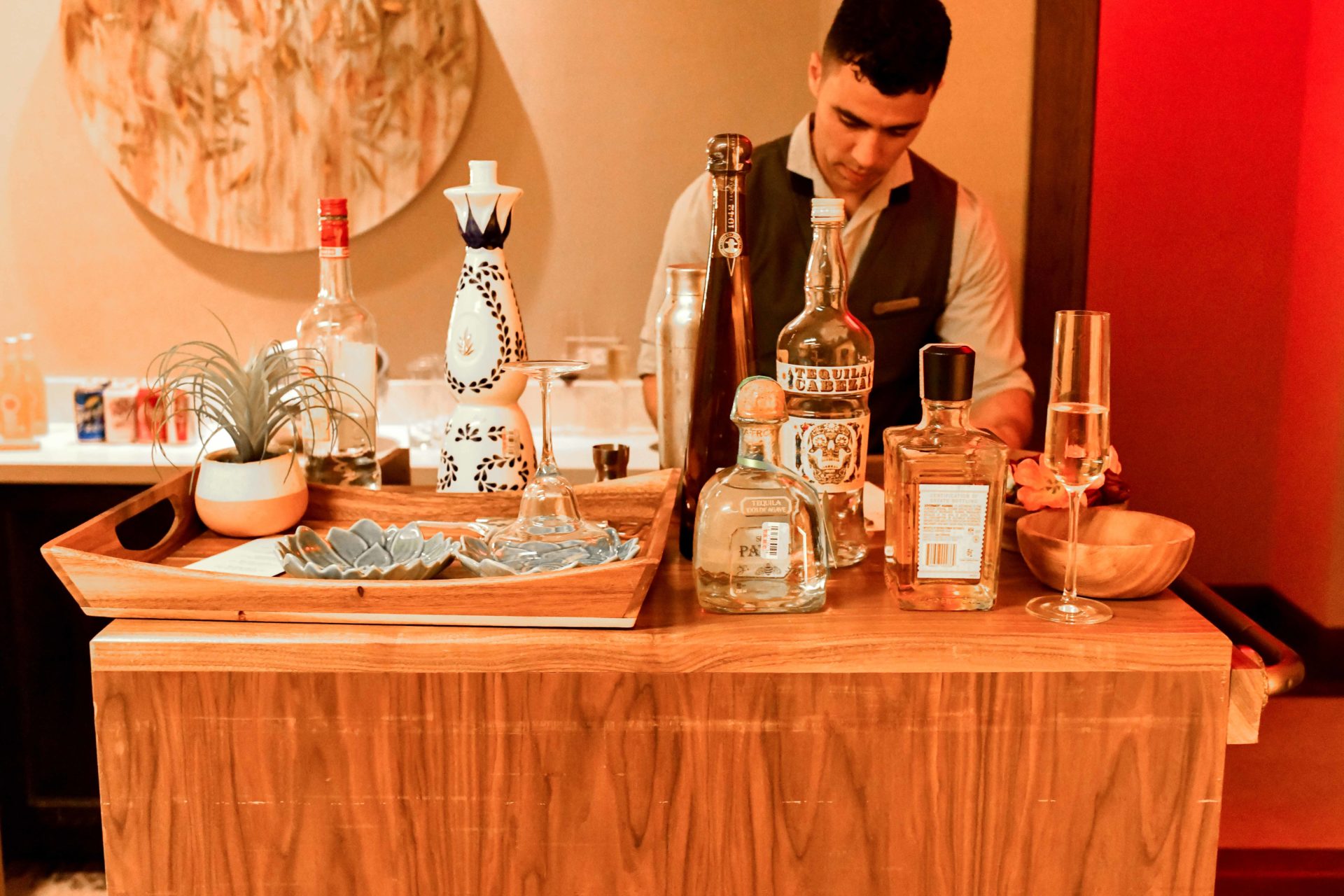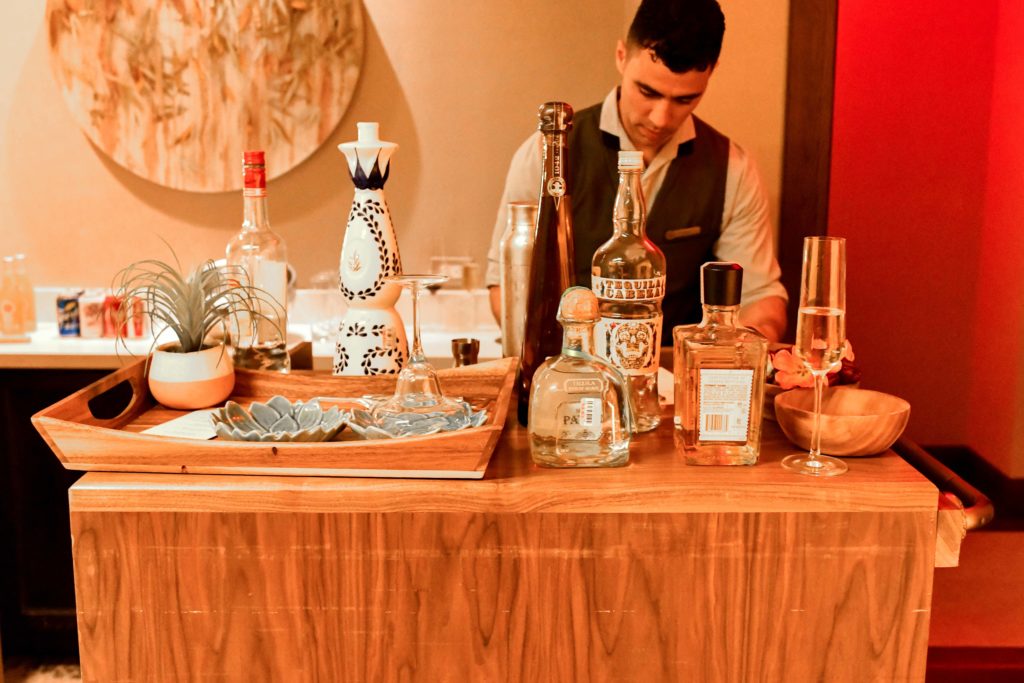 Out of all the hotels in Austin, I would pick this one for a staycation time and time again. If you're visiting Austin and looking for one of the best hotels in Austin, I recommend staying at the Four Seasons. There is a reason why this hotel is a family favorite with my peeps! You are a VIP from the second you walk in until the moment you leave. Make a reservation today!
Cheers,