The other day, hubster and I headed over to Korea House in Austin for some Korean barbecue. Have you heard of it?
Korean House started in 1988, and it is one of the original Korean restaurants in Austin serving authentic and traditional Korean dishes and Korean BBQ!
I'd never really had Korean food before so I was STOKED to try this place.
KOREA HOUSE LOCATION
It's hidden away off of Anderson next to the Alamo Drafthouse, and you actually can't see any street signage.
Park near the Drafthouse or Madame Mam's, and then walk into this small square of stores and restaurants.
KOREA HOUSE DECOR
When you walk into Korea House, you're not quite sure if you're in the right place haha. But no worries friend, you are.
So many restaurants in Austin are moving toward apparent trends of fancy wallpapers and colorful tiles, but not elevated taste.
Korea House is a place where even if the decor isn't "100% Instagram-able," they 100% deliver when it comes to taste. 

KOREA HOUSE FOOD
We sat down at this wooden table with a large barbecue grill in the center of it.
Once they started bringing out all the food, my husband's eyes lit up like he was a kid in a candy store except he was a man in a Korean restaurant. HA.
Grilling the meat before eating it was one of my husband's favorite parts of the experience.
And even as a vegetarian, that DIY aspect of lunch is something I really enjoyed.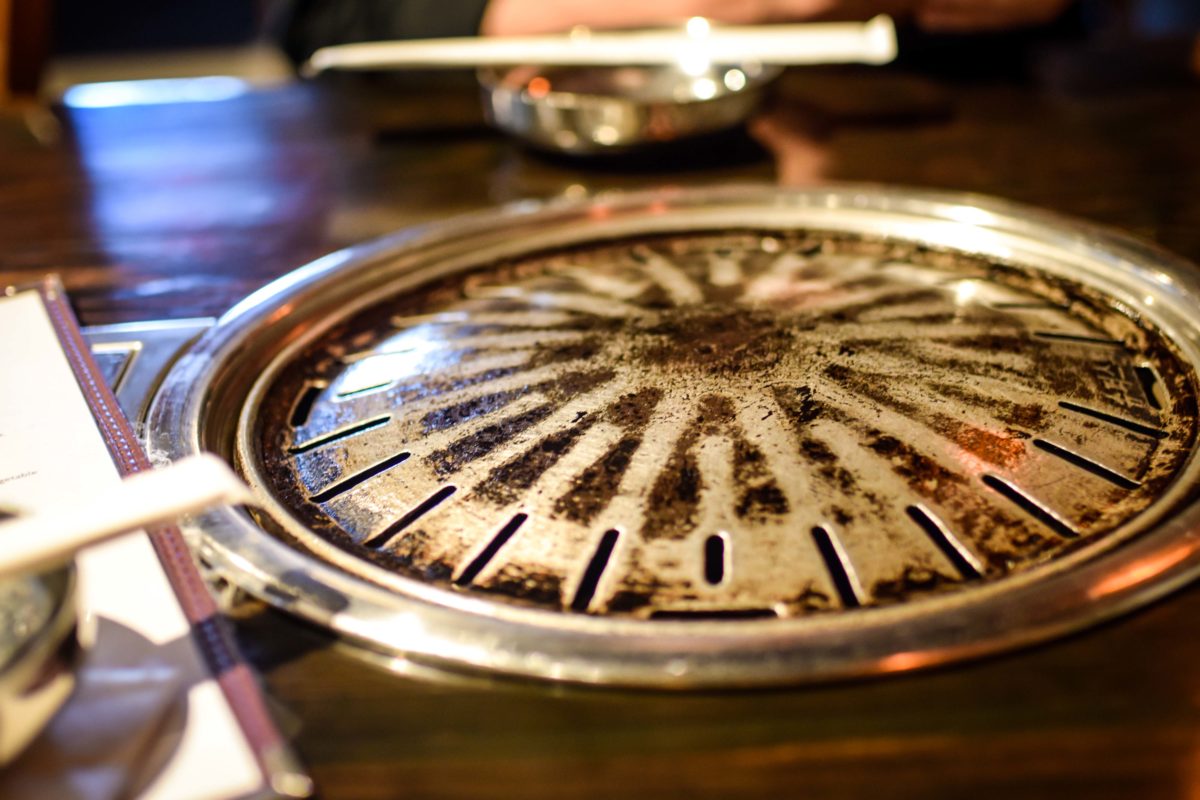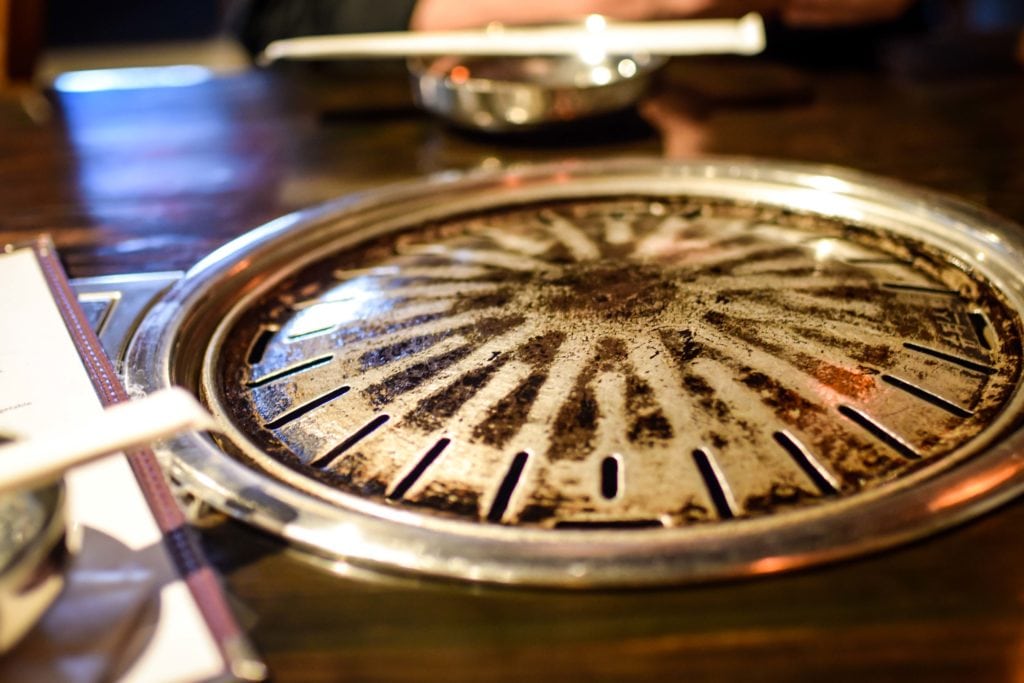 So what exactly did we order?
Kimchi Pajeon: Korean scallion kimchi pancake served with a soy dipping sauce. This pajeon was SO good.
We ate half of it while we were there and then used the other half in our breakfast tacos the next day haha. It's light, flavorful, and delicious.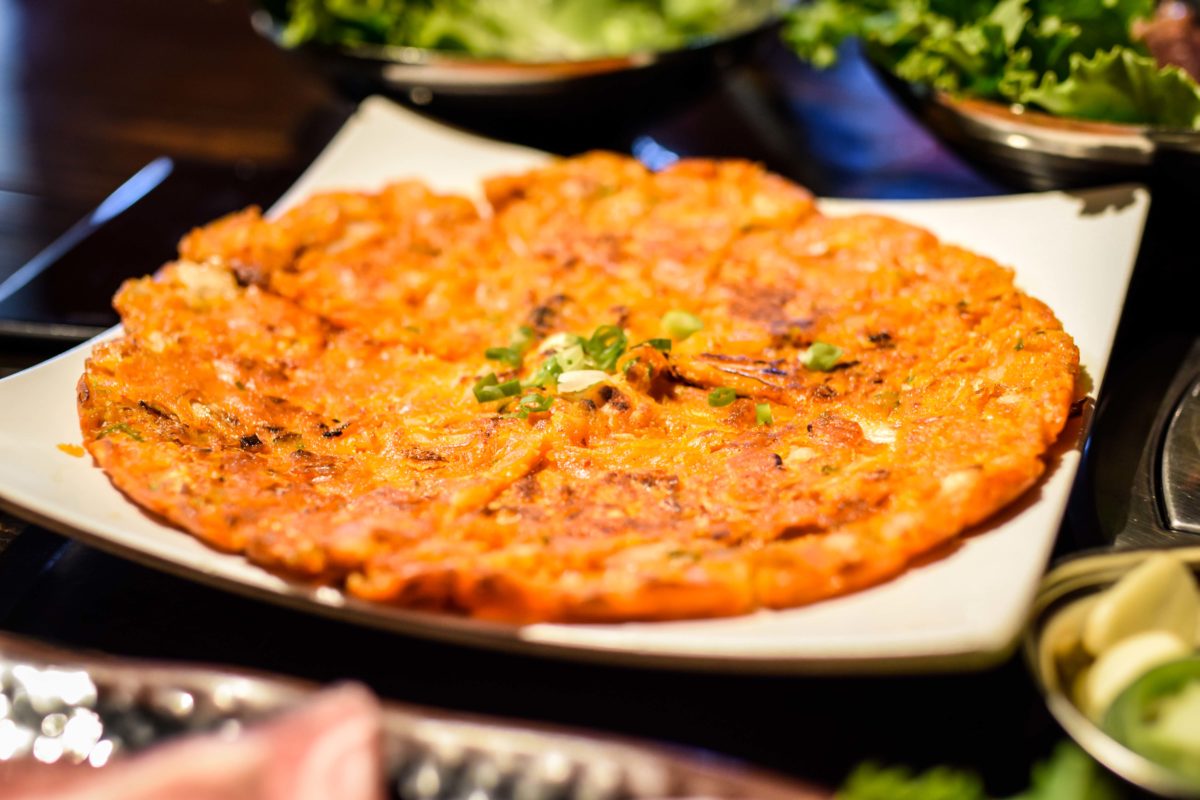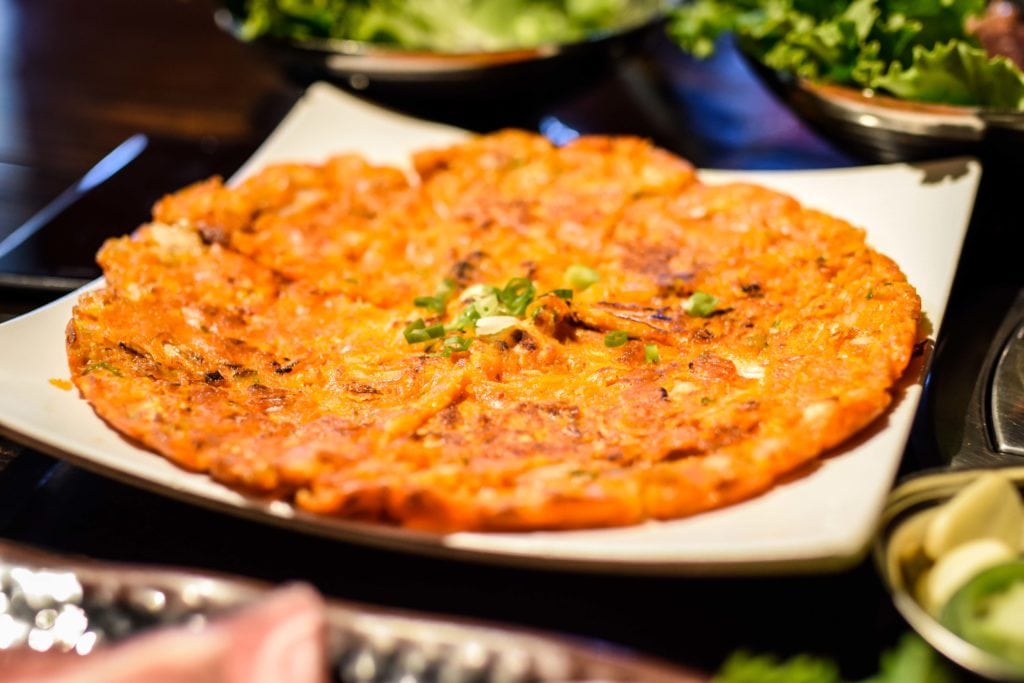 Korean BBQ: Galbi – Korean Marinated Beef Ribs & Samgyupsal -Pork Belly. Served with lettuce, soybean paste sauce, fresh garlic & jalapeño, salt & pepper sesame dip.
How do you eat this? You grill the meat at the table and build your own wrap "ssam." Hubster enjoyed making these lettuce-wrapped "tacos" with that freshly grilled meat.
Banchan (Side Dishes): Kimchi Cabbage Kimchi, "Oi Kimchi" Cucumber Kimchi, "Gamjajorim" (sweet braised potato), "Musaengchae" daikon radish salad, "Dubujorim" Korean Braised Tofu,
"Gaeran Mari" Korean rolled omelet, "Kongnamul Muchim," Korean Soybean Sprouts. My favorite side dishes were the gamjajorim, dubojorim, an gaeran mari.
Japchae: Japchae is a sweet and savory dish of stir-fried glass noodles (sweet potato noodles) vegetables and usually beef. Because I'm a vegetarian, they subbed tofu for the beef.
Also, I'm low-key obsessed with glass noodles, anyone with me? They're light but soak up the flavor of whichever sauce they sit in.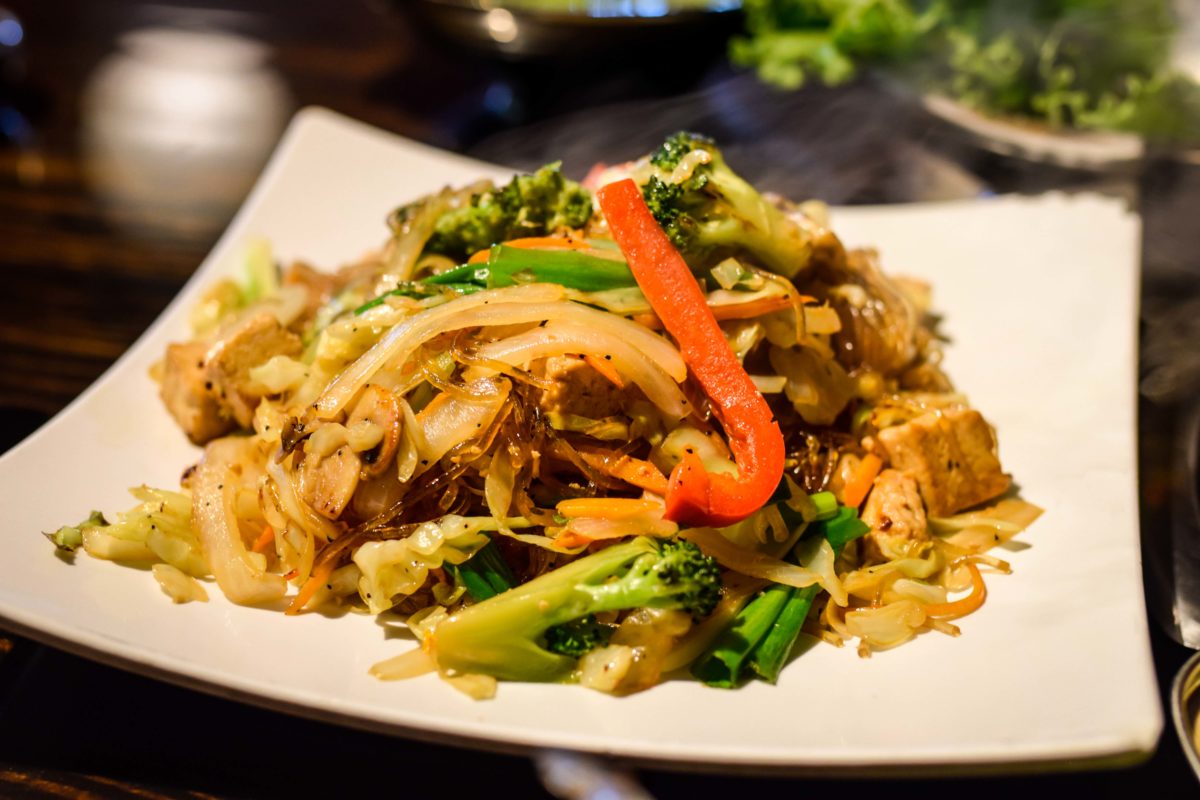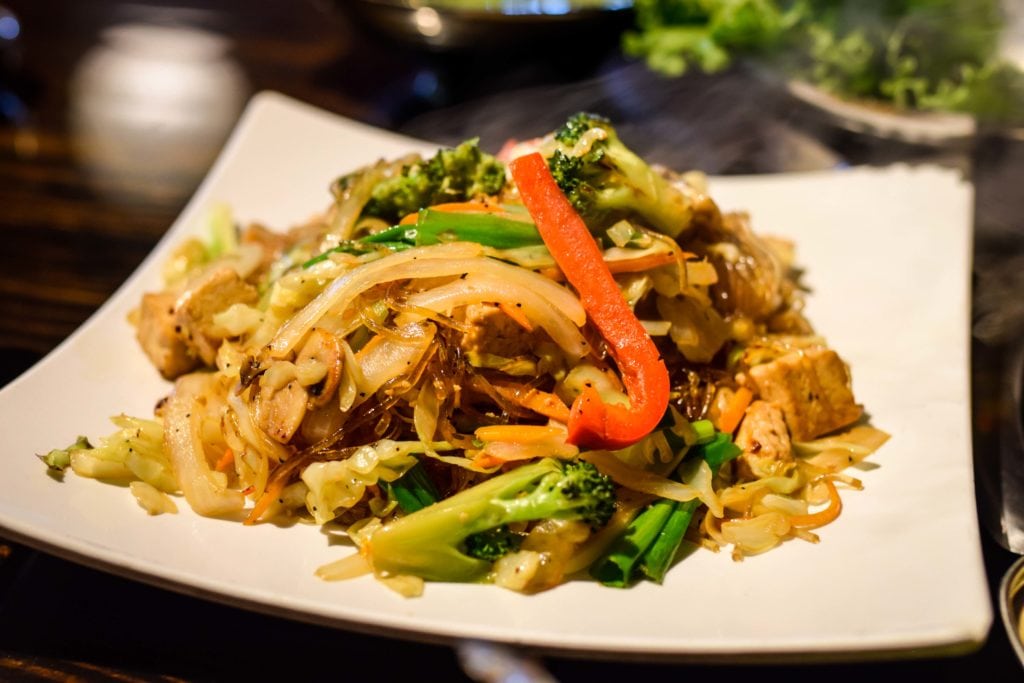 Doenjang Jigae: is a staple Korean stew made with doenjang (된장), fermented soybean paste, tofu, potatoes, onion, zucchini, mushrooms, red pepper, and sometimes meat.
It is one of the most representative dishes of everyday home-cooked Korean meals. I imagine that a bowl of this stew would be perfect on a rainy day!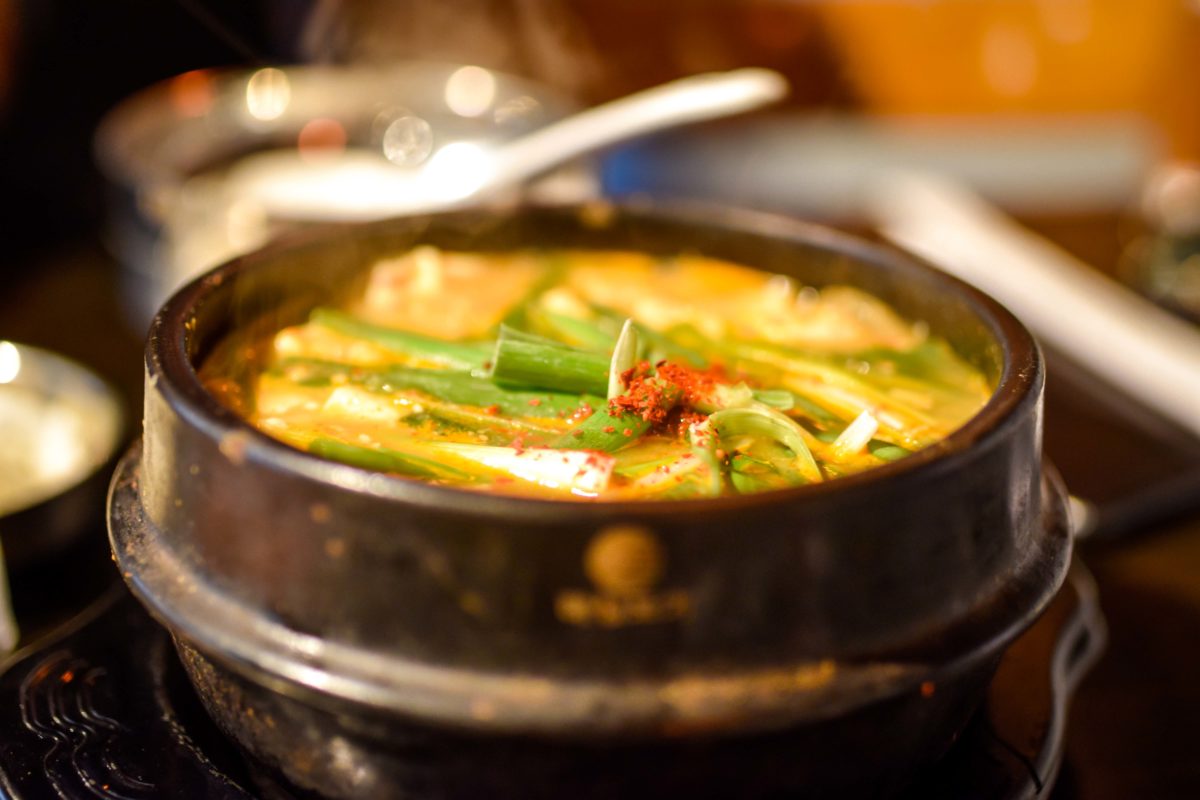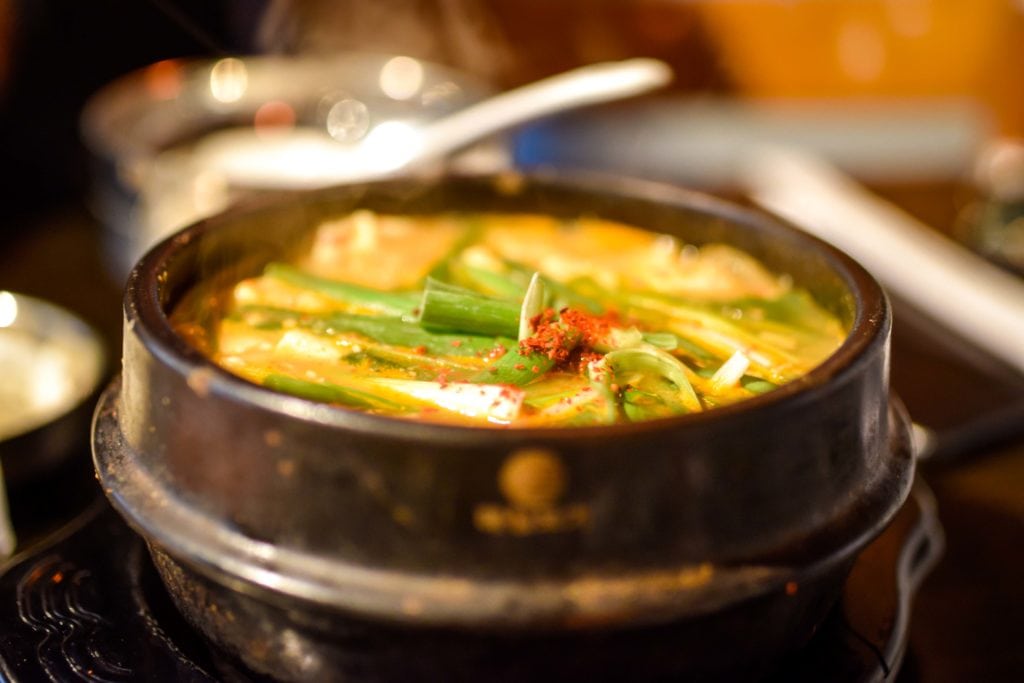 Dolsot Bibimbap: Bibimbap literally translates to "mixed rice." It includes rice, a variety of seasoned and sautéed vegetables, topped with a raw or fried egg.
You typically serve these in a bowl or a hot stone bowl with a side of gochujang (chili pepper paste). The dish is thoroughly mixed before eaten and really fun to say haha.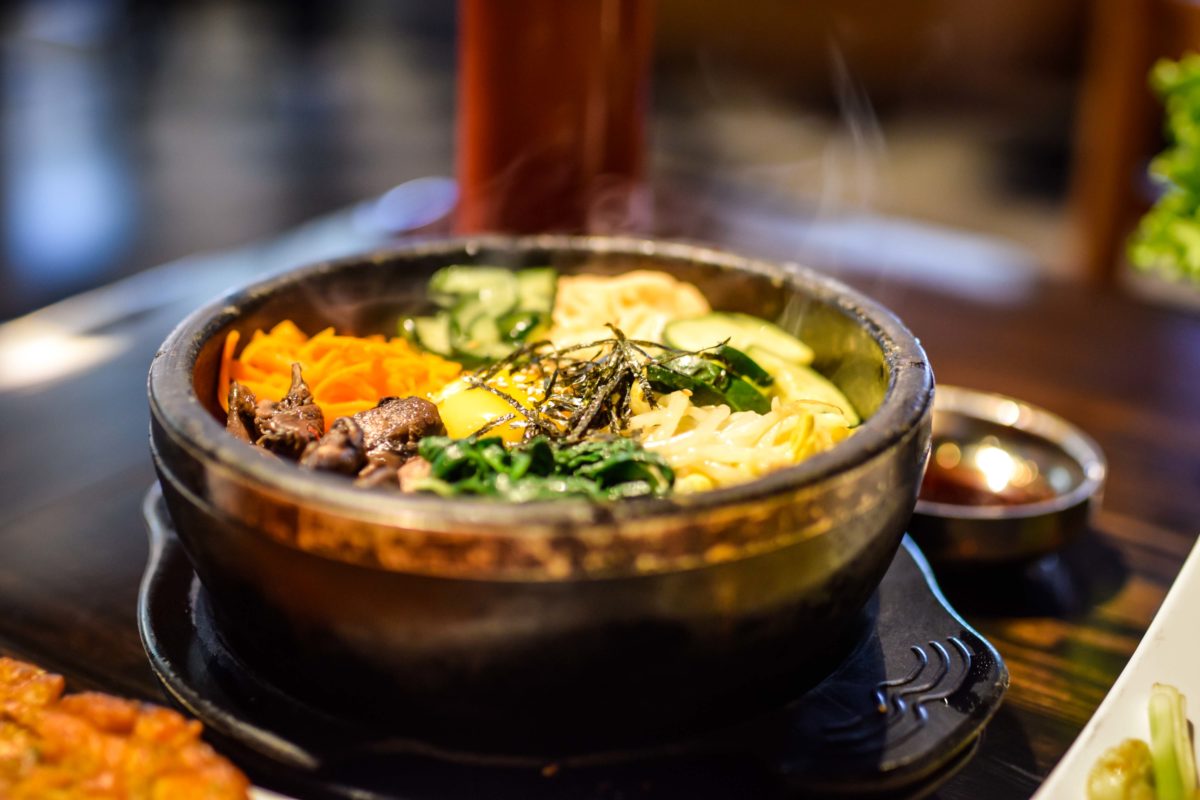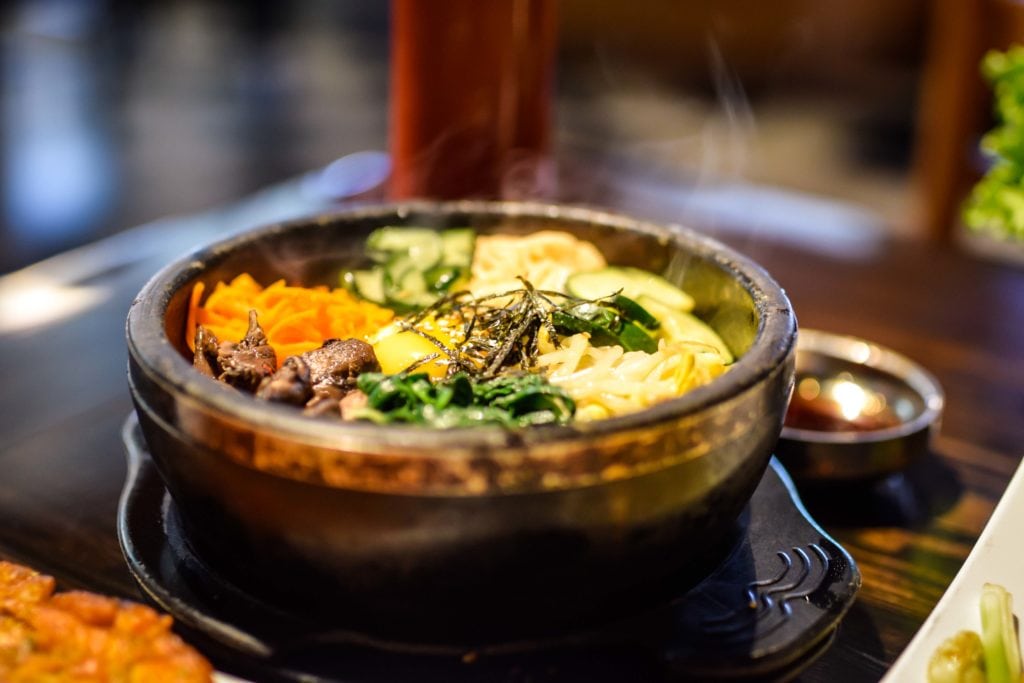 Our table was eclectic but everything was packed with flavor and divine. In case you were wondering what a traditional Korean meal consists of,
it is rice, a protein dish (usually pork, fish or beef), several banchans (side dishes), and a jjigae (soup).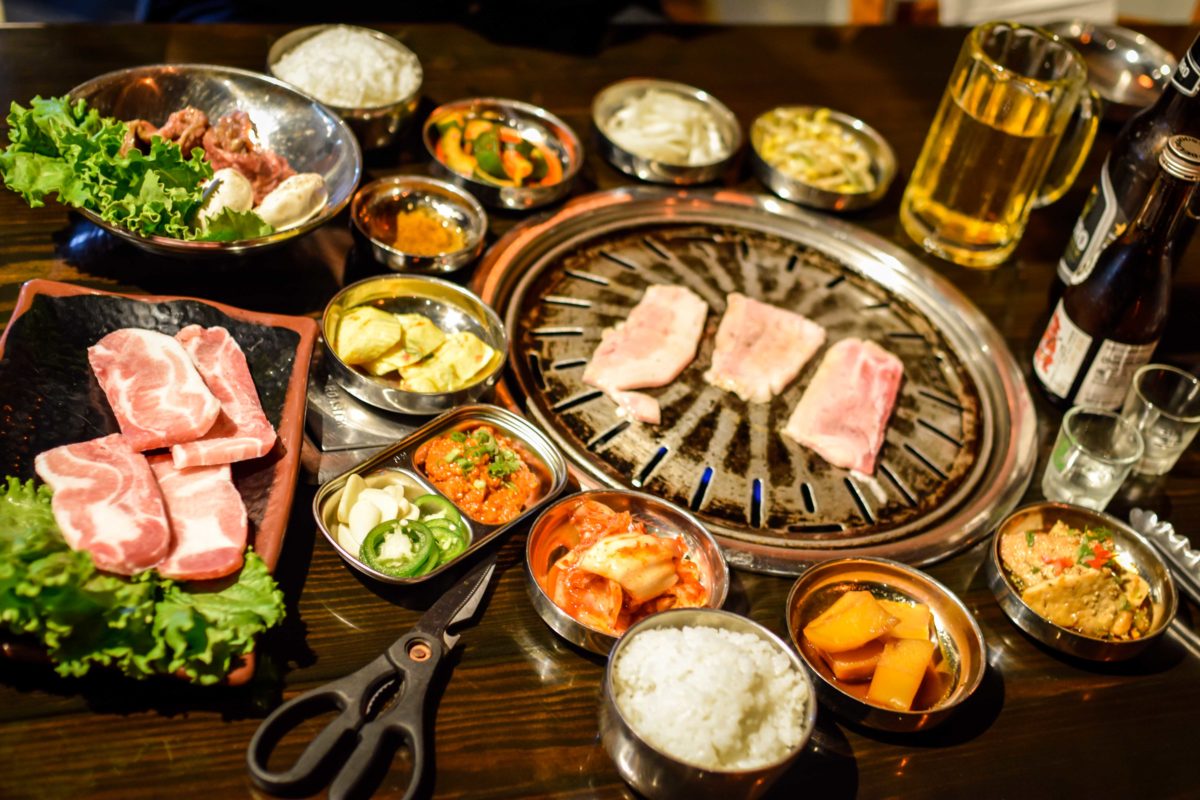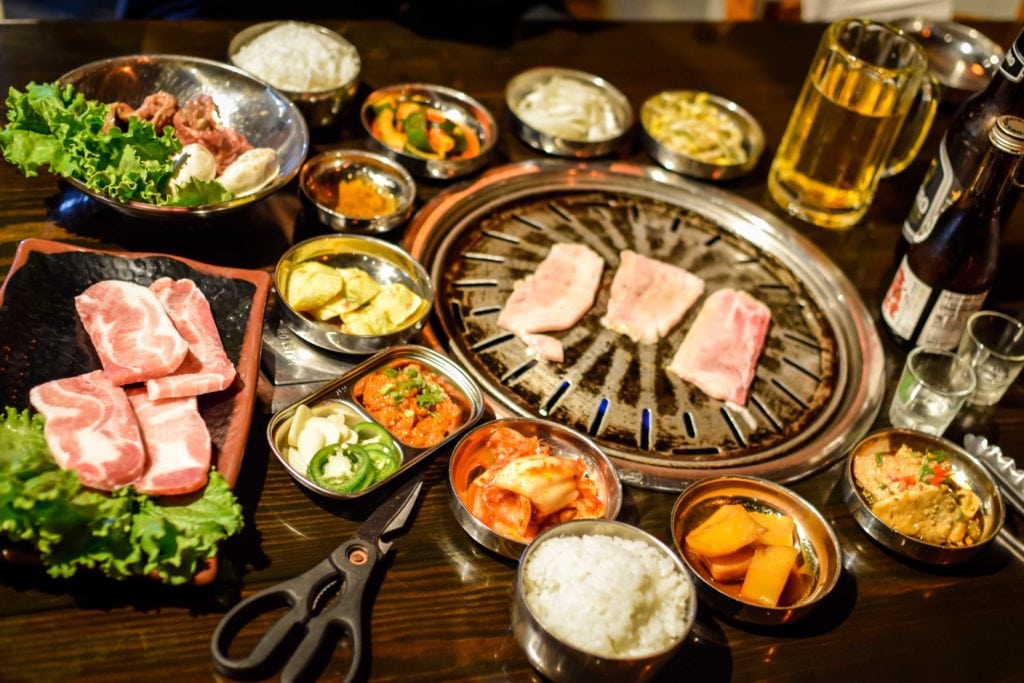 DRINKS
We ordered one Sapporo beer and one very-dry, chilled bottle of Michinoku Onikoroshi Honjozo saké to go with our food.
We didn't have any room for dessert because hello, we ate enough for three days, but next time dessert is on my list!
So tell me, have you ever had Korean BBQ before? If so, where? Check out Korea House on Instagram, their website, and Facebook.
KOREA HOUSE FAST FACTS:
Who: The owners of Korean House are C.K. & Eunjin "E.J" Kim, a dynamic husband and wife duo.
What: Korea House is Austin's oldest, authentic Korean BBQ restaurant.
Where: Korean House is off of Anderson next to Alamo Drafthouse and Madam Mam's.
When: This restaurant is open Tuesday – Friday 11AM-10PM, Saturday-Sunday 12-10PM. Closed on Mondays.
How: You order off of a menu and then cook the meats on the BBQ grill at your table.
Cheers,