Hey party people! I hope you're enjoying all the Valentine's Day content this week on Instagram and my blog. Today's post is a guest post written by my friend and fellow blogger, Aliya from Style by Aliya. She has classic, lovely, and elegant taste, so I know you'll enjoy her gift ideas. Check out her post below!
To some, Valentine's Day represents a significant cultural connotation and to others a commercial holiday. To me, it's "date night" with my husband amplified a teeny bit. Whether you are spending the holiday with a bunch of friends or a loved one, I think a few things remain the same…it should be a time filled with fun activities, great food/wine and a nice gift or two.
Throughout the year, I make a wish list for occasions like Valentine's Day, Birthdays and Anniversaries, hoping that by the end of the year I can cross off one item from the list. Fingers crossed for this year!
STYLEBYALIYA's TOP 5 Valentine's DAY GIFT GUIDE
Handbag – Can a girl really have too many purses? My thoughts – NO – never enough! One that I have been eyeing for a while is the Gucci GG Marmont. It's absolutely stunning! It's definitely on my wish list. If you're not quite ready to invest in a luxury designer, I find brands like BP, Sole Society and even Tory Burch (on sale) have some great purses.
Shoes – A great pair of shoes can take that outfit from a 5 to 10 and make you feel all the more confident. Mules have been on the fashion scene for quite a few seasons. I'm also a huge fan of the Tory Burch Ballerina flats.
Scarf – As Oscar de la Renta put it, "a woman makes an outfit her own with accessories." The perfect year round accessory – a scarf! So many colors, patterns and materials. Add one to your collection!
Hair – "Good hair days make me feel like I can rule the world!" So true! I find that as technology changes for hair tools, I can get away with styling my hair much faster with salon results saving time for me to spend with my family and friends.
Watch – In my personal opinion, a watch is a timeless gift. So many great brands and designs to choose from – one to match everyone's personal style and flare.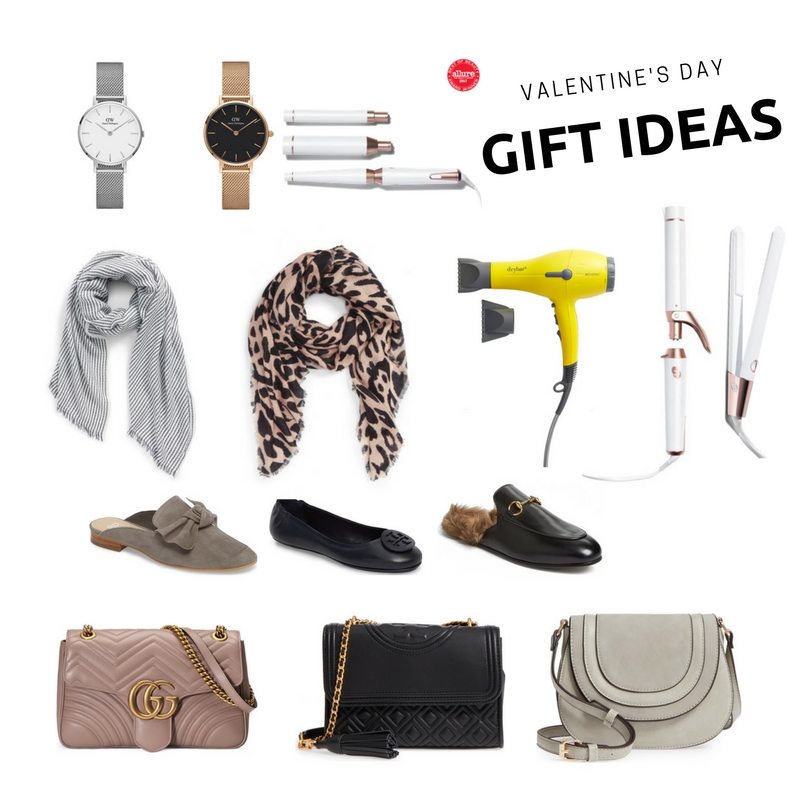 Ultimately, it's nice to receive a gift but spending time with friends, family or a loved one is most important.  I wish you all a very Happy Valentine's Day and I hope you get something from your wish list!
Thank you StylebyAliya for your chic Valentine's Day gift guide post! I think her recommendations are ones we can all be inspired from! Follow her on Instagram or her blog for more content.
P.S. – Check out my Galentine's Day Ideas here if you haven't already.
Cheers,